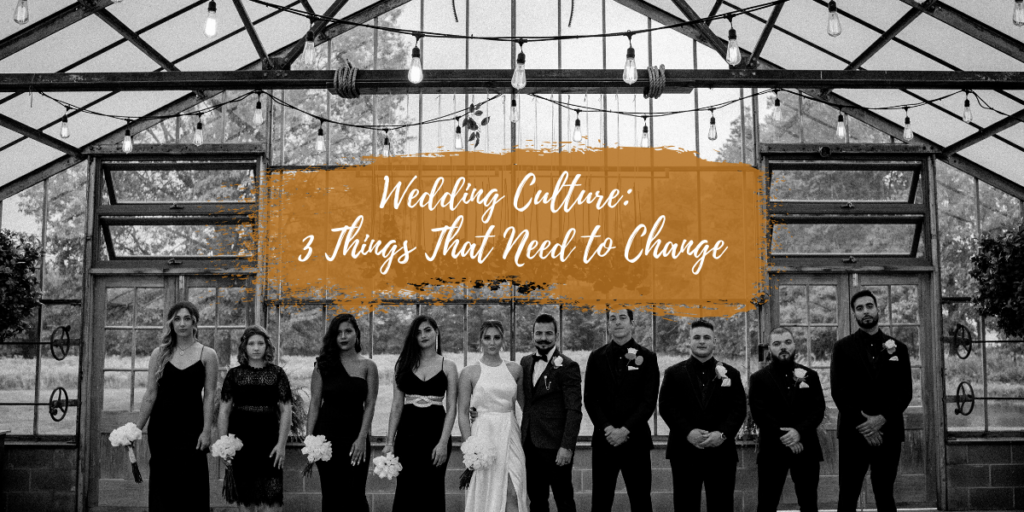 Why are weddings so stressful? The day is supposed to be one of THE best days of your life, but it often becomes one of the most overwhelming.
Over the past two years, the average wedding cost skyrocketed from $27,000 to $44,000 (brides.com).
That's a 63% increase.
Our society is putting SO much pressure on brides to plan the perfect wedding day. A luxurious venue. Expensive meal. Huge guest list. A flawless production. It's expensive, and many brides don't even enjoy their own wedding. Their. Own. Wedding.
At mine and Dan's wedding, it actually brought me to tears. I felt SO pressured to do things a certain way, to make everyone else happy. I just wanted my wedding day to be all about marrying Dan, surrounded by the people I loved.
It makes me so sad to see couples who feel obligated to follow traditions, invite people they don't even like, or spend money on a wedding that they don't even enjoy.
Let's work together to do better. Let's stop making brides feel like their wedding has to meet some ambiguous societal standard.
Let's let brides LOVE their wedding day and focus on what truly matters – marrying the love of their life.
If you are planning a wedding and feel overwhelmed trying to make your wedding meet other peoples' standards or by the average wedding cost, I'm here to tell you that you don't have to. Instead, focus on making your wedding day something that YOU will enjoy.
You won't regret it.
That being said, these are three things that I think need to be changed about our society's wedding culture:

1. People feeling like they NEED to be invited to the wedding
This happens all the time. People seem to think, "oh, my friend got engaged – I should be getting a save-the-date soon!"
The problem is that most people have a crazy number of "friends" that could be invited, plus their fiancé likely has an equally crazy number.
For most weddings, I think the best strategy is to invite only your very closest family and friends. It makes your day more special, less of a "production," and much less expensive. Inviting hundreds of people will almost always take away some of the intimacy, because you will barely have time to talk to most of the guests.
Instead of expecting an invitation just because you've been friends for a while, it should be seen as an incredible honor to be invited to witness and celebrate such a special occasion in someone's life.

2. Weddings needing to look a certain way
Because of social media, everything seems to be a competition. How many likes you get, how good your Insta feed looks, etc.
Your wedding does not (again, does NOT) need to be a competition. You don't have to fit into a mold, impress your guests and social media followers, or do anything that you don't want to do.
The day is about you, so make it reflect who you are.
Want to host a quirky wedding with elements that are unique to your relationship? Do it. Want to elope on top of a mountain? Do it (and hire me to take photos)!
Your wedding day should not revolve around what everyone else does. Do it however you want, and don't worry what other people will think.

3. Spending money that you don't have
I'm a wedding professional, so it may seem counterintuitive for me to tell couples to "spend less money," but here I am & that's what I'm doing.
I don't want to take money from couples that can't afford my work. I want what is best for them, because it is their wedding day. The start of their life together. One of the most important days of their lives.
My goal isn't to get as much money as possible out of people, but rather to have a sustainable business that helps couples ENJOY their weddings + have beautiful photos to look back on. But I don't believe couples will truly enjoy their wedding if they are financially stressed.
It is unbelievable how much money some people spend on their weddings, and a very significant percentage of couples are going into debt to pay for it.
If you don't have the money to spend, it's probably wise to make some sacrifices in the areas that aren't as important to you. Debt can be a serious cause of frustration in marriages, so it's not worth it to add more debt right before getting hitched!
Instead, focus your budget on what matters the most to YOU – not your guests. If you want great photos (obviously this is the most important to me), invest in a photographer whose work you absolutely love. If you want great food, hire your favorite caterer. If it's all about the location, prioritize that!
You don't need to spend $40,000+ (or even half of that) to have a wedding that you'll love, as long as you focus on the areas that are important to you.
DO IT YOUR OWN WAY.
I have heard SO many brides say "it was the worst day of my life" or "I couldn't wait for it to be over." It's unbelievable how miserable people can be on their wedding day, especially considering the average wedding cost.
But here's the good news! I have also heard so many say "we eloped with a few family members + friends and wouldn't change a thing" and "we offended some people, but it was TOTALLY worth it."
If you want to do things differently, no one should stop you. I have worked with brides who elope and throw a party afterwards with family + friends, and those days never fail to be exciting, relaxed, intimate, and memorable.
It's so worth it.
---
Looking for a wedding / elopement photographer? Contact The Pinckards at photography@laurapinckard.com or text us at 708.691.7122