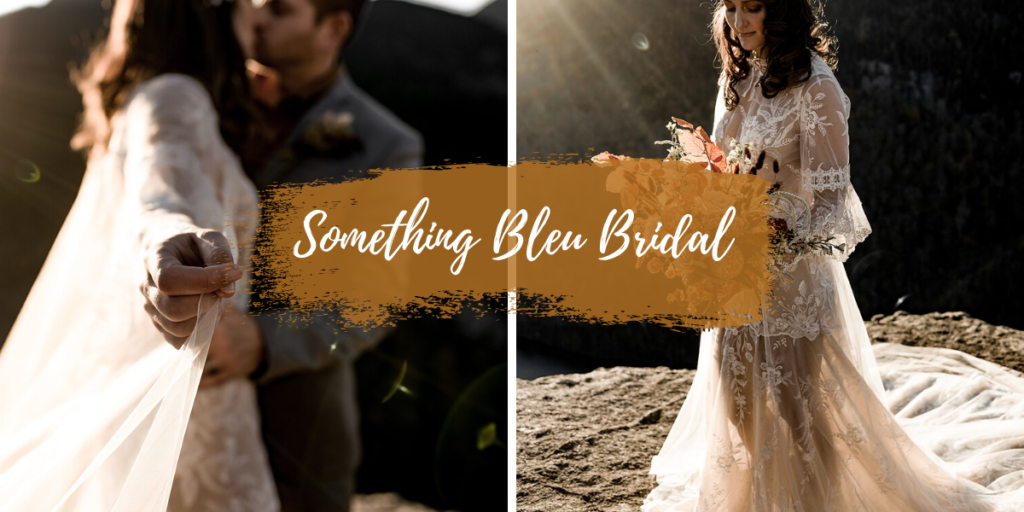 To most brides, one of the most important aspects of their wedding is having an amazing dress. Walking down the aisle, her soon-to-be husband seeing her in the dress for the first time, looking absolutely stunning in wedding photos… Having the right dress is super important.
In our new blog series, we are interviewing Adirondack wedding vendors. We posted our first post in the series last week (check it out here: Starry Eyed Letter Co.), and next up on our list is Kathryn from Something Bleu Bridal – a wedding dress boutique in Saratoga, NY.
Something Bleu Bridal is an incredible shop in Saratoga, NY serving all of the Northeast (including the Adirondack Mountains) with their amazing collection of gorgeous wedding dresses.
We got to meet one of the owners, Kathryn, during a styled "elopement" photoshoot that they planned here in the Adirondacks. We hiked for over six hours with her and her husband, and we could really tell that Kathryn loves what she does and who she serves.
It's always so nice to get to know other people in the industry, and it's even better when it's someone like Kathryn who is kind, genuine, and creative. The wedding dress that they provided was insanely gorgeous (check out the photos at the bottom of this post), and every dress that they post on social media is so unique and stunning.
Plus, they are super easy to communicate with and talk to, which makes working with them a breeze. We could tell right away that Something Bleu Bridal is passionate about the wedding industry, so we have no hesitation whatsoever in recommending this amazing bridal shop.
If you're getting married in the Adirondacks and are looking for the BEST wedding dress shop around, you have to visit Something Bleu Bridal.
---
For any readers who don't know us, we are The Pinckards (Dan and Laura) – wedding and elopement photographers based in a small town (Schroon Lake, NY) in the Adirondack Mountains. Check out this blog post to read more about us!
---
Wedding Vendor Interview: Something Bleu Bridal
"Can you please tell us a little bit about yourself and your bridal boutique business?"
Goodness, this is awkward. How to start? Ok so, my name is Kathryn and along with my business partner Marissa we own Something Bleu Bridal in Saratoga Springs NY. We bought this long-standing business in the fall of 2018 as two former brides who love fashion and want to continue the family-like atmosphere of Something Bleu.
We joke around a lot that our entire business model is #boots2ballgowns. The joke started because Marissa's day job is running her family's water utility and she's mostly found outside work hours either hiking the High Peaks or spending time with her pet sheep and goats. Then she comes into the boutique where we have all these beautiful wedding dresses and just sort of seamlessly transitions (sometimes she's even still got the boots on underneath the gowns). Kathryn (that's me!) is more on the ballgown end of this spectrum, having a solid appreciation for the pleasures of indoor plumbing that limits hiking excursions to day trips and is more likely to be found curled up with a book and a lap full of cat when not at the boutique.
This spectrum of boots to ballgowns and back again is pretty much everything you need to know about Something Bleu – we absolutely believe that brides are multi-faceted and that despite what the trends on social media might be, there's no one-style-fits-all for brides and their weddings. We like to think of ourselves as the place where you can go to find a gown that expresses your Everyday Self (the boots) and your Fantasy Self (the ballgowns) in one.
"Where is your wedding dress boutique located? What areas do you serve?"
Something Bleu is located right in downtown Saratoga Springs NY. We love our location for a lot of reasons, not the least of which is being only 3 hours from Montreal, Syracuse, Boston, and NYC because it allows us to serve brides from all over the Northeast.
Our boutique is on the second floor of a restored Victorian mansion in one of New York's best preserved downtown areas. Brides who come to us are not only from the Capital Region, but also all over New York, Maine, New Hampshire, Vermont, Massachusetts, and Connecticut. Our beautiful and vibrant downtown is a large part of the attraction of shopping with Something Bleu – many of our brides make a weekend of it with their close friends and family, shopping for their dress and celebrating at one of the many restaurants and bars downtown.
"What is your website?"
https://somethingbleubridal.com
"What is the best way for someone to get in touch with you?"
For general inquiries, calling 518.584.0962 or emailing info@somethingbleubridal.com is the best way to get in touch with us. If you're ready to make an appointment, you can call or fill out the appointment request on our website at https://somethingbleubridal.com/contact-us.
"How did you start your bridal boutique business and why are you passionate about it?"
Marissa and I fell sideways into the bridal business. Marissa is a serial entrepreneur who had been looking for something to satisfy her creative urges and I was at loose ends after moving to the Capital Region from DC and not really finding an industry that felt like home even after 3 years. Marissa and I met at a series of wine pairing dinners at the Thirsty Owl Bistro in Saratoga not long after my then- boyfriend (now-husband) and I moved to Saratoga. Over the next couple years we became fast friends and it was Marissa who took me to Something Bleu when I was looking for a wedding gown. A year later we were signing closing papers and taking over this beautiful business.
Like a lot of women, Marissa and I both love the romance and the beauty of bridal fashion, and for some that might be reason enough to go into the bridal business. But I think it runs a bit deeper for both of us. Honestly, on the surface neither Marissa nor I seem like the ideal candidates to own a bridal boutique: Marissa is a bit of a tomboy and I'm a complete wallflower bookworm, but we both absolutely love fashion and have a deep desire to create a space where brides can find a piece of themselves in an industry that puts so much pressure on women to be Instagram-perfect at all times.
"How long has Something Bleu Bridal been around?"
Something Bleu has been part of downtown Saratoga since the late-90s, originally as Immortal Beloved.
"What's your favorite part about your job?"
Bridal as a whole is such a special business. But I think my absolute favorite part of my job is when a nervous bride – one who maybe doesn't normally get dressed up, or is feeling a lot of pressure to be perfect, or maybe has some body image issues (who among us doesn't) – looks at herself in the mirror in The Dress and sees herself with eyes of love, for maybe the first time ever. I've always been a sucker for watching the groom's face as the bride walks down the aisle, and these two moments are so very similar. When a bride finds her dress, I swear for a moment she's looking at herself the same way her fiance is going to look at her as she walks down the aisle: with love, amazement, and awe.
"What sets you apart from other wedding dress shops in the Saratoga, NY area?"
We are very fortunate in our location in that we are able to provide completely private dressing suites for our brides. In most boutiques, brides and their parties are either next to or intermingled with other brides and their parties. This is distracting and frankly, sometimes uncomfortable. Our private suite set-up allows us to provide a more personal, intimate setting and experience for brides, and I think this and our Stylists' focus on listening to and really getting to know each bride has led to our reputation as the most relaxed and friendly boutique in the area.
"What advice would you give to a bride looking for a wedding dress?"
Oh, so much advice: Do get to know designers and a boutique before you make an appointment. Don't get trapped in what we refer to as the "Tinder-effect" (constantly swiping to see what else might be out there). Do have an idea what vibe you want for your wedding before you start shopping. Don't rely overmuch on poorly lit iPhone photos. The list goes on.
But the absolute best thing a bride can do for herself when going dress shopping is to be selective in who she brings with her to her appointment. There's a lot of pressure on brides to "just know" when it's The Dress, and while some of this pressure comes from the bride herself, a lot of it comes from friends and family.
Imagine for a moment standing on a pedestal in front of 8 people, all staring at you, waiting for you to say – with absolute certainty – either yes or no to every dress you put on the second you step out of the dressing room and look in the mirror. It's absolutely paralyzing and an entirely absurd way to make a decision – we make absolutely no other decisions in our lives like this. In a situation like this, it is almost impossible to know for sure if you love a dress or not because it feels like everyone is questioning you and you start questioning yourself before you've even had a moment to process how you feel in the gown.
So, our advice is to a) take a moment in every gown to process how you feel in it before you start talking to either the Stylist or your friends and family and b) limit the people who come with you to your appointment to only the most trusted and non-judgmental voices who are going to want to wait for you to come to your own conclusions, no matter how long it takes.
"Is there a particular style (or styles) of wedding that fits with the vibe of your dresses?"
We describe our collections as Modern Romantic, so our dresses will appeal to brides who want to feel very much of-the-moment while keeping an eye to still loving their gown 15, 30, 45 years from now.
A great way to know if your wedding style fits with our salon is to get to know our designers. Some of our designers, like Lea-Ann Belter, walk the tightrope between traditional and modern with classic designs that almost feel like Audrey Hepburn woke up in 2020. Other designers like Madi Lane and Flora represent a fierce femininity that comes across incredibly well in outdoor settings.
I hesitate to say that we appeal to a traditional bride or a boho bride or what have you because I think these terms have gotten confused over the past several years and everyone has their own definition. But I can share some adjectives that come up a lot when our brides are describing the way they want to feel on their wedding day are: romantic, whimsical, modern, sensual, rustic chic, glam, boho, clean and classic, updated traditional, timeless, sophisticated, elegant…
"Can you tell us a little bit about the pricing of your wedding dresses?
The most to choose from in our salon starts at about $1700+ for a special order gown. The price range for the entire salon is $1200 – $6000, with less to choose from at either end of the range. Our prices are set by guidelines from our designers.
Follow Something Bleu Bridal on social media:
Instagram: @somethingbleubridal
Facebook: Something Bleu Bridal
---
If you're getting married in the Adirondacks (or anywhere else!) and are looking for a wedding / elopement photographer, we would love to chat with you! Below are a few of our photos, and you can see more of our work on Instagram (@thepinckards). Click here to chat with us about your wedding!