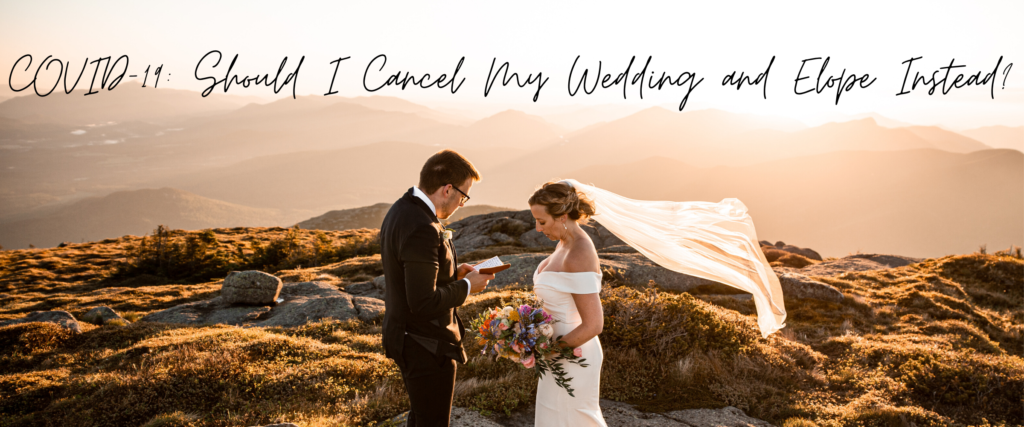 Coronavirus has pretty much affected everyone in the entire world right now. It has changed plans, caused people to lose their jobs, or worse – their lives. The wedding industry is no exception. Tens of thousands of couples have had to cancel or postpone their wedding day in order to keep friends and family members safe and abide by new laws put into place.
Because of COVID-19, many couples are considering eloping and having a big "wedding" celebration later on when things are less crazy and dangerous.
If you've been wondering if eloping is right for you during this trying time but are still unsure, we've made a list of things to consider when changing your wedding plans this year. We hope this blog post helps as you weigh your options for the best day of your life!
We know that this can be a difficult decision, so if you have any questions about eloping, feel free to ask us!
Planning a wedding can be difficult during a pandemic
There are dozens of factors that are impacting many of our clients' wedding plans in the midst of this pandemic. Here are some of the most common:
Government restrictions limiting the size of gatherings. Does your state currently allow large gatherings? What if there is a second wave of cases in your area – will your wedding be canceled?
Potentially losing your deposits with wedding vendors. Finances are always difficult to talk about, but we can tell you from experience that the vast majority of wedding vendors won't refund your deposit if you end up canceling your wedding. If you keep booking new vendors, you might be risking those deposits.
Some of your loved ones may have to stay home. Do you have any close family or friends who are elderly or immunocompromised? They may not be able to attend your wedding safely. If they fit into the "must-have guests" category, that can immediately ruin your plans.
Months of planning with a lot of uncertainty. We've written blog posts before about how stressful wedding planning can be. Now imagine that stress WITH the uncertainty of whether or not your wedding will actually happen.
It is definitely not impossible to plan a wedding right now. We have many clients who are still going full steam ahead, but we also have others who have chosen to elope instead. Wedding planning will be more challenging because of COVID-19, but it's up to you to weigh the pros and cons.
Do YOU want to elope?
The first and most important thing to ask yourself is: what do YOU want?
Does it just feel right to elope? Do you want to wait for a bigger wedding, or do you just want to be married now? Would you prefer the intimacy of an elopement? Have you always wanted a traditional wedding? Have any of your wishes and wants changed because of COVID-19?
These are just a few of the questions that you and your fiancé should talk about when trying to navigate re-planning your wedding day.
The most important thing to remember when talking through this is that your wedding day should be about both of you and what you want, not what other people want for themselves.
Your wedding should never stray from your vision/desires because of what others expect from you. It is NOT their day – it's yours. Your wedding is about celebrating your marriage to each other, not impressing guests with a fancy meal or amazing party favors.
Yes, you can have all those details if that's what you want for your day, but you should never feel like you NEED to put on a show for other people at your own wedding. Do whatever you want.
As tragic as this pandemic is, it might give you the perfect excuse to elope if that's what you've wanted to do all along. Elopements have become super popular in the midst of COVID-19, so your family and friends probably wouldn't be very offended or surprised.
Consider eloping now and have a "wedding" later
Many couples strongly considered eloping before deciding on a traditional wedding. Maybe that's you.
Maybe you decided not to elope because of pressure from friends and family to have a traditional celebration, and you didn't want to offend them. OR maybe you thought you wouldn't love eloping as much as having a traditional wedding.
Whatever your reason for not eloping, you now have a chance to go back and rethink if eloping is right for you.
One great option that a lot of couples are choosing is to elope on their original wedding date and plan a wedding celebration in 2021 with family and friends. You could even chose to elope wherever you were going to honeymoon and combine the two into a destination elopement.
Or you could pick a new place you've always wanted to travel to together and elope there. The options are endless!
By eloping this year and hosting a wedding next year, you essentially get all of the benefits of both options – without the risks of having a wedding during the COVID-19 craziness.
You can still get married to the love of your life without waiting another year.
Your "wedding day" doesn't have to be filled with the stress and chaos of a traditional wedding, so you can focus on the joy of getting married.
You don't have to exclude your loved ones. While it might be sad to not have certain people there when you officially tie the knot, you can still celebrate with them later on to include them!
Consider having a mini-wedding elopement
As you may already know, elopements are not what they used to be 20 years ago. There are no rules.
If you want to elope with your family and close friends with you, you totally can. This is a great option for couples who dream of eloping but would be sad to not have their families there to support them.
Essentially, the difference between a wedding and elopement boils down to this…
A wedding is: A formal production-level event with dozens and dozens of guests.
An elopement is: A smaller, less formal wedding day that prioritizes the marriage over the production.
You can also have a hybrid of the two – a wedding that is much smaller and much less chaotic, but still includes a handful of guests. You can call it an "intimate wedding" or an elopement. Regardless of the name, this type of mini-wedding elopement gives you a lot more flexibility if COVID-19 forces you to change your plans, but you can still include all of the important people.
Like we said, there are no rules when it comes to eloping.
Consider your wedding budget
If you have a budget for your wedding, consider how you can use that for an elopement instead.
Can you use that money to buy plane tickets to an epic destination? Can you afford an amazing photographer to capture your elopement? Can you rent a cozy Airbnb for a week?
If you are strongly considering cancelling your wedding and opting for an elopement, there is a good chance that you may be able to save a good amount of the money that you would have spent on your venue, guest dinners, DJ, wedding coordinator, and decorations.
You may be able to spend more on travel, a photographer, a hotel, your dress, etc. than you had initially planned for your traditional wedding. Definitely talk through the pros and cons of your budget with your fiancé to make sure that what you choose is right for you financially.
As we mentioned before, your deposits are also an important factor.
If you're still early on in the process, you might not have spent very much yet. That's a good thing. But now you have to do some risk management considerations. If you continue planning a wedding during this pandemic, keep in mind that any deposits you make are probably nonrefundable.
If you've already made deposits, you will have to talk with each individual wedding vendor about their cancellation or rescheduling policy, and take a good look at your contracts.
Be aware that each of those vendors has dozens of clients in the same situation as you, and refunding every deposit would likely bankrupt them. They aren't being coldhearted or stingy by keeping your deposit. They are likely doing their best to work with you while still keeping their business afloat.
We are offering up to 50% Off Our Elopement Package
Because we know that times are crazy and hard right now, we have decided to offer up to 50% off our elopement package if you have lost deposits because of the coronavirus. We will give you a discount equaling the amount that you lost in deposits, up to 50% of our standard elopement price.
If you or someone you know has lost money that they put into their wedding, please feel free to reach out to us. We want to be a blessing to those who have been blindsided by this pandemic.