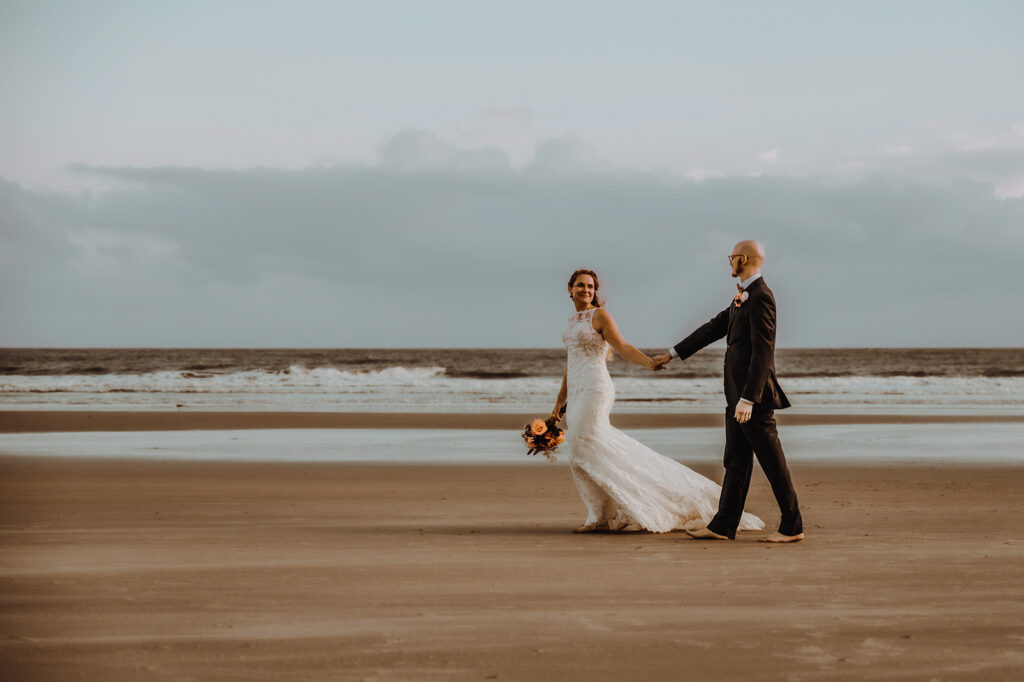 There's no doubt that Florida is one of the most popular travel states in the US–and for good reason. Breathtaking Florida beaches leave no room for disappointment, making it the perfect spot for an intimate elopement. If you're considering eloping in South Florida, but don't know how to…this guide is for you!
And if you aren't sure whether or not eloping is for you, check out our post on seven reasons why you should consider it.
GETTING STARTED: PLANNING YOUR SOUTH FLORIDA ELOPEMENT
1. Decide what kind of elopement you want to have.
Elopements are no longer rebellious shotgun weddings or Las Vegas mistakes. Now, they represent a beautifully intimate marriage with flexibility and freedom.
"Eloping" encompasses anything outside of a traditional wedding. YOU have complete freedom over what your elopement looks like.
Your first step: deciding what kind of elopement you want to have.
There are four main categories of elopements, all of which can be customized, combined, and created to be whatever you imagine.
Courthouse or "City Hall" elopement. Many couples just want to make things official as quickly, easily, and cheaply as possible. If that sounds like you, the courthouse elopement is a perfect option, and Florida makes it very simple.
Adventurous elopement. Going scuba diving, parasailing, getting elopement tattoos, etc. – you can get super creative and plan a day that is super meaningful to you.
"Intimate Wedding" elopement. Many couples opt for a hybrid wedding-elopement. These elopements are typically more laid back than traditional weddings and only have a handful of close friends or family members as guests.
Backyard elopement. When couples prefer a simple ceremony like a courthouse elopement but want it to be more intimate, a backyard elopement is the way to go. The term "backyard" simply means anywhere in Florida that you want to elope – your house, an Airbnb, a cute park. Nothing extravagant, just getting married.
2. Decide when and where in FL you want to elope
Your next step in planning your dream South Florida elopement is finding a date and location.
When and where you choose to elope depends on what kind of elopement is right for you. For example, if you and your significant other choose to get married in a courthouse, you can coordinate with them to find availability.
Alternatively, if you're having an oceanside adventurous elopement, you can choose from a long list of beautiful locations. Some great options are South Pointe Park Beach and the Vizcaya Gardens, both located in Miami.
OBTAINING A MARRIAGE LICENSE
Once you've decided on your date and location, it's time to get your marriage license (no more than 60 days before your elopement). You can elope anywhere in the state of Florida, as long as you obtained your marriage license in one of Florida's 67 counties.
In order to apply for your marriage license, you'll have to visit a county clerk's office. Depending on the county of your choosing, you may need to make an appointment beforehand.
Once you either have an appointment or have confirmed you do not need one, you can plan out the details. The state of Florida requires…
Both parties to be at least 18 years old (see specific requirements if you are 17)
A picture ID
Both parties' social security numbers (a copy is not required)
Florida residents only: A three day waiting period between obtaining the marriage license and performing the ceremony.
$93.50 marriage license fee

Exception: If you are a Florida state resident, you have the option of taking a state approved premarital course, which lowers the fee to $61 and waives the 3 day waiting period.
Note: Once obtained, your marriage license is valid for 60 days. You must complete your ceremony in that time.
This information applies in general to the state of Florida, so always call your county clerk to verify everything. Some questions you should ask are…
What documents do I need to apply for a marriage license?
How many witnesses do I need at my ceremony?
How much does the marriage license cost? What payment methods do they accept?
FIND AN OFFICIANT AND A WITNESS
Your next step is finding an officiant, as well as someone to sign saying that they witnessed the elopement. While a witness is technically not required, Florida does recommend it in case there is ever a question about the legitimacy of the marriage.
The following is a comprehensive list of who can officiate a wedding in Florida, according to the clerk's office of Hillsborough County:
Ordained ministers, elders in communion with a church, or other ordained clergy.
All Florida judicial officers, including retired judicial officers
Public notaries of the State of Florida
"Quakers" or "Friends"
Captains of a ship, if the captain is a notary and the ship is in Florida waters
Clerks of the Circuit Court
Another easy way to find pre-approved officiants is through the Knot's search query of Florida officiants.
Alternatively, we provide an even easier option. Dan is ordained specifically to officiate weddings as a part of our elopement package. This means that, as your photographers, we can photograph, officiate, and sign as the witnesses. We take care of all the details so you don't have to.
Finally, if none of these options suit your needs, you can have someone you know become an ordained minister. If there's someone special in your life that you would like to perform your ceremony, ask them if they'd be willing to become ordained. The process is very simple and takes no more than ten minutes. This way, the person of your choosing can marry you legally. Be sure to check with your city or town clerk to find out if the officiant will need to provide any paperwork, though.
FIND AN ELOPEMENT PHOTOGRAPHER
Yes, admittedly we are slightly biased on this one. It may not be 100% necessary, but hiring the right professional photographer to capture your elopement can truly enhance your experience.
Whether you get married before hundreds of people or two people, your elopement is a memory you will want to last forever. Hiring an elopement photographer ensures that decades down the road, you can look back on photos that reflect how beautiful your day was.
There are dozens of Florida elopement photographers, all vying for your attention. That's why it's important to know exactly what you're looking for. Here's our tips on finding a South Florida photographer that fits you perfectly:
Check out their photography style. Compare portfolios and look for common aspects that you like about each one. Focus on staying true to the style you love.
Choose a photographer with a great personality (cough, cough). Depending on the package you choose, you could be spending hours with your photographer on one of the most important days of your life. It's important to make sure they have a great personality that you connect with!
Ask even more questions than you think are necessary. How many photos will you receive? When will you receive them? Will they have a watermark? Are you allowed to print them yourself?
If you'd like to schedule a free consultation call about photographing your South Florida elopement, don't hesitate to contact us!
PLAN AND STYLE YOUR ELOPEMENT
Now that you have your marriage license, your officiant, your witness, and your photographer (phew!), it's time to actually plan and style your South Florida elopement.
You can choose to go as simple or as extravagant as you want. At the end of the day, it's your wedding your way. Do you want to get married in blue jeans? Do it! Want to decorate a beautiful backdrop to the nines? Absolutely.
Whatever you choose, just remember why you chose to elope in the first place. If your reason was to save money, then make sure to plan a budget-friendly elopement. If your goal is to avoid stress, then plan your day around that. Keep your eyes fixed on what matters most to you.
For some extra inspiration while planning your elopement, check out our article, 11 Ways to Elope in Style (How to plan an elopement without skipping the details).
GET MARRIED!
The wedding bells are ringing! It's finally time for your elopement.
In the state of Florida, there are no requirements for what you do in your actual ceremony. This is exciting because it means you can personalize as much as you want.
There are so many ways to make your ceremony meaningful and personal to your relationship. Here's just a few that we love…
Read letters from your family
Do a first look
Have a first dance
Write personal vows
Exchange gifts
When Dan officiates elopements, he typically follows a traditional wedding ceremony format. He incorporates sentimental elements, (i.e. quotes or passages that are meaningful to the couple) and the exchanging of rings, initiates the couples' vows, and ends the ceremony with the traditional "I now pronounce you…" and "you may now kiss!"
SUBMIT YOUR MARRIAGE LICENSE
Following your elopement ceremony, your marriage license has to find its way back to where it came from! This means that you (or your officiant) will have to mail your marriage license back to the Florida county clerk's office you obtained it from. Otherwise, they have no way of knowing that your ceremony ever took place and your marriage would not be legally valid.
Your officiant may send your marriage license in on your behalf, just make sure to check with them to be sure.
After sending your marriage license in, you will receive a marriage certificate from the state of Florida, which is legal evidence that the marriage exists. You can use that certificate to change your name, if that's something you plan to do.
YOU ARE NOW OFFICIALLY MARRIED!
There you have it! You are now officially married. People often ask us how to elope in Florida. As you can see, it's a fairly simple process. And again, make sure to verify this information with the specific county clerk's office that you'll be working with.
Happy eloping!