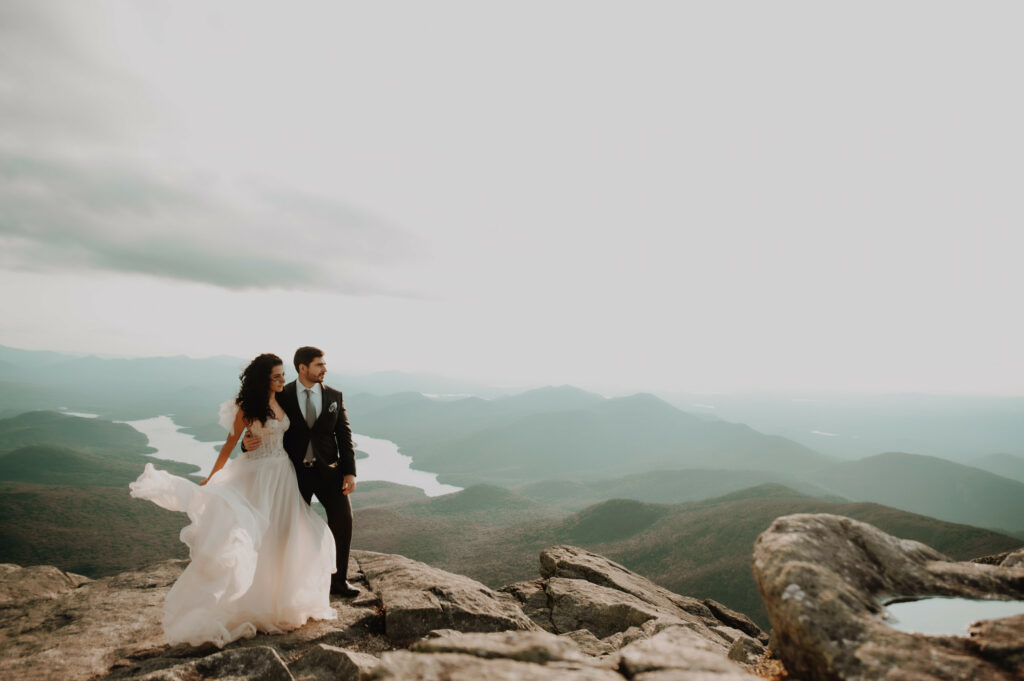 Renowned poet Senora Roy once said, "If you fail, you will be criticized, and if you succeed you will be criticized, you can't make everyone happy. So you may as well do what makes you happy." In the world of wedding planning, everyone has an opinion–and we mean everyone! From your cousin you speak to once a year to your soon to be mother-in-law, the moment you announce that you're engaged you'll most likely hear their opinions. Unfortunately, some of them might tell you that eloping is selfish.
If you and your partner feel that eloping may be right for you, you may end up feeling guilty somewhere along the way. Whether because of negative comments from family, or even just your own judgments, elopements often get a bad rap. However, like Roy notes, you can't make everyone happy.
What's important is that you are happy on your wedding day! 
Why do some people think eloping is selfish?
Your friends and family may view eloping as "selfish" because they can't be there with you. They may feel that they're missing out on an important milestone in your life that they deserve to be a part of.
If you can see it from their perspective, it makes some sense. They love you and want to witness you marry your soulmate! While it's okay for people that love you to be disappointed, it's not fair to be labeled as "selfish" for making a choice that's right for your future family. 
It's also important to realize that, even if you planned a large wedding and invited everyone, there is a good chance that you will make "selfish" decisions while planning the day. It's almost inevitable that some people will be offended, whether it's an elopement or the largest wedding of the year.
So, is it selfish to elope? (spoiler: it's not!)
The reality is, you can't make everyone happy no matter how hard you try. If you and your fiancé know that eloping is right for you, then it's not selfish to choose that option!
(Bonus: check out our blog post on 7 reasons why you should consider eloping.)
Here's three reasons why eloping is not selfish…
It's your wedding day.
The first reason eloping isn't selfish is because it's your wedding. Your wedding day should be a celebration of you and your partner's love story. That day should look like whatever you want it to, not what the people around you want.
In our experience working with a wide array of clients, we've noticed that sometimes friends and family try to live vicariously through your wedding. They may either want to relive the "perfect" wedding they had or make up for what theirs lacked. Either way, your wedding day is not about them, it's about you.
In fact, those who make your wedding day about themselves are the ones being selfish.
Saving money isn't selfish.
The average wedding now costs ten's of thousands of dollars. In New York, it's a whopping $42,000. For many couples, it's worth it to pay this hefty price tag! But if what you really want is to elope, it just doesn't make sense to spend so much on something you don't really want. You should be able to invest your money into the wedding you truly want without any guilt.
It's certainly not selfish to avoid paying an exorbitant amount of money on your wedding day. The reality is, not everyone feels a traditional wedding is worth the high price tag! The only people making that decision should be you and your fiancé. 
You should never spend money you don't want to spend just because of other people's opinions, especially not $40,000.
There are ways to involve your loved ones if you elope.
There are so many ways that you can include your family in your wedding day…without having a wedding. While it may not be the perfect solution to some people, you are showing that you love them and care about their inclusion. From our experience, despite some initial disappointment, this always results in couples' loved ones being happy for them in the end.
At the end of the day, that's what matters. For ideas on how to do this, keep reading!
Ways you can include your loved ones in your elopement…
Ask them to write letters that you can read at your ceremony.
When my husband and I eloped, we read letters from our families in the car on the way to our location. It was so special to feel the presence of our loved ones on our wedding day. We will hold those letters close to our hearts forever.
If you and your partner plan to elope, ask your closest friends and family to write you letters to read on your wedding day! Not only will this help them to feel more included, but it will add a beautiful element to your ceremony.
Livestream your elopement.
Another option to include your loved ones is to have them there virtually! One option is the app "Lovecast" which you can find here. 
Hire a videographer to create a cinematic highlights video.
If you want something more professional and creative than a livestream, you can hire a videographer to make a video of your elopement. 
Bonus: if you want to streamline your planning, we provide a comprehensive package for your elopement that includes an officiant, videographer, and photographer! Our cinematic highlights video (here's an example) is an incredible way to share your wedding day with loved ones after the fact. We've even had clients host after-parties with their family and friends to watch their elopement day video. This is a great way to celebrate with your loved ones and make them feel as though they were right there with you. 
Include them in the planning process.
There are so many ways to involve your friends and family in the elopement planning process! You can take them wedding dress/suit shopping, ask them to help you pick out a location, or choose poses on pinterest that you want to try. Not only can this help them feel more involved, but it also can take some of the planning weight off of your shoulders. 
When your loved ones see that you are actively including them in this special time of your life, it will be much more difficult for them to think of your elopement as a selfish decision. You've already proven that you're not just thinking about yourself.
They still think you're selfish for eloping? Here's what to do:
Express empathy.
If nothing is helping your loved ones see that you are not selfish by eloping, you can still soften the blow by expressing empathy. Consider responding with something like, "I know this is hard for you. I understand you feel this is a selfish choice; however, this is our choice."
Telling them that you understand that this is hard for them can help them see that you're not making this decision to hurt them. That being said, make sure that you…
…stand your ground.
Don't back down and stay strong! Again, this is your wedding. It doesn't happen every year! You don't want to look back and feel regret about compromising what you truly wanted just because of other people's opinions. Trust me, we hear from couples ALL the time that they deeply regret the decision not to elope.
Know that they'll come around.
No matter how they may feel now, remember that the people that truly love you will come around. It may take some time, but eventually they will come to terms with the decision you made. Don't feel as though making this (very not selfish) decision will ruin all your relationships.
Bottom line: It is not selfish to elope.
Whether you decide to elope or not, let that decision be guided by what you and your fiance want. The best thing about elopements is that there are truly no rules! You can include your family and friends as little or as much as you want.
If you're interested in eloping but have questions or need help with the planning process, schedule a consultation call with us! We're happy to help you and remind you every step of the way that you are definitely not selfish.