Wedding Photographers in the adirondacks
Wedding photography that isn't boring
Because you deserve photos that you'll love
Published + Highly recommended
"Not only did we love the final product of our wedding photos, but we loved the experience of working with Dan & Laura." - Ashleigh
"We had the most AMAZING experience with Dan and Laura!" - Molly
"The absolutely stunning pictures we received from The Pinckards blew our wildest expectations out of the water." - Sarah
CAPTURING THE IMPORTANT MOMENTS
Every wedding package that we offer includes both of us (Laura & Dan) as photographers, so you get a 2nd photographer no matter what. We never do weddings solo, because we want to to capture every special moment perfectly.
From your mother zipping up your wedding dress, to the group photos with your loved ones, to the candid moments during your ceremony… Your gallery will be full of pictures of precious memories from your wedding day.
perhaps most importantly, your wedding photos won't be boring
You deserve to have wedding photos that you'll love. Photos that you'll show off to your friends and family. Photos that you'll hang up in your home for the next 30+ years.
We refuse to deliver the same, boring pictures that wedding photographers have taken for decades. Our commitment to you is that we will never stop pushing the creative boundaries & coming up with new ideas, so that you will have unique wedding photos that you're proud of.
We only accept a very limited # of weddings so we can focus on giving our wedding clients the same attention that we give to our couples who are eloping
FILL OUT THIS FORM to join our "wedding waitlist"
...and we'll let you know within 1-2 weeks if we can photograph your wedding.
What our clients say about us
Rachel + Danny | Lake Placid, NY
"Dan and Laura were the easiest decision I made when it came to planning my wedding. The quality of their photos are incredible and I will cherish my wedding photos for a lifetime. When my wedding ceremony site cancelled due to covid restrictions, Dan and Laura helped us pick the perfect place. They really listened to what I wanted. I could not be happier and hope to use their services again in the future!"
...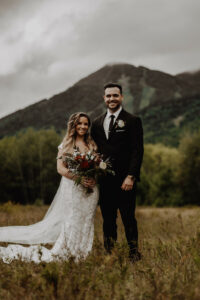 Kristina + Matt | New Rochelle, NY
"Laura and Dan are absolutely fabulous! They are extremely talented, kind, responsive, and overall amazing people. I could not imagine any other photographers capturing my wedding but them. Our sneak peak photos look like they came straight from a wedding magazine. I really do not have enough words to explain how much we love them!! If you have the opportunity to work with Dan and Laura, DO IT! You will thank yourself later!"
...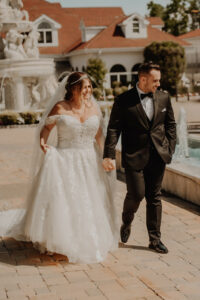 Marissa + Connor | Lake Placid, NY
"There are no words to begin to describe how phenomenal our experience with the Pinckards was. We wanted to do scenic portraits with our dog and have intimate time together but also wanted to have a ceremony and reception with our close friends and family. Dan, Laura and Rachel helped to make this become a reality. They were so communicative and AMAZING to work with.
The Friday before our wedding, Dan and Laura went adventuring with us to get epic portrait shots. They spent a significant amount of time researching places we could go and even back up places. There ended up being a giant snow storm during our Friday photos so only one of the original places worked out. Laura and Dan were quick to come up with additional locations. They made us feel incredibly comfortable while we were taking the photos. They worked with us in negative degree temperature, during a snow storm without hesitation! Not only that, but when our car got stuck in the snow, they helped to push it out!
On Saturday we had our ceremony and reception with 80 people at Saranac Waterfront Lodge. Laura and Dan captured every moment so perfectly and got amazing shots of everyone on the dance floor having a blast.
I truly cannot recommend The Pinckards enough. They helped make everything flow and run seamlessly. They made us and our dog feel so comfortable and they captured everything in the most stunning photos! They helped to give us the best of both worlds."
...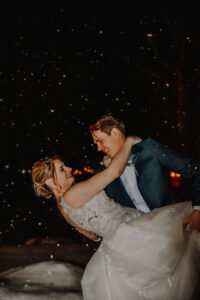 want to see more of our photos?
We have plenty of full wedding galleries that you can check out. Contact us here, and we would be more than happy to share those with you!