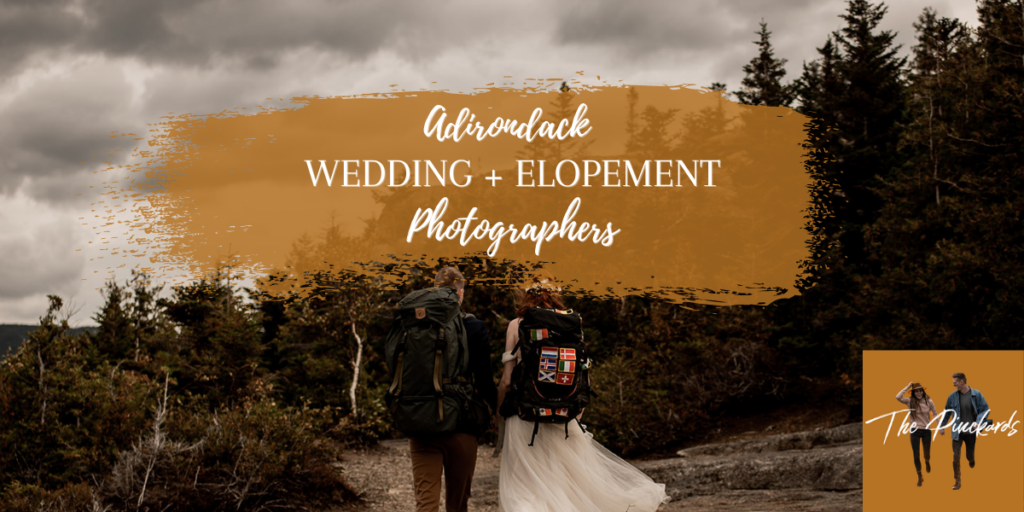 Hi there! We're the Pinckards! We are wedding and elopement photographers based in the Adirondack Mountains, with a strong focus on adventurous elopements.
A lot of people follow us online but have never met us personally, so we wanted to take the time to let you get to know us a little bit better and tell you some fun stuff about us. Whether you're thinking about hiring us or are just curious to read about our lives, we're glad you're here!
Some of Our Adirondack Wedding / Elopement Photos
Where We Grew Up and How We Met
First, a little backstory about me and Dan, and how we ended up meeting each other despite living very different lives:
Dan was born and grew up in the suburbs of Chicago with two siblings (and a few cats and doggos). His life was pretty normal, but he would say it was fairly "boring." He went on family vacations but never left the country, tried to learn Russian just for fun, and won a few awards on a speech and debate team. Everybody always said that he was "mature beyond his years." To give you an idea, in high school he spent most of his time at a friend's house to "play video games," but instead would end up talking to his friend's dad about the stock market.
Most of my childhood was very different, and thousands of miles away. I was born in upstate New York but moved to the Czech Republic as a missionary kid when I was five. I grew up with five siblings and only ever owned hamsters (sad, I know). My family was able to visit a bunch of different countries and experience different cultures. Whenever we came back to the U.S., we would travel around to different churches, so we were always meeting new people and hearing about their lives. I moved back to the states in high school and ended up going to Bible College in upstate NY.
Dan happened to go to the same college on a whim, even though he had never even visited, and we got to know each other by being overly competitive in gym class (he thinks he was better than me at soccer). At the beginning of our sophomore year, Dan officially asked to date me by taking me on a picnic date and making my favorite meal. I, of course, said yes.
How We Got Engaged
Fast forward a little while… Dan asked me to be his wife while we were in Prague (my favorite city).
We were back in my hometown in the Czech Republic for the summer in 2016 to help run a summer camp. I had had a feeling that he was waiting to propose in Prague, so I made sure he knew that I didn't want it to be around a ton of people. That's pretty much impossible in Prague, especially in the summer when there are thousands of tourists.
My sister (Ashleigh) and I showed Dan around the city and took him to all of our favorite places. Dan had planned for Ash to take "couple" pictures of us, and then he was going to propose mid-shoot.
As we were showing Dan around, both of them wanted to keep going to places that weren't that cool (little did I know it was because they were trying to find a spot with no people so Dan could propose). "Apparently" I was being "grumpy" and kept saying that I didn't want to go to those spots (I didn't want to waste time going to unimportant places). They spent literally the whole day trying to get me to take pictures, and I just wasn't about it (sorry babe).
FINALLY, an hour before our train was headed back to my hometown, Ash and Dan got me to take pictures with him in front of the museum that was under construction (meaning that there were hardly any people there).
While we were taking pictures, I could hear his heart beating super fast, and I KNEW he was about to propose. I started hugging him, and he kept trying to pry me off so he could get down on one knee. Eventually, he managed and said something to the effect of "we always talk about being vulnerable with each other, so this is the most vulnerable I can be: will you marry me"? To make a long story short, I bawled my eyes out and said yes (obviously).
Our Wedding (And Why We Became Adirondack Elopement + Wedding Photographers)
When we got married a few years ago, we had a traditional wedding with around 200 guests. We spent thousands of dollars, had to invite guests we barely knew, and felt a lot of pressure to make our wedding a high-quality production. Unfortunately, we hired a photographer who was inexperienced and unprofessional, and we ended up very disappointed with the 107 photos they delivered to us (yes, only 107 from the whole wedding day).
If we could go back in time, we would do it SO differently. We would have planned an intimate celebration with our closest friends and family, and we would have spent most of our budget to hire an amazing photographer.
When Dan and I got into wedding photography, we were really surprised at how much we love it. One of the biggest reasons for that is because of how unbelievably disappointed we were with our wedding photos. We NEVER want anyone to feel the way we felt about our photos.
More recently, we have begun focusing our time on adventurous elopements. We also never want anyone to feel pressured to have a traditional wedding (i.e. put on a big production) if they don't want one. There is nothing wrong with full-size, traditional weddings necessarily, but we have talked with SO many couples who just wish they could have a wedding that is more meaningful to them. We do accept some large weddings, but our main focus is providing stunning photos of intimate weddings + elopements.
Our biggest goal in our business is to help other couples avoid our mistakes! Sure, money is important, but that is not THE most important thing.
​What We Do When We're Not Photographing Weddings
When we're not working, we love to spend time with our adorable doggos. We have a brown Labrador (Kuba – a Czech name) and an American Dingo (Barrett – named after JT Barrett of Ohio State). Wether we take them for a hike or let them snuggle with us on the couch, we love being with our lil guys.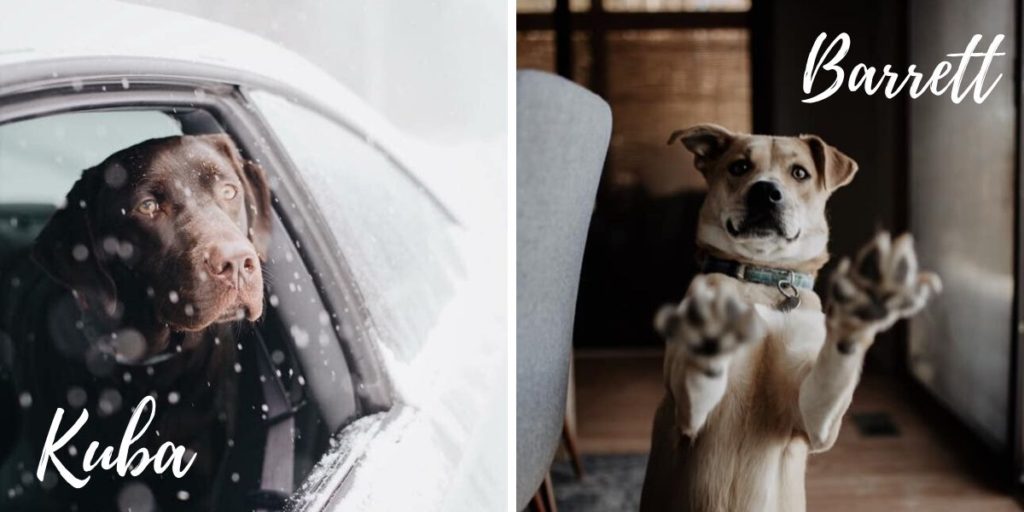 We also have to admit that we like to binge-watch Netflix and Hulu, especially after wedding weekends. Our current favorite shows are The Walking Dead, Prodigal Son, and The Good Doctor (but we're always looking for recommendations!).
But honestly, most of our free time is spent at our best friends' house playing Settlers of Catan or poker. We're pretty much over there at least three times a week.
And finally, when we're not at our friends' house, we like to go hiking. This really only happens in the spring-fall season (since Dan hates the winter and snow). We'll usually bring our cameras and tripod for some self portraits on the summits to document our hikes.
---
So that's basically our life in a nutshell! If you are looking for Adirondack wedding + elopement photographers, reach out here!