Congratulations! You've gotten the ring and made the decision to elope in upstate New York.  The next question is: Where to? We're here to help! As elopement photographers, we've been able to shoot in some of the most beautiful locations NY has to offer. Whether indoors or outdoors, short or long hikes, here's seventeen of the BEST places to elope in New York State.
Want to know how to elope in New York State? Here's an in-depth guide!
Best Places to Elope outdoors in the mountains

1. Indian Head in Keene Valley, NY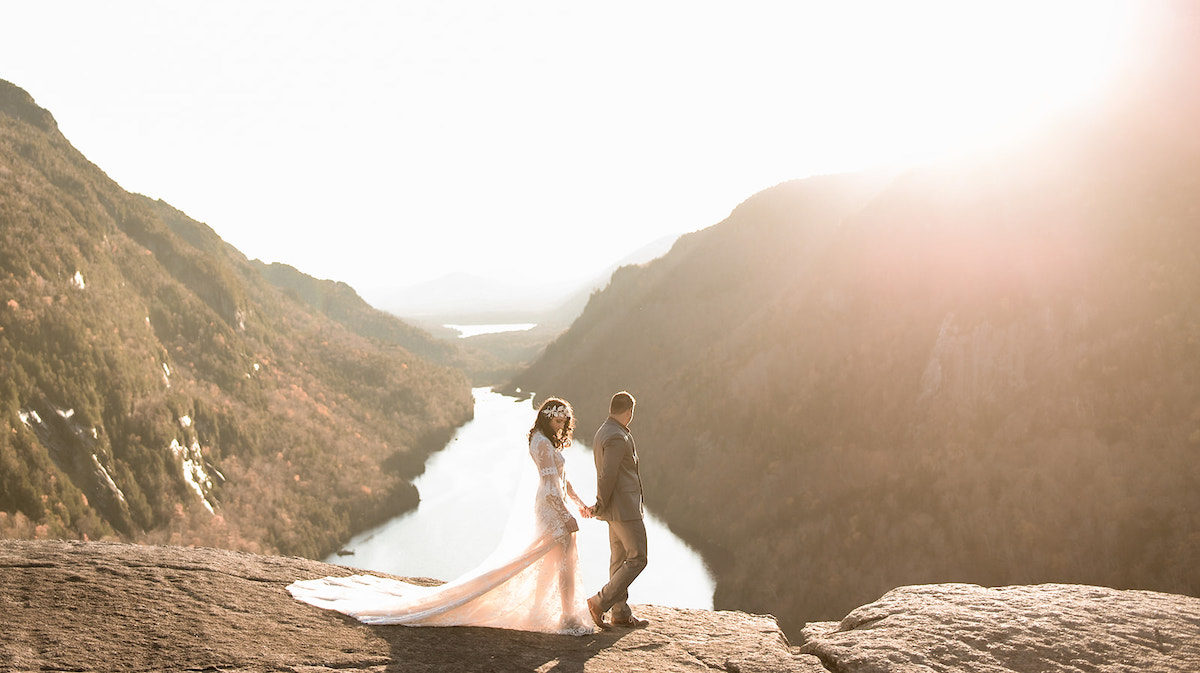 Hiking can get you to some of the most memorable locations for an adventurous elopement and unforgettable photos! Indian Head has one of the most unique views New York's Adirondacks have to offer with the Lower Ausable lake between Sawteeth's southwest peak and Mount Calvin.
The cliff faces on either side make a perfect natural frame for photos and the foliage (especially in the fall) is breathtaking, which makes it a perfect place to say your vows! While the walk to the trailhead before the hike begins is long and the hike itself is eleven miles, the view is well worth it; just note the summit can be crowded because the vista is just that good. And if you can't take our word for it, the hundreds of hikers that visit Keene Valley for this trail can attest, Indian Head is one of the best hikes in the Adirondacks.
2. Cascade Mountain in Lake Placid, NY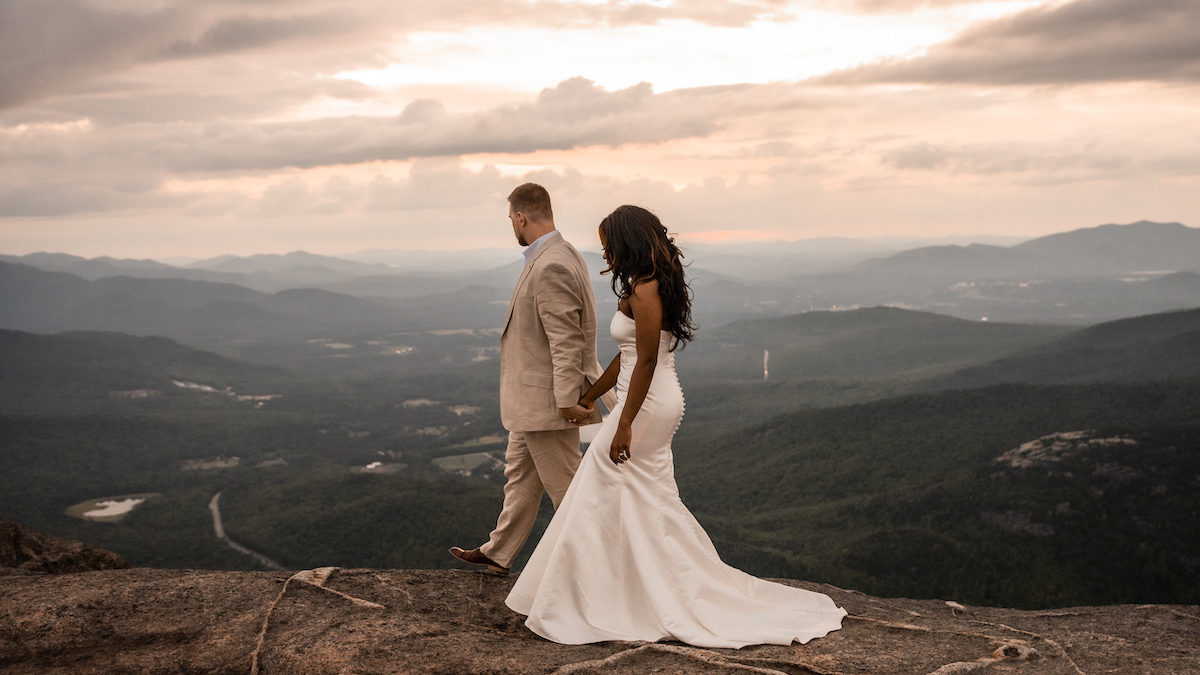 If you've ever wanted to hike a high peak, Cascade Mountain is a perfect location for your elopement. After almost two thousand feet of elevation gain, the summit opens up on an almost 360-degree vista of New York's Adirondack region.
The panoramic view is especially notable at sunset, creating the perfect setting for saying "I do" and an elopement you'll never forget. It's a little under two and a half mile hike to reach the summit and you hike the same trail to return to the parking lot, which makes this hike short but steep! Cascade is beautiful in all seasons, too, whether you want snow-topped peaks in the winter or bright blue skies in the summer. If adventure is your thing, how cool would it be to say you summited a high peak the same day you got married?
3. Marcy Field in Keene, NY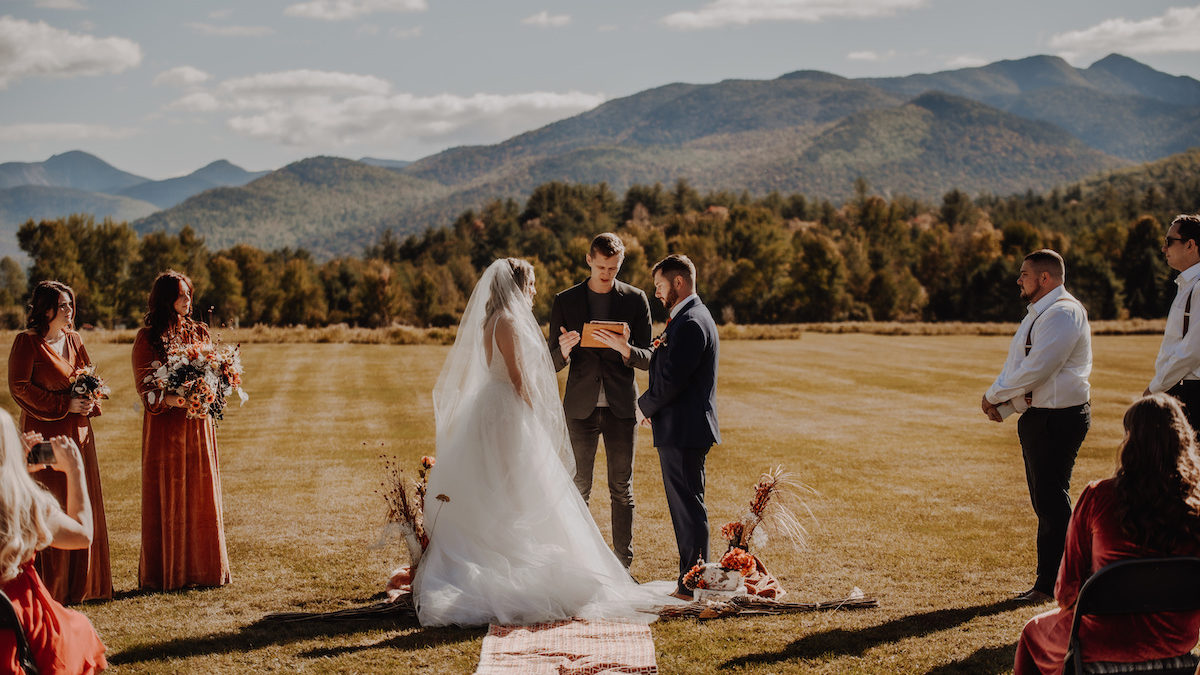 Did you know airfields can make great venues for elopements? Well, it's true of Marcy Field in Keene, New York. If you're looking for a gorgeous mountainous elopement but hiking's not your thing, Marcy Field offers an incredible view without the difficult climb and just might be your best option.
The ease of access makes this a great venue if you'd like guests to be a part of your elopement as well! The striking backdrop includes New York's famous high peaks and Whiteface Mountain standing out against the sky from almost every angle. The field's location along the Ausable River offers great opportunities for waterfront shots as well. One key point to remember: if Marcy Field sounds like the venue for you, you will need to contact the Town of Keene to schedule your upstate elopement here. If you're thinking about a microwedding, the town of Keene also has some great places for after-vows drinks and celebrating!
4. Minnewaska State Park in Kerhonkson, NY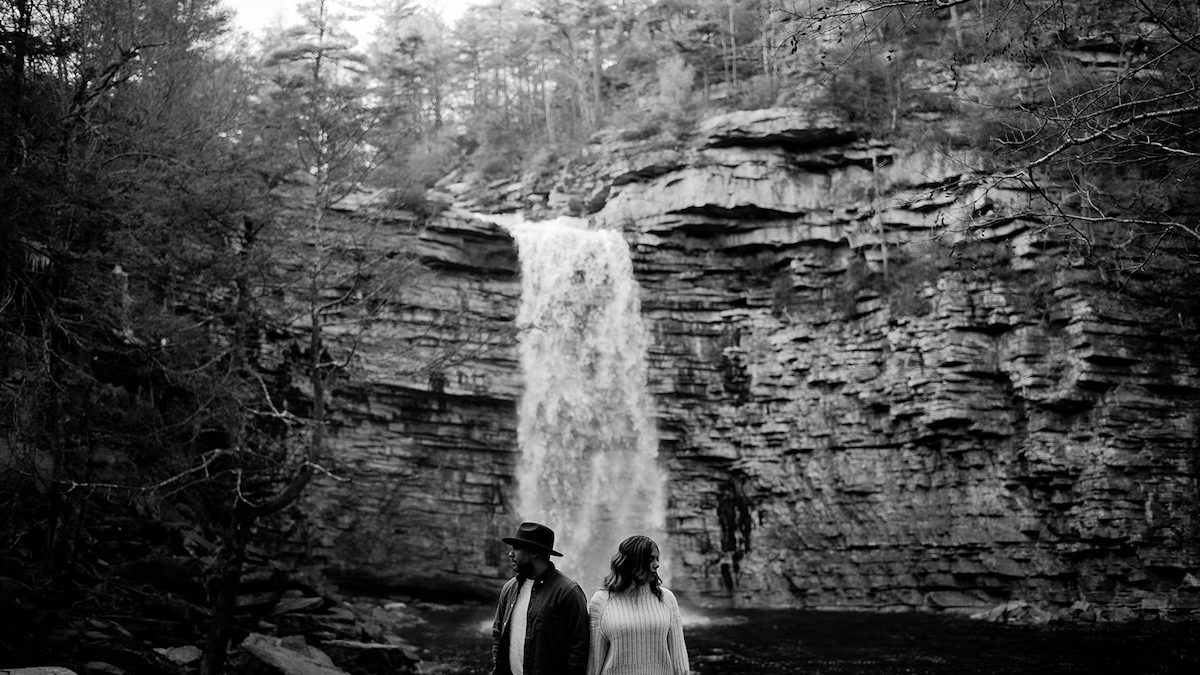 Just west of Poughkeepsie, New York, Minnewaska State Park has it all: miles of trails for all skill levels, a gorgeous lake, waterfalls and more than 20,000 acres of land to explore.
Eloping at Minnewaska is a little bit like a choose-your-own-adventure story: want to elope at a lake? Minnewaska. Want to elope on a mountain? Minnewaska. Want to have a woodland elopement? Minnewaska. It's worth noting that the state park charges $10 per vehicle to park, but when ten dollars unlocks so many possibilities, it's worth it. The state park is admittedly large so it's a good idea to have a game plan before you go! Some of the most popular trails are Gertrude's Nose, the Lake Minnewaska Loop, or Rainbow or Awosting Falls.
5. Mount Jo in Lake Placid, NY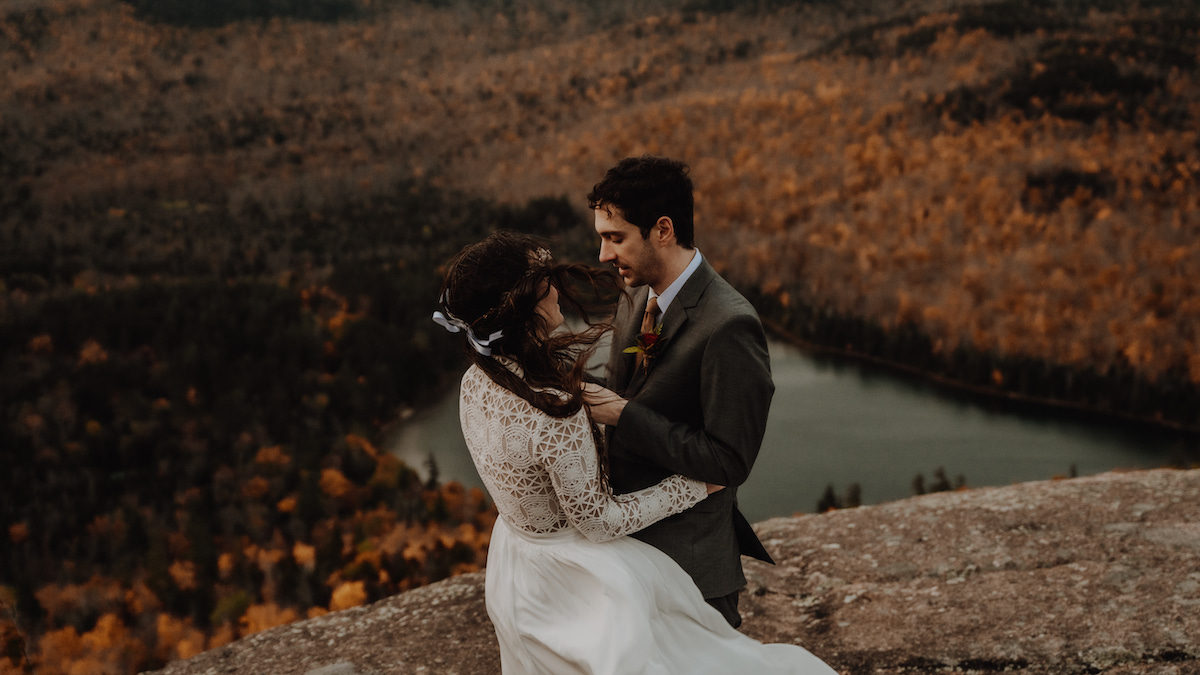 Don't consider yourself an advanced hiker, but still want that summit view for your elopement? Mount Jo is the perfect location!
The trail is under a mile and a half and the elevation is only seven hundred feet, making this an excellent choice for adventurers of all skill levels. Named for Adirondack Loj builder Henry Van Hovenberg's lost fiance Josephine Schofield, Mount Jo has the most bang for your buck in terms of a short hike. In addition to the summit vista, the trail also passes along Heart Lake before making the climb up the mountain, providing another great natural feature. From the summit, you catch views of the surrounding hills as well as Heart lake itself reflecting the sky. There is a $15 parking fee at the Trailhead. There's a reason this trek has several hundred five-star reviews on alltrails.
6. Whiteface Mountain in Wilmington, New York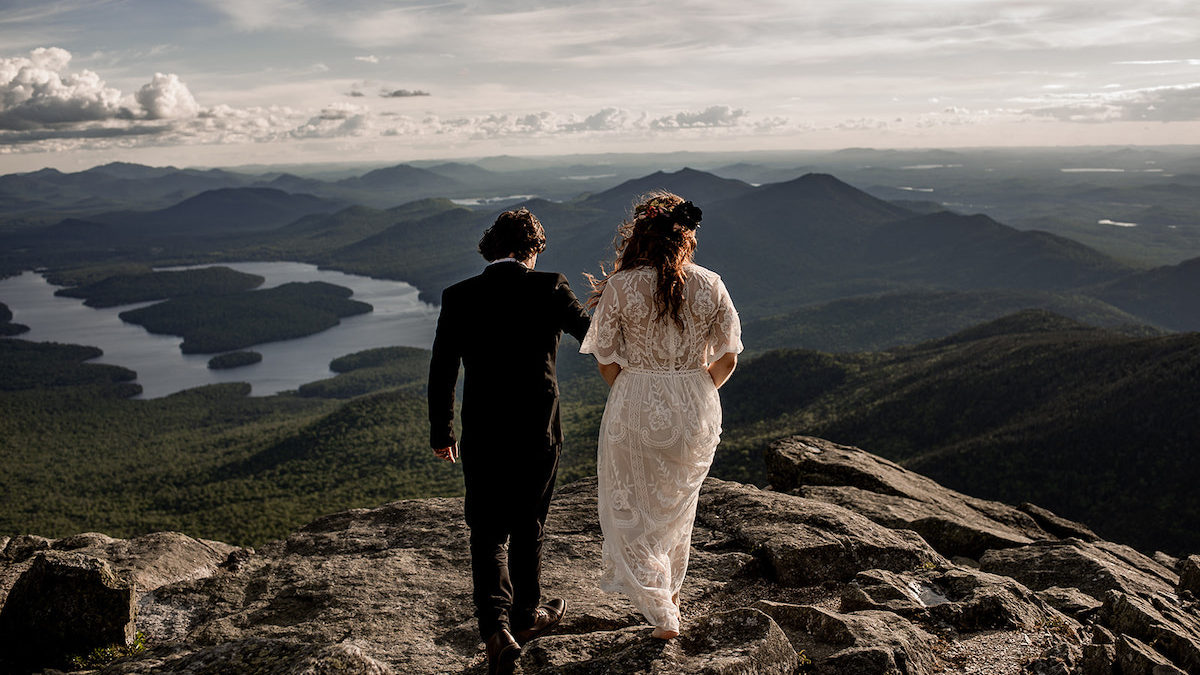 No list of best locations in New York would be complete without Whiteface! You may be familiar with Whiteface for Olympic skiing, but did you know the mountain is also an excellent elopement location?
With incredible views of Lake Placid, Lake Champlain and the surrounding region, say your vows in this unforgettable spot! Similar to Mount Jo, Whiteface is also very beginner friendly as the summit can be reached by hike, car or gondola! The hike is just over five miles base-to-summit with many great overlooks along the trail, but if you'd like to go by car the Veteran's Memorial Highway provides an excellent alternative. Whiteface Mountain's Cloudsplitter gondola can take eight people up the mountain in 15 minutes which allows for great views without breaking a sweat. Lake Placid does charge for use of Veteran's Memorial Highway, but it's a relatively modest fee for such a well-maintained and well-known view!
7. Crane Mountain in Johnsburg, NY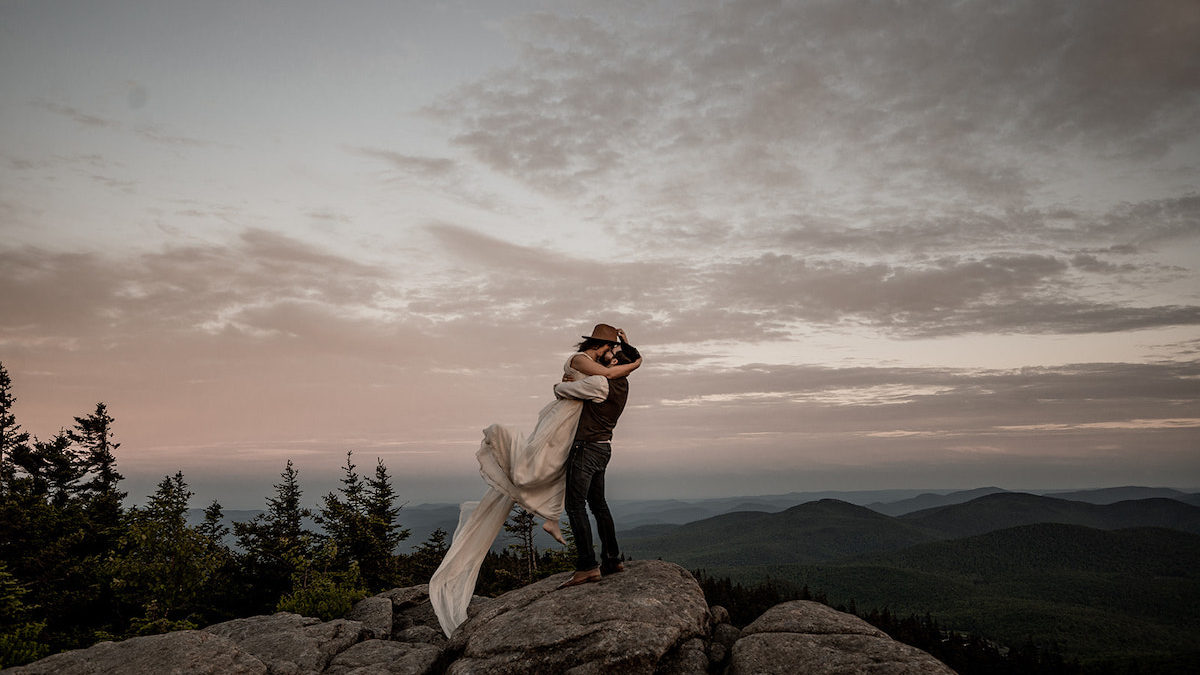 Crane Mountain is a short but steep hike featuring an incredible panoramic view at the summit. It's located in the southern part of New York's Adirondack Mountains, and the views are some of the best in the area!
The loop is about four miles long, with lots of great views along the way. There is a longer ladder to climb if you take the upper trail but the lower trail avoids it entirely. One of the unique elements to the summit view is the way crane mountain pond perfectly reflects the sky from certain angles, making the backdrop for your photos even more stunning. An elopement at Crane Mountain will be unforgettable, and isn't unforgettable what you want the best day of your life to be?
8. Marcy Dam in Lake Placid, NY
Marcy Dam is a seven mile out-and-back hike that mostly traverses rolling hills on a wide path. The dam itself was first built almost a hundred years ago and although the wooden structure was partially washed away with Hurricane Irene in 2011, the dammed Marcy Pond still offers vistas of Avalanche and TR Mountains as well as Mount Colden. There's also some great wooden walkways and footbridges on the hike that make for great photos. While the lake itself has drained considerably since the dam hasn't been rebuilt, the pebbled shores and surrounding forestry and mountains still provide a jaw-dropping backdrop for your elopement.
9. Paradox Lake in Lake Schroon, NY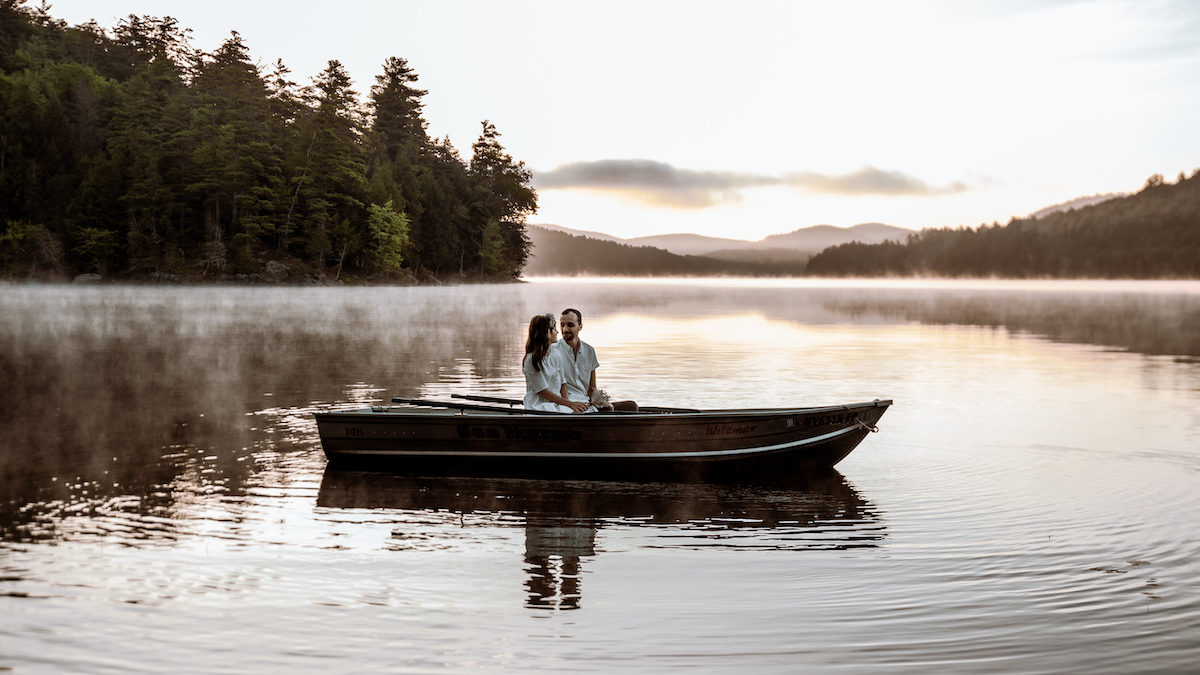 So named because the flow of the lake changes direction for part of the year, Paradox lake is less popular and less crowded than the busier Schroon lake but still has the killer waterfront views that make the best backdrop for an outdoor elopement. If you're looking for a gorgeous outdoor location to elope without a hike, Paradox Lake has a beautiful waterfront and all the nature you want, no climbing effort required.
10. Anywhere in Lake George, NY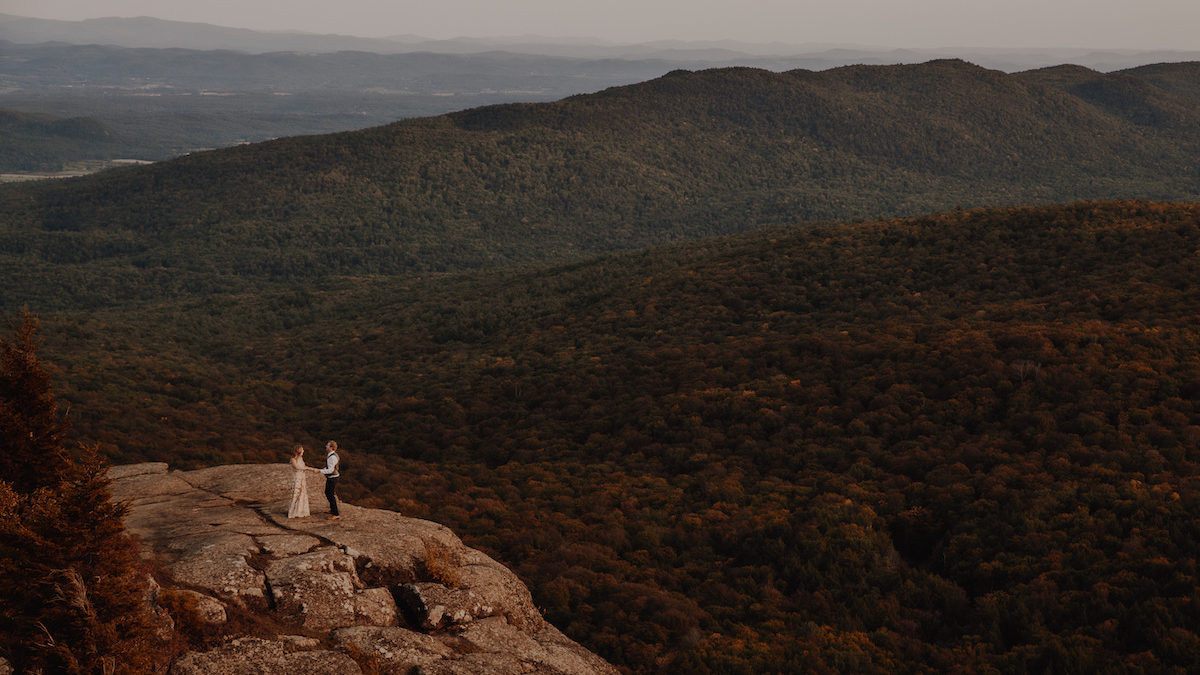 If you want royalty, Lake George is nicknamed the Queen of American Lakes. In a forty minute drive you can find several hikeable mountains with varying views of the lake and the surrounding forest. Shelving Rock Falls offers a great waterfall, but if a lake backdrop is more your thing, you can choose from Pilot Knob, Cat Mountain, Thomas Mountain and more. Sleeping Beauty Mountain also has a stunning view for a little bit of a hike.
The Lake George area has so much to offer in terms of an upstate New York elopement, particularly if you're looking for a water view. Lake George also has tons of great places to celebrate after your elopement as well!
11. Hurricane Mountain in Keene, NY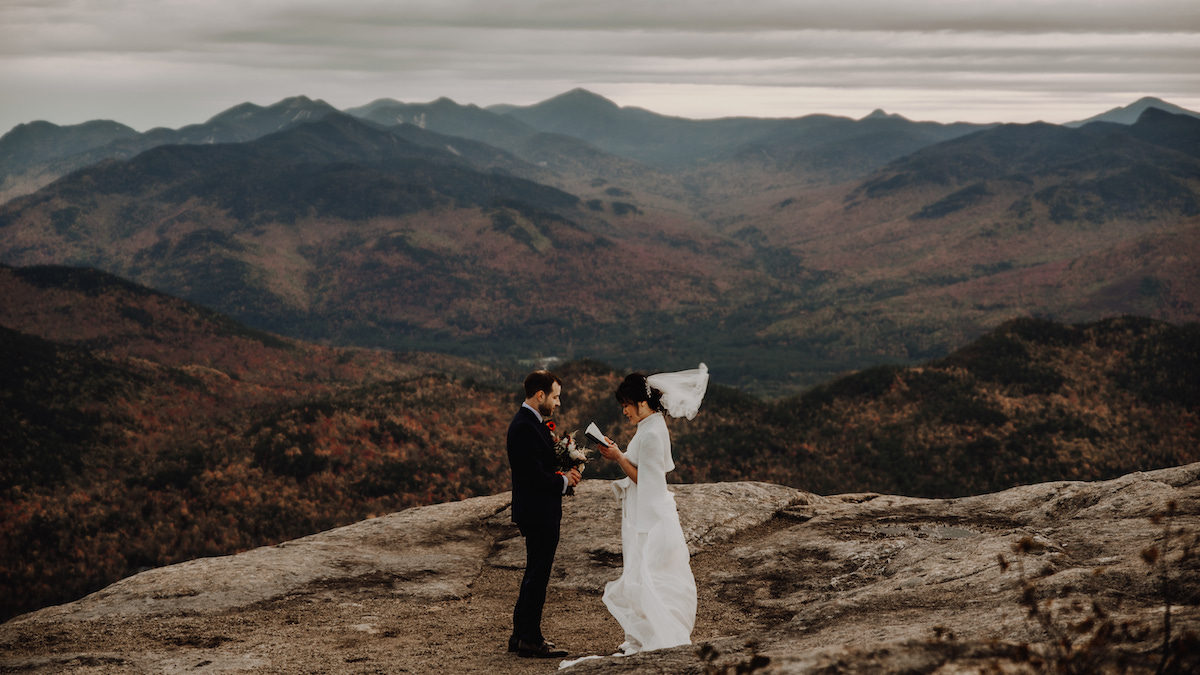 Hurricane Mountain has the unique claim of not one, not two, but three different ascent trails. All three trails are good for amateur hikers: a little strenuous for beginners but not too daunting to try. The summit has a 360-degree view of the surrounding mountains as well as a recently-restored fire tower if you're looking for an even higher elevation! One of the great things about Hurricane Mountain is the top is fairly spacious which means your elopement can still feel (and look!) intimate even if it's a busy day for hikers! Added bonus: during the warmer months of the year, there's no shortage of wildflowers in the earlier miles of the trail.
Best places to elope in an Airbnb / resort
Looking for a memorable elopement location without the risk of weather complications or the difficulty of a hike? Upstate New York has plenty of perfect intimate locations for saying your "I do"'s but these are a few of our favorites to work with in the past:
12. Lake Placid Stagecoach Inn in Lake Placid, NY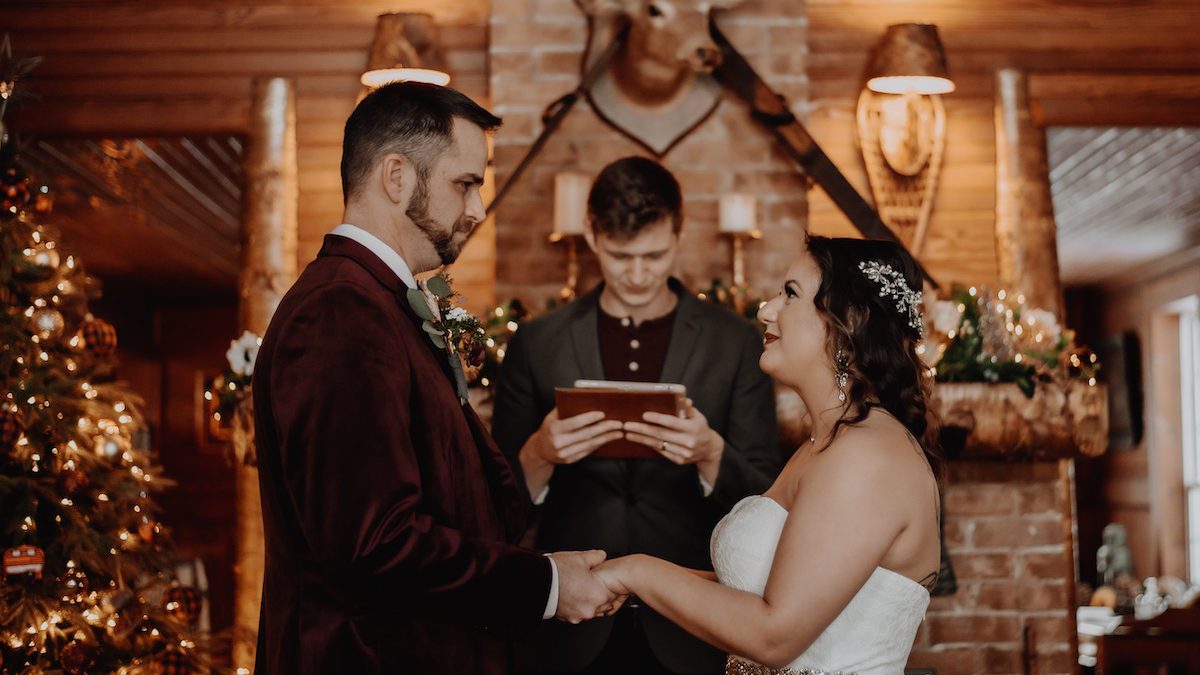 Class, comfort, coziness: The Stagecoach Inn has it all. Whether you want your wedding to be just the two of you or you had more of a microwedding in mind, the staff at stagecoach has both the amenities and the experience to make your special day one you'll always remember. They offer several suites of varying sizes and own seven acres of private land as well as boasting one of the oldest buildings in the area. Even if you choose to hike for your elopement (Whiteface Mountain is only ten minutes away!), The Inn is a great place to land or even enjoy your honeymoon.
13. The Fern Lodge in Au Sable Forks, NY
The Lodge is a waterfront property on Fern Lake with views of the surrounding Adirondacks. The six bedrooms and four baths make it an especially great location for a microwedding with all the amenities taken care of for your closest friends and family. If foliage is your thing, the surrounding woods and mountain views boast some of the best and most vibrant leaves as the seasons change, making for gorgeous photos and memories you'll never forget.
14. Warner's Camp in Upper Jay, NY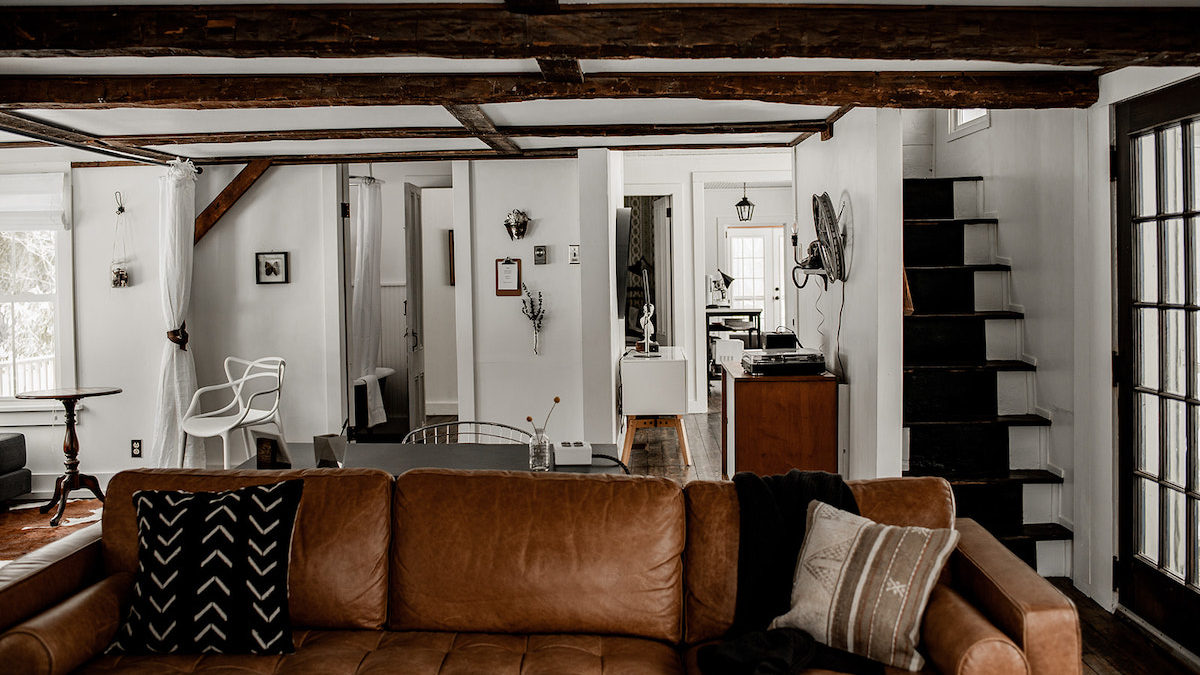 We've mentioned breathtaking summits and jaw-dropping lakefront spots, but Warner's Camp is something altogether different on the Ausable riverfront.
This completely renovated fisherman's camp makes the perfect intimate getaway for two: sauna, fire pit, and two hundred feet of waterfront. But if you want to bring your friends along, there's four bedrooms! The property is conveniently close to Lake Placid and Whiteface, while still remote enough to feel like you're the only people in the world.
Warner's Camp is also pet-friendly which means it's the spot for you if you want your four-legged friend to be a part of your elopement!
15. The Lake Placid Club in Lake Placid, NY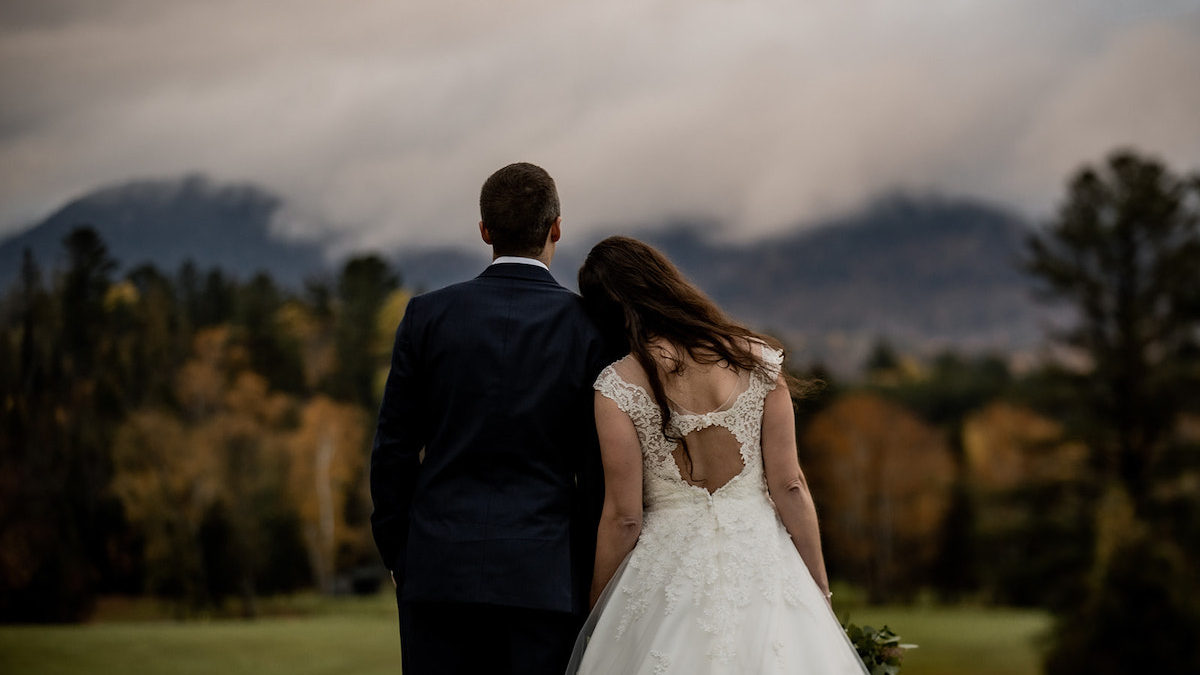 There's nothing quite so timeless as an elopement at the Lake Placid Club and they've truly got it all: lakefront property, convenient location, and an experienced resume.
Between the lakefront views, the Lake Placid location, and the long list of amenities, the Club offers just about anything your heart could desire for a NY elopement. Whether your guest list contains three people or thirty, the pros at the Lake Placid Club can make your upstate elopement dreams come true. PS- we'd be remiss not to mention the views of New York's high peaks from the Club. They make our job easy!
16. Foxfire Mountain House in The Catskills, NY
What do Green Wedding Shoes, Vogue, and Junebug Weddings all have in common? Rave reviews of the Foxfire Mountain House. You'd be hard pressed to find a more romantic or rustic setting in the Catskills. Their ten private acres are home to a lily pond, a gorgeous glass pavilion and of course the house itself. Set in the woods at the base of the Catskill Mountains, Foxfire is the perfect place for your elopement, microwedding, or even a traditional wedding if you really want to go all out. But if our word isn't enough to convince you, you can find more than a hundred hand-written testimonials from brides and grooms just like you on their website.
17. The Arnold House in Livingston Manor, NY
Talk about options! The Arnold House is acquainted with private events of all sizes so you know you can trust them with your elopement. Their property has eighty acres of land with a spa, a greenhouse, and meadows–and that's without even mentioning the fact that they have over a dozen suites for any guest needs you may have. Plus the location can't be beat given their easy driving distance from big cities like New York and Philadelphia. If you want to elope but keep your loved ones close and accommodated, The Arnold House is worth your consideration as a venue.
---
Congratulations! You've completed arguably the biggest step in wedding planning: nailing down your venue. Want to check another large task off your list? Book us as your elopement photographers! We're the Pinckards, adventurous elopement photographers based in the heart of the Adirondacks. You can find us hiking any of New York's stunning High Peaks and getting the best shots of your once-in-a-lifetime day. We are passionate about capturing photos couples can treasure for a lifetime and making sure your wedding is all about you: not the frou-frou. Request a free elopement consultation to book us as your photographers.