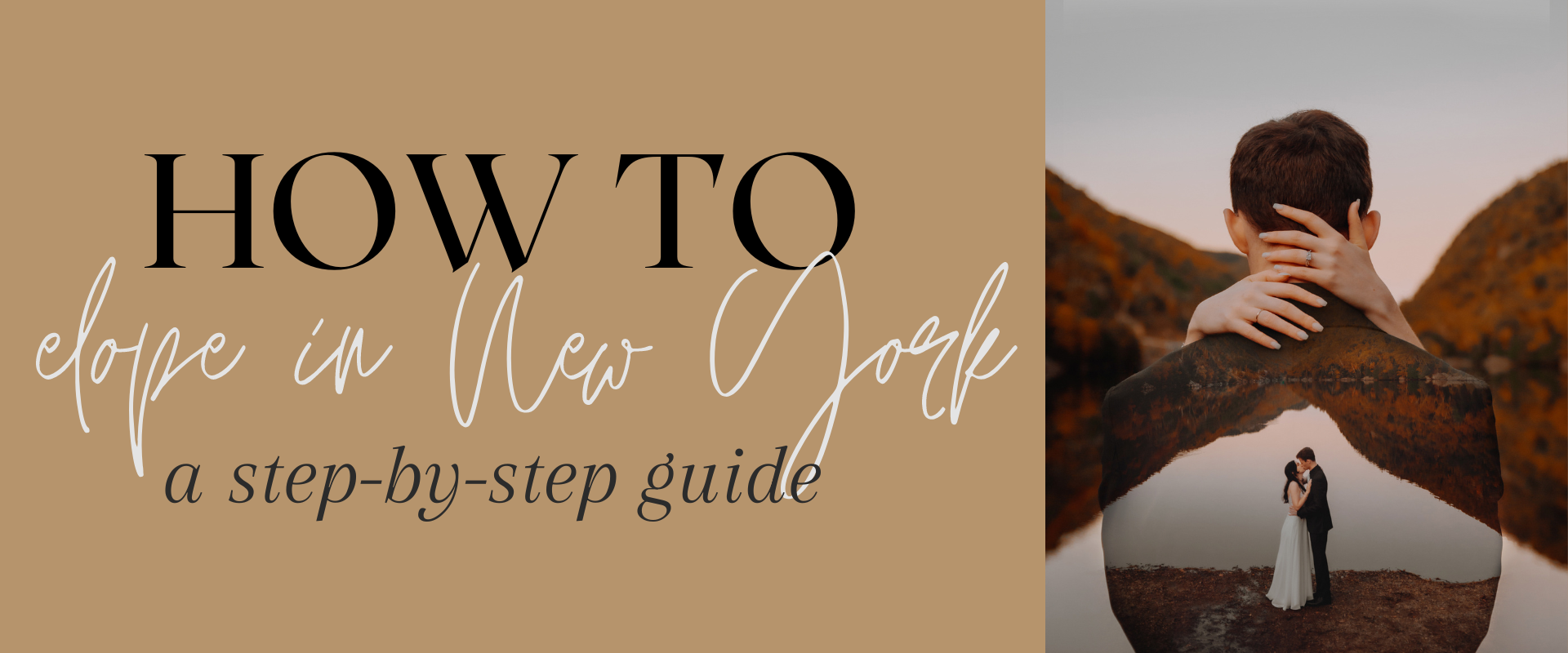 If you want to elope in New York, but you're not sure how, this step-by-step guide should help!
We are The Pinckards (Dan and Laura), and we photograph and help plan elopements for couples in New York. From our experience, we can say confidently that it is very easy to elope in New York State. And it's actually getting more popular to elope, especially as it has become more challenging to have large, formal celebrations.
Are you still trying to decide whether you should elope or not? Check out our blog post about 7 reasons to consider eloping. We have heard from countless couples who wish that they eloped, because traditional weddings can be extremely stressful (and expensive). We strongly recommend that you consider eloping!
If you're ready to get started, keep reading to learn how to elope in New York!
Getting Started: Planning Your Elopement
1. Decide what kind of elopement you want to have.
Elopements are not what they used to be. The term "elope" used to mean something along the lines of "running away and getting married in secret." Today, elopements don't usually fit into that definition.
Now, "eloping" usually refers to having a very small wedding (often with no guests, but not always) that doesn't fit into the traditional wedding mold.
YOU get to decide what your elopement will look like, and that is the first step in planning your New York elopement.
Here are a few common categories of elopements to choose from (but your elopement can be as creative as you'd like):
Courthouse or "City Hall" elopement. Many couples just want to make things official as quickly, easily, and cheaply as possible. If that sounds like you, the courthouse elopement is a perfect option, and New York makes it very simple.
Adventurous elopement. Eloping on mountaintops is an increasingly popular trend (for good reason). In New York, the Adirondack Mountains and Catskill Mountains are perfect for adventurous elopements!
"Intimate Wedding" elopement. Many couples opt for a hybrid wedding-elopement. These elopements are typically more laid back than traditional weddings and only have a handful of close friends or family members as guests.
Backyard elopement. When couples prefer a simple ceremony like a courthouse elopement but want it to be more intimate, a backyard elopement is the way to go. The term "backyard" simply means anywhere in New York that you want to elope – your house, an Airbnb, a cute park.
2. Decide when and where you want to elope
Your next step in planning your New York elopement is to decide on the when and where.
The date and location will depend significantly on the type of elopement that you and your soon-to-be spouse choose. For example, if you want an adventurous elopement in the Adirondack Mountains in upstate New York, you can choose an easy place like Marcy Field or Whiteface Mountain, or a hike like one of these.
If, on the other hand, you want a courthouse elopement, you will have to contact the town or county where you want to get married to inquire about locations and availability.
Regardless of the type of elopement, though, you should begin planning your NY elopement as early as possible. That way, you can avoid scheduling conflicts with everyone involved (your officiant, witnesses, photographer, etc.).
Get a Marriage License
After choosing your type of elopement and deciding when and where, you need to get a marriage license. In New York, you can get your marriage license anywhere in the state, as long as your elopement is taking place within the state.
To apply for a marriage license, you need to visit a town or city clerk in New York. According to New York State, "A couple who intends to be married in New York State must apply in person for a marriage license." You cannot send a representative, a notarized letter, or any other replacement for appearing in person.
When you're ready to set up an appointment, call your specific city or town clerk's office to inquire about their hours and availability. Be prepared to bring the necessary documents to prove your identity and age. Different cities and towns in NYS may have varying requirements, so be sure to ask the clerk what documents you need to bring while on the phone.
A couple important things to note regarding your New York marriage license:
NY does have a 24-hour waiting period after obtaining the marriage license before the marriage can be solemnized. This waiting period can be waived by a judge in some scenarios.
The marriage license is only valid for 60 days in New York, so be sure to apply within 60 days of when you are planning your elopement.
There is a $40 fee to apply for a marriage license in NYS. This fee is all-inclusive, so you won't need to pay again to obtain a marriage certificate. If you are getting married in NYC, the fee structure may be different, so be sure to check out their website for specific information.
There are also some restrictions on who can purchase a marriage license in New York. Some examples include:
Blood relatives such as a sibling, descendant, uncle, etc.
Anyone under 17 years old (if you are 17 years old, you need parental consent and approval from a judge).
If you have previously been married, the city or town clerk may require specific information and documentation. In some cases, you may not be allowed to proceed without the necessary information.
Much of this information is generic for New York State, so don't forget to call your city or town clerk's office to verify everything. Here are some specific questions to ask:
What documentation should I bring when applying for my marriage license?
How many witnesses' signatures are required on the marriage license at the ceremony?
What is the cost of the marriage license and what payment methods are accepted?
Find an Officiant and a Witness
Once you have a date and location picked out for your NY elopement, you also need to find an officiant and a witness.
The officiant that you work with will depend on the type of ceremony that you choose. There are a number of different people who are authorized to solemnize elopement ceremonies. For example, some New York government officials can solemnize marriages – governors, mayors, judges, and other appointed officials.
In addition to those government officials, members of the clergy or ministers who are officially ordained by a church are also authorized to perform elopement ceremonies in New York.
Dan is actually ordained specifically for elopements, and we offer his officiating services as part of our elopement photography package. If you want to have an adventurous elopement on the mountaintop, it can be very hard to find an officiant willing to hike with you. Working with us makes it very easy, because we can photograph your elopement, officiate, and sign as the witness.
If you are having any friends or family at your elopement, you could also ask one of them to officiate and another to sign as the witness. All they would need to do to become a qualified officiant in New York is fill out a form online to become an ordained minister. Be sure to check with your city or town clerk to find out if the officiant will need to provide any paperwork, though.
Find an Elopement Photographer
This step isn't technically 100% necessary, but what do you expect when you're reading an article written by elopement photographers?
Getting married is an important life event, whether it's in front of 200 people or just with an officiant and witness. Your kids will be excited to see photos of your wedding one day, so it's important to have these exciting memories captured by a professional photographer.
There are countless photographers across New York who capture elopements, so you have plenty of options to choose from. Here are some general guidelines that should help you choose the right photographer for your elopement:
Make sure you love their photography style. Your photos will help you remember your elopement for decades, so you shouldn't just hire someone with expensive gear. Take time to compare portfolios.
Choose a photographer with a great personality. Depending on what photos you want (i.e. getting ready, ceremony, portraits, etc.), you will probably spend at least a few hours with them. If they are overbearing or awkward, that can make your day a lot less enjoyable.
Ask a lot of questions. How many photos will you receive? When will you receive them? Will they have a watermark? Are you allowed to get them printed?
If you want to talk to us about photographing your NY elopement, don't hesitate to contact us!
Plan and Style Your Elopement
Now it's time to plan your elopement, but how you do that depends on the type of elopement that you choose and the specific details that are important to you.
Your elopement can be as simple or extravagant as you want. Some people elope on top of a mountain with a simple ceremony, while other people plan a miniature wedding with meals, dances, cake-cutting, etc.
Either way, make sure you don't forget WHY you chose to elope in the first place. If your primary reason was finances, make sure to stick with your budget (avoid impulsive spending)! If your goal is to avoid stress, do not let the planning overwhelm you – stay focused on what really matters!
For some ideas or inspiration, check out our article, 11 Ways to Elope in Style (How to plan an elopement without skipping the details).
Get Married!
It's officially time! You've got a photographer, officiant and witness; you've got a date and location; you're done planning your elopement.
Now, it's time to get married!
New York doesn't have any specific requirements for what an elopement ceremony has to look like. You can just say some quick, simple vows or have an intricate ceremony. NYS's only requirement is that you have an officiant and witness willing to sign your marriage license, indicating that they were present for the solemnization of your marriage.
Talk with your officiant about how you want your elopement to look! It's your day, and it can take whatever form you want.
When Dan officiates elopements, he typically follows a traditional wedding ceremony format. He incorporates sentimental elements, (i.e. quotes or passages that are meaningful to the couple) and the exchanging of rings, initiates the couples' vows, and ends the ceremony with the traditional "you may now kiss the bride!"
Submit Your Marriage License
After your marriage ceremony, you need to send in your completed NY marriage license to the city or town clerk where you purchased it.
Some officiants will do this for you, but just double check beforehand. It is very easy to send it in but also very important. If you do not mail in your marriage license, New York has no way of knowing that your elopement took place, and your marriage will not be legally recognized.
Make sure every field is filled out entirely, and then mail it in to the address listed. Within a couple weeks, you will receive a marriage certificate in the mail. If you don't receive one within about a month, contact your city or town clerk to make sure they received your marriage license.
You Are Now Officially Married!
That's all it takes! A lot of people ask us how to elope in New York, but it is actually very easy. Some states have stricter requirements, but in NYS, the process is relatively straightforward.
Just to reiterate, make sure you contact your local city or town clerk to be sure all of this information is correct for you specifically.
---
If you want to elope in New York, feel free to reach out to us! We can help you plan your elopement, photograph it, officiate the ceremony, and sign as witnesses. Check out our photos on Instagram here or send us a message here.
New York Elopement Photos: