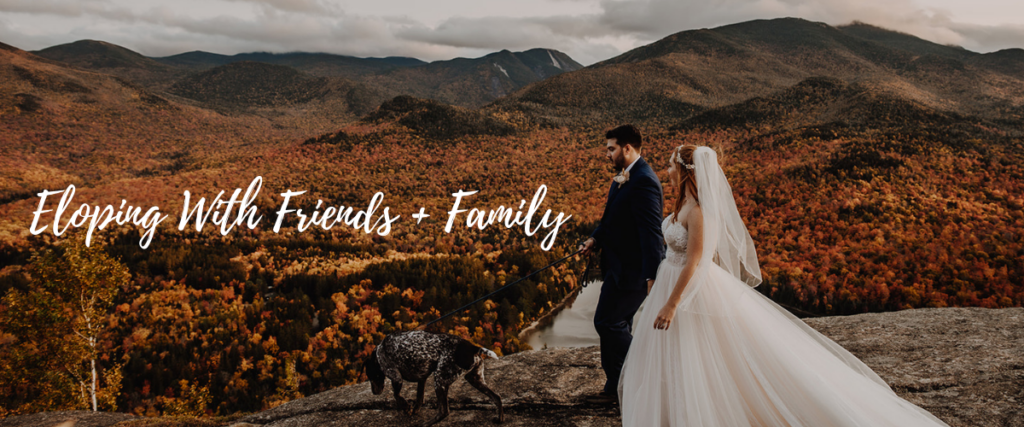 When your parents hear the word elopement, they may think of running away and getting married in secret. In this day and age, that's just not true anymore! After years of rising wedding costs and more and more pressure on couples to meet expectations, not only from family and friends but from complete strangers (thanks, social media), lots of people are electing to elope. There's a freedom in being able to throw out the imagined handbook full of "shoulds" and "shouldn'ts" to have a day that's uniquely yours.
"That all sounds great," you might say, "But it's really important to me that my family and friends have the opportunity to be involved even if we are eloping." You're not the first to wonder how to include family and friends in an elopement, and we're here to tell you it can be done! If having guests at your elopement is important to you, there's a couple different ways to do it.
We had an awesome time working with Danielle and Anthony and wanted to give you a look at what they did.
---
How Danielle and Anthony Eloped With Their Family and Friends
When Danielle and Anthony decided to get married, they faced a dilemma: they considered it essential to include their family and friends on this day they wanted to remember forever, but also wanted adventurous mountaintop photos. Enter the two-day solution: they decided to break up their wedding festivities over multiple days.
On day one we captured their private first look and reading of vows on a nearby mountaintop; and on day two they had a public ceremony and reception with guests. The best of both worlds!
There's a lot of benefits to this approach.
Anthony and Danielle still got to enjoy the intimacy of an elopement and the privacy of not having to share their vows or their first look with anyone but each other. But by inviting family and friends to a ceremony and reception, those guests still got to celebrate with them and enjoy being together!
Not only that, but a lot of couples report feeling so rushed by the breakneck speed of their wedding day that they don't get the chance to actually enjoy the meaning of the ceremony and be present. By breaking the festivities up over the course of two days, Danielle and Anthony were able to slow things down to a pace where they could actually enjoy the details and everything going on without being overwhelmed by stress.
Want to plan an elopement like Danielle and Anthony's? Let's schedule a call!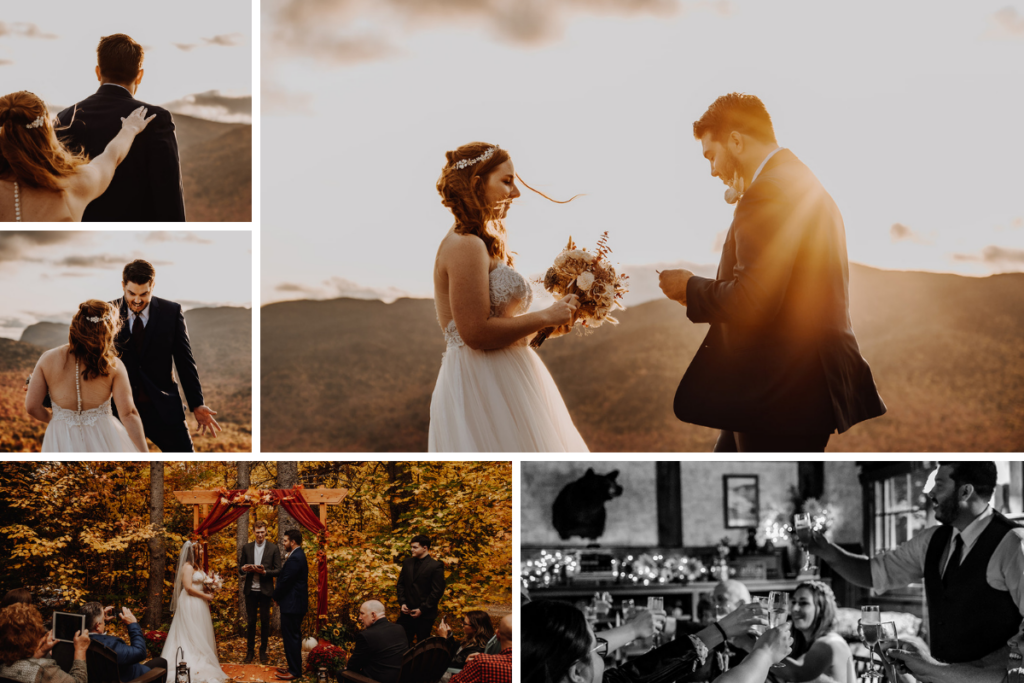 ---
Other Ways to Elope without Excluding Your Guests
If you're trying to find a bridge between your desire to have an intimate elopement and keep your family and friends involved, there's lots of ways to do that! Here are a few we see frequently:
1. Secret elopement followed by a wedding.
Many couples elect to have a "secret" elopement before their actual wedding day. It might be a day, a week, or months before, but you get to decide. This takes some of the pressure off the day of your public ceremony because the most important part has already been taken care of. There's lots of advantages to this but one of the best parts is nobody has to know but you. That's an easy way to completely eliminate any negative feedback you're worried about from the equation!
2. A mountain summit that guests can easily get to.
Doing a mountaintop wedding without a hike means less active family and friends can be a part of the celebration without the strenuous climb. Some mountains have a drivable summit: this means you can get all the views and the gorgeous backdrop just by getting in your car! Whiteface Mountain in upstate New York is a great example of a drivable mountain (want to know more about Whiteface? We have a whole writeup on it in this blog post).
3. Live streaming your elopement.
One of the big reasons so many people switched gears from big wedding bashes to intimate elopements in 2020 is because the world was shut down for much of that year forcing a lot of innovation. Livestreaming important events was one of the best things to come out of that, and just because things are opening up again doesn't mean you need to count it out. The convenience of being able to send guests a link allows them the privilege of feeling involved and getting to witness your love while you still get all the benefits of a day solely focused on just the two of you. Bonus: no reserving a hotel block if your guests don't have to travel!
Lovecast is an app specifically designed for live streaming weddings.
4. Letters from your friends and family.
A great way to keep your family and friends with you in spirit for your elopement without their physical presence is to ask those closest to you to write letters for you to include in your ceremony. This is an excellent option for you if you think the speeches are the best part of the wedding but don't want to run the risk of an over-excited groomsman saying the wrong thing. Important family members and close friends can write out their heartfelt messages for you to read during your elopement or even after. If those who write want to see their words in action, having a recording of the ceremony lets them feel like a part of things without physically being there. A videographer can help with this by artfully documenting your day and delivering a film you can't wait to share.
---
Do whatever is best for you & your fiancé!
If you're feeling torn in two between eloping and a traditional ceremony, we hope this blog post has encouraged you that it doesn't have to be an either/or thing. There's lots of ways to combine the best parts of a traditional ceremony with an intimate elopement to get the best of both worlds. You can follow Danielle and Anthony's lead and break up events over multiple days so as to elope with guests, or use modern technology in the form of livestreaming and videography to include family and friends in your elopement. Whatever you decide to do, focus on what makes you as a couple feel the most comfortable and celebrated, because at the end of the day, that's the most important part of it all.