Eloping in the Adirondacks in the spring is no small feat (especially for the bride in a dress). The chilling winds and still icy trails are spring trademarks here. That being said, if you can brave the conditions, you'll experience a magical mountain top elopement, likely with much more privacy than other times of the year.
When Sarah and Tyler booked their elopement, we couldn't have been more excited. They decided to hike one of our favorite easy-to-moderate hikes in the Adirondacks with breathtaking views, and we could tell from our phone calls with them that they were a laid back, stress-free couple (our favorite kind of couple to work with!).
(For tips on how you can plan your own stress free elopement, check out our blogpost here.)
We met Sarah and Tyler for the first time at the trailhead, and we could immediately see the most genuine love between them. Their excitement was palpable.
We all geared up and began our trek up the mountain. Stopping a few times along the way, we made the one mile hike up the mountain.
After about 40 minutes of hiking, we arrived at the 2,876′ peak. Sarah and Tyler were visibly amazed as we passed through the trees to the breathtaking view. It honestly never gets old seeing our clients' reactions when they see how the gorgeous views of the Adirondack Mountains are 100% worth the effort of the hike.
Sarah and Tyler also brought a friend with them to act as bridesmaid / witness. She started helping Sarah finish getting ready, and Tyler chivalrously removed her ice spikes. They chose to hike in their wedding clothes instead of changing on the summit, so it didn't take long before we were ready to get started.
We began by capturing some portraits, taking a few hand warmer and coat breaks along the way. It was a cold day in the early spring, so we wanted to make sure Sarah wasn't freezing in her dress.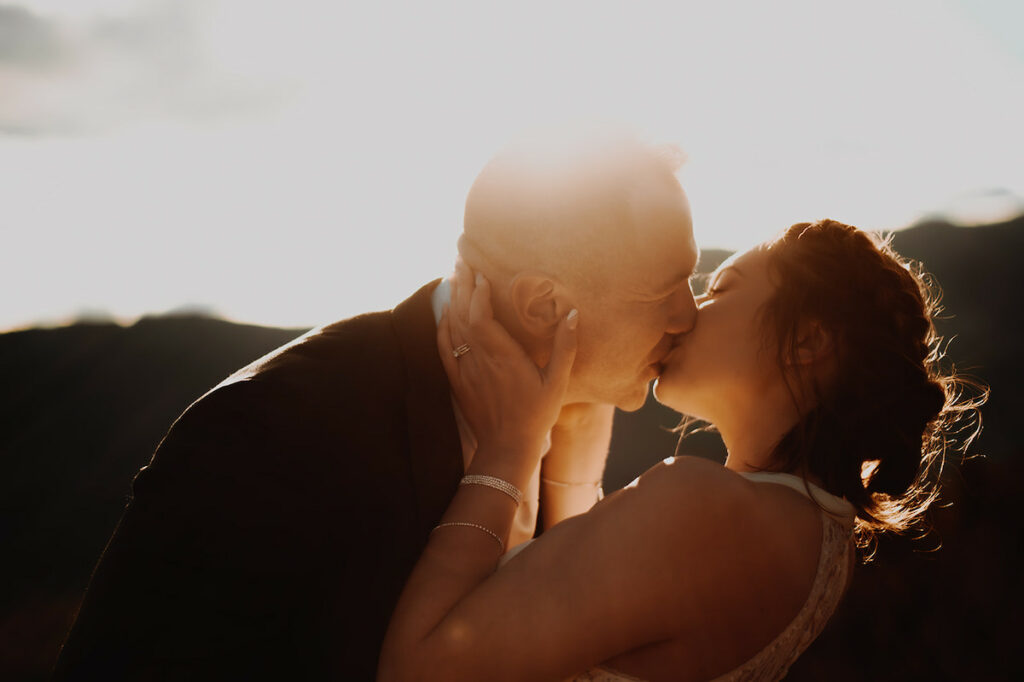 After a few minutes of photos, we moved straight into their ceremony. Dan officiated and decided to keep the ceremony short and sweet, giving a few words of encouragement before having Sarah and Tyler exchange rings. He then pronounced them husband and wife while our cheering echoed through the mountains.
Understandably, they decided to save their vows for later because of the cold!
After a short break to let the moment soak in, we continued taking portraits.
Once the ceremony and pictures came to an end, we began the trek back down the mountain. We made it down to the bottom and loaded into our cars. We began the drive back to Sarah and Tyler's Airbnb. Spontaneously, Sarah and Tyler had decided to exchange their vows in the hot tub, while still in their wedding clothes!
One of the things we love most about elopements are that you truly can do whatever you want however you want. Even saying your vows in a hot tub!
And so, Sarah and Tyler's spring elopement in the Adirondacks came to an end. We left them, still in the their hot tub, in the decadence of being newly weds.
If you'd love to have a magical spring elopement like Sarah + Tyler's but don't know how, check out our blogpost, "How to Elope in New York: Step by Step," or schedule a consultation call with us here!