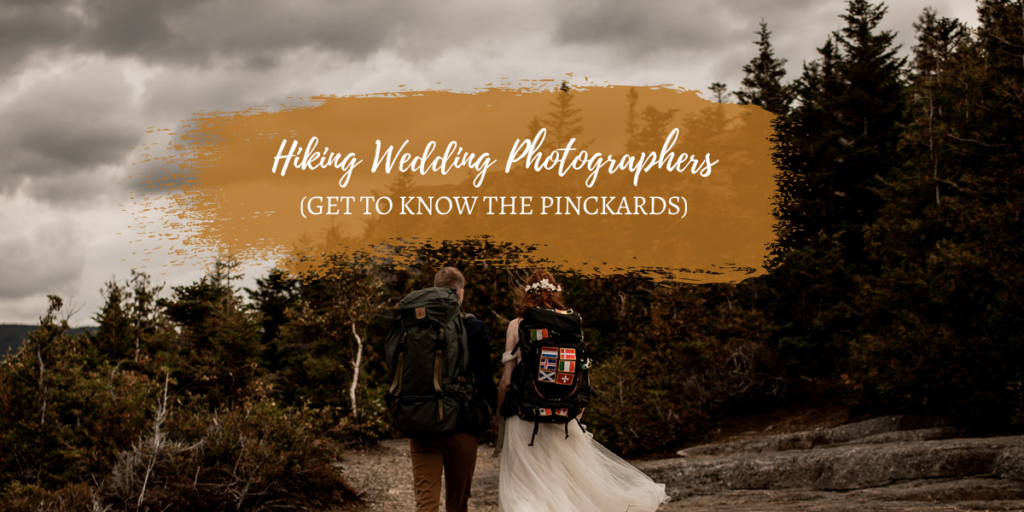 Congratulations, you've decided on an adventurous elopement! Eloping for your wedding allows you to focus on what really matters: you and your loved one. You can celebrate exactly the way you like, while tossing out any traditions or "requirements" you don't.
The next step in the planning process is determining who you're going to take with you and how you're going to remember this day for the rest of your life; one of the most important parts of that is finding a skilled photographer to come along. If you're searching for wedding photographers who hike, we're happy to tell you you've come to the right place.
But first, a little bit about us:
Meet The Elopement Photography Team: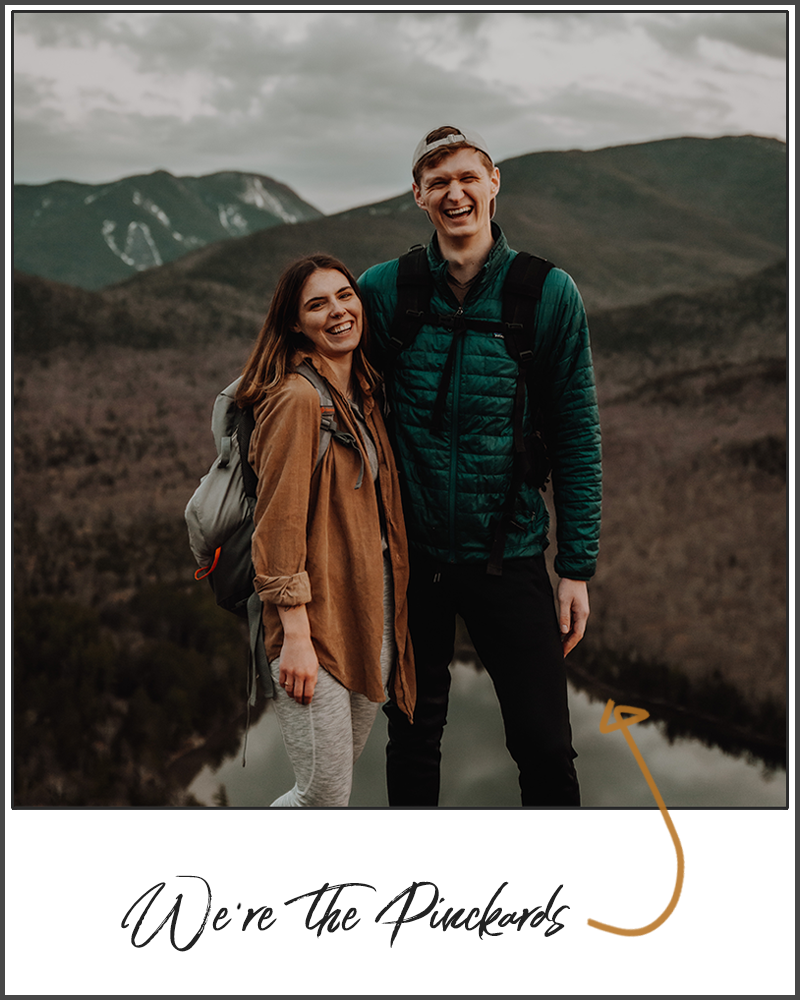 Hi! We're the Pinckards, full-time professional wedding photographers who hike and specialize in elopements + small weddings.
Dan comes from a business background and is an ordained officiant, while Laura masterminds the creative side of our photography business, particularly by editing every photo we deliver herself.
We're based out of upstate New York (and think way way upstate, almost all the way to Canada) right in the heart of the beautiful Adirondack mountains. Living in the midst of some of the best views the Northeast has to offer means we have lots of expertise in hiking and which summits make the best wedding backdrops (we have a whole post on it here).
Even though we love our home state, we jump at the chance to travel just about anywhere. We've been dozens of places from California to St. Lucia. We love our pets: Kuba and Barrett, our over-sized lapdogs; and Sterling, our cat who really behaves more like a dog.
But the most important thing about us as hiking wedding photographers is that we're passionate about capturing your special day with photos you love and will treasure for a lifetime. But we want to make sure you love everything about your wedding day – not just the photos.
Want to chat with us about capturing your wedding? Click here to schedule a call!
Pre- Hiking & Wedding Photography: How We Met
Dan grew up in Chicago, rarely leaving the Midwest, and Laura spent her childhood traveling between Europe, Pennsylvania, and upstate New York. So how did we meet?
While Dan had intended to climb the traditional corporate ladder and pursue his MBA, and Laura hoped to go to nursing school, we both ended up deciding to start at a Bible college because our faith is important to us. During our two years at the school, we ended up meeting while playing soccer and immediately hit it off.
After our time at that little Bible college, we eventually ended up doing an internship together in Europe. During that time overseas Dan proposed, which ties nicely into our introduction into the world of photography.
How We Became Hiking Wedding Photographers:
Dan bought a nice camera so that Laura's sister could capture photos of the proposal, and we ended up using that very camera as a hobby to document our time in Europe.
Fast forward to our very own wedding not too long after: our day ended up being much more chaotic than we had anticipated. We'll save the whole story for another time, but here's the highlights:
First, our photographer did not have a good grasp on what he was doing, which meant sub-par photos for us. Secondly, some of the very family and friends that claimed to be celebrating us and our marriage ended up making the day all about them. This experience has made us very protective of how others get to experience their day and evaluate their priorities heading into a wedding.
After we got married, we both ended up working at an international nonprofit based in the mountains of upstate New York. Laura worked in customer service, and Dan in the marketing and fundraising departments. In our spare time, we continued to take photos. We started doing photography when and where we could in our free time, and we got into hiking at the same time.
Naturally, this led to hiking photo sessions! It wasn't long before Laura quit her job to do photography fulltime, and Dan followed shortly after.
Why We Love Hiking Mountains for Weddings & Elopements
Because of our own wedding experience, there are two elements to any wedding that we are super passionate about:
Making sure every couple has an amazing experience on their wedding day, focused on celebrating their future together.
Delivering stunning photos that capture the joy of that day.
Hiking gives you the opportunity to get incredibly stunning photos that you'd likely miss out on with a traditional wedding, and an elopement (or intimate wedding) does a couple things to ensure that you have the very best wedding day.
One, it generally requires significantly less planning which means less stress for you as you prepare. Two, because you can't invite as many guests, the guests you do invite end up being that much more meaningful. Three, we personally love it, because it means we get to spend quality time with our clients and have ended up making lifelong friends as a result.
How to Choose the Right Hiking Wedding Photographer
At this point, you might be thinking, "Great, but what do I need to look for in a wedding photographer who's also willing to hike for my elopement?"
We aren't the right fit for everyone, but good news: we have some tips for you!
1. Make Sure You Find Photographers Whose Style You Love
We have people tell us all the time that they regret not paying more attention to this.
What kind of photos are you looking for? Dark and moody? Light and airy? What do you like or not like in a photo? You should always check out the work of the photographer (preferably look through some of their full galleries) before you hire them.
Instagram offers a great opportunity to do this before you even contact a photographer. This saves you both time so you're not meeting with someone whose work doesn't speak to you, and they're not spending time on a client who doesn't like their style.
Remember, these are likely images that will hang in your home on display for a long time! Don't you want to make sure they represent you and your style?
2. Make Sure They Have Enough Experience Hiking
This probably isn't news to you, but not every wedding photographer has experience hiking! Someone whose portfolio only contains traditional weddings might not be the best fit for hiking up a mountain with you to capture your elopement, and that's okay.
Be honest about what you're looking for and what you have in mind, and ask questions about if they're up for it. This is another area where a photographer's website and social media can give you helpful hints: if there's no summit photos to be found, chances are they're not a hiking photographer.
Hiking skill level is also important! If you're willing to hike nine miles to get the best view, but your photographer has never hiked that far, that's a pretty big problem to overcome! Being honest about your expectations up front makes an unpleasant conflict less likely down the road.
3. Make Sure They're a Reliable and Professional Photographer
This is where things can get uncomfortable, but it's worth having asked the tough questions to make sure you get photos you'll treasure as long as your marriage.
As we've previously mentioned, a photographer's website and social media can be a great place to start. Most experienced professionals reference client testimonials on their site, so before you even reach out you can get a chance to see what others have thought.
One of the most important questions you can ask is about their data-backup process in their photography workflow. If something goes wrong, you don't want to risk them losing all their photos of your wedding. How do they safeguard against something like accidentally clearing a memory card before delivering your photos (yes, this happens to photographers ALL the time)?
Speaking of backups, are they prepared for when things go wrong? A seasoned photographer should have a plan in place for everything from a broken camera to a memory card that won't work. What will they do in the event of bad weather? If everything falls apart when one thing goes wrong, it's not a good sign that you'll have a positive experience with your photographer. Because usually at least one thing doesn't go according to plan, it's nice for you to be able to relax knowing you're working with a professional that can roll with the punches.
Another important subject to ask about is your rights to the photos. Can you print them? Can you post them? Are you okay with the photographer using your images to promote their business? For both of your sakes, it's helpful to have clear expectations on what both of you want and communicate so nobody ends up with an unpleasant last minute surprise.
Chat Us About Your Wedding / Elopement
An adventurous elopement opens so many opportunities for you and your significant other to really enjoy and celebrate your marriage. Doing your research can be overwhelming, but we're here to help!
Asking the right questions can set you up for success with a photographer who sees your vision for what you want and can help you fulfill it. If you're looking for a hiking photographer for your wedding, we have both the passion and the experience to deliver you stunning photos of the best day of your life. Click here to schedule a phone call with us!