HOW MUCH WILL YOUR ELOPEMENT COST?
If you want to elope in New York, but don't know how much it will cost, this comprehensive guide should help you!
Obviously, the cost of eloping in New York can vary widely from couple to couple, but the average investment typically lands around $5,000 – 12,000, with some couples spending as much as $15,000 – 20,000. The amount depends on a number of factors, which we will break down below.
We're The Pinckards! We photograph, officiate and help plan elopements in New York + beyond. Want to get in touch with us? Fill out this form, and we'll reach out within 24 hours!
Your First Step: choose your elopement priorities
Every single couple will have different priorities of where they want to put their money on their elopement day. One person might cut back on the cost of their dress in order to hire a mariachi band, while another doesn't travel in order to have the dress of their dreams! There's truly no wrong way to elope. The beauty of eloping is that there are no rules. Your day can look however you imagine it. So, how much does it cost to elope in New York? To some degree, that depends on you. 
That being said, here's the basic expenses to consider as you plan your New York elopement. By the way, if you need some help on how to elope in New York, check out our free guide here. 
Marriage License
How much does a marriage license cost in New York?
The first and arguably most important part of your elopement is the marriage license! In New York State, there is a $40 fee to apply to get your marriage license. Please note that if you're planning to elope in New York City, the fee structure may vary. Be sure to check out the NYC marriage bureau for more information. 
Officiant
How much does an officiant cost in New York?
Depending on what you're looking for in an officiant, the prices will vary widely. If you want a one and done officiant to perform a basic ceremony, you should estimate between $150-$250. A more comprehensive officiating program that includes personalization, rehearsal, re-writing fees, and more will likely cost between $500-$800, depending on the experience of the individual officiant.
Bonus: Did you know that our elopement photography package includes an officiant? Multiple members of our team are ordained specifically to perform weddings and elopements!
Photographer

How much does an elopement photographer cost in New York?
That all depends on how much you want to prioritize the quality and creativity behind your photos. Prices vary widely based off of experience, popularity, and professionalism. The lower end for an elopement photographer in New York is $2,500, with more experienced photographers leaning towards $8,000.
What factors affect the cost of an elopement photographer? 
There are many factors which may affect the price of your photographer. It's helpful to evaluate these factors based on how important photography is to you and your fiance. 
Why not go with the cheapest option? The reality is, when it comes to photography, you really do get what you pay for. The experience that you ultimately have is almost always directly correlated to a photographer's pricing. That being said, here's some things you may be sacrificing for a lower price point…
Experience 
You may be able to save money by choosing a photographer with less experience. Generally, the more experienced, the more expensive. Going with a photographer who has years of experience in elopements ensures your wedding won't be practice for them. While not by any fault of their own, less experienced photographers are more prone to mistakes and inconsistencies. Additionally, the less experience a photographer has, the harder it is to truly get an accurate representation of their style and previous work. 
Quality
You can sacrifice the quality of the images you will receive for a lower priced photographer. Photographers with better equipment and software will be able to produce higher quality photos and therefore will have higher pricing. 
Creativity 
Creativity is a luxury that costs photographers both time and experience. If you want creative editing, poses, locations and more you'll have to pay a higher price point. In the same way, going with a cheaper photographer will likely mean you'll end up with photos that have less forethought and originality. 
Planning guidance
Most high quality elopement photographers don't just deliver photos. They also help you plan your elopement! Photographers who have experience with your location and who deliver an amazing experience will be able to give you planning guidance every step of the way. This is also a factor in pricing. 
Time
Generally, the amount of time you have with your photographer is based on how much time you paid for. That means that the cheaper price point you choose, the less time you get. Some elopement photographers offer packages with as little as one hour, meaning you may not have time for all the poses you had in mind or even may feel rushed in your elopement. 
Popularity
There's a reason why some photographers are popular! They grow in popularity because they have happy clients who are raving after their experience with them. That said, the more popular a photographer you go with, the more in demand they are, and the more you'll have to pay. 
Videographer
How much does an elopement videographer cost in New York?
If you choose to have a professional video taken of your elopement, consider the same factors as you did for a photographer. When deciding how much you want to pay for a videographer, keep in mind their experience, quality, and style to find the perfect fit for you! That being said, you should expect to pay up to $4,000-6,000 for a professional elopement videographer in New York. 
Lodging
How much does lodging cost in New York?
If you're traveling to New York for your elopement, you may want to stay overnight at an Airbnb or hotel. You can choose from a wide range of accommodations, generally ranging from $150-$350 per night. 
Here's some of our favorite Airbnb locations both in upstate and NYC…
Warner's Camp ($476/night): A historic home by the river, located in the High Peaks of the Adirondacks. Warner's Camp is deliciously cozy and would make the perfect retreat for any elopement. 
Cottage by the water ($220/night): Nestled in Queens, the Cottage by the Water is the perfect modern abode for your NYC elopement. 
Boho chic rhapsody in NYC ($350/night): This historic brownstone near Gramercy Park in NYC is a magical, eclectic loft. Celebrate your elopement surrounded by cozy vibes. 
Permits
How much do elopement permits cost in New York?
Luckily, the Adirondack Park does not require any permits in order for you to elope there! This is where most of our elopements take place. Keep in mind though that if you want to elope in one of New York's 24 National Parks, you may have to pay a small permit application fee. This fee is usually $25. 
Florist 
How much does a floral arrangement for your elopement cost in New York?
The perfect bridal bouquet is a classic way to add beauty to your elopement. The cost of your floral arrangement may depend on several factors including size, season, and the expertise of your floral designer. That being said, for a floral arrangement you can expect to pay somewhere between $100 and $350.  
Bonus: check out our list of amazing wedding florists in the Adirondacks.
Wedding attire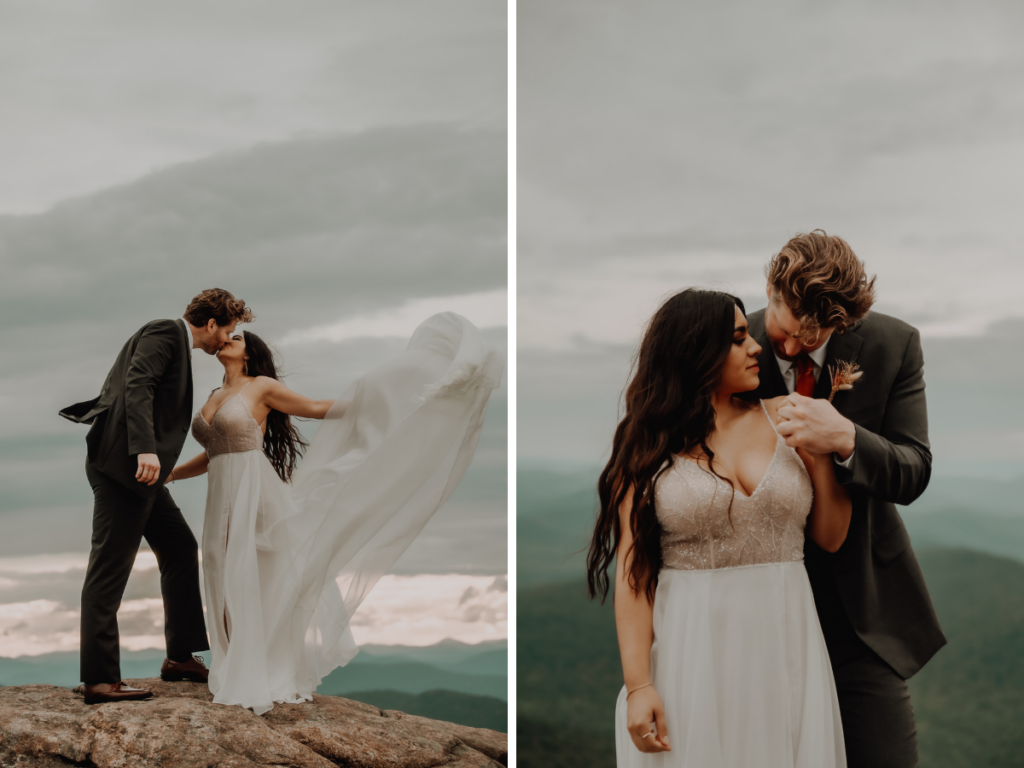 How much do wedding dresses cost?
Depending on the quality of the dress, the popularity of the designer, and the piece's trendiness, prices can vary widely. When it comes to wedding dresses, the money really is in the details. Intricate beading, hand woven lace, and high quality fabrics will all add to the cost of your elopement gown. You should expect to pay anywhere from $800 on the low end to $6,000 towards the high end for a wedding dress. 
If you're looking for a wedding dress in Northeastern New York, check out one of our favorite wedding dress boutiques, Something Bleu Bridal! They offer a wide variety of wedding gowns that not only look stunning in person, but also incredible in photos (pictured above).
How much do wedding suits cost?
Depending on the quality of the suit you're shopping for, expect to pay anywhere from $300 to $800 for a suit. 
Hair and makeup
How much does hair and makeup cost in New York?
If you feel like you need extra support doing your hair and makeup for your elopement, go with a professional! Many businesses will offer packages that include both hair and makeup. One of our favorites in Northeastern New York is Heart + Soul House of Beauty. Depending on the services that you choose and the amount of experience your artist has, you should expect to pay between $150 and $600. 
Wedding rings
How much do wedding rings cost in New York?
People often forget to factor the price of their wedding rings into their elopements! Cheaper rings in New York can range from $500 to $2500. More expensive rings can go all the way up to $10,000+.  Pro tip: decide how important the quality of your wedding rings are and how much you're willing to pay before ring shopping. This way you can avoid falling in love with a ring outside your budget!