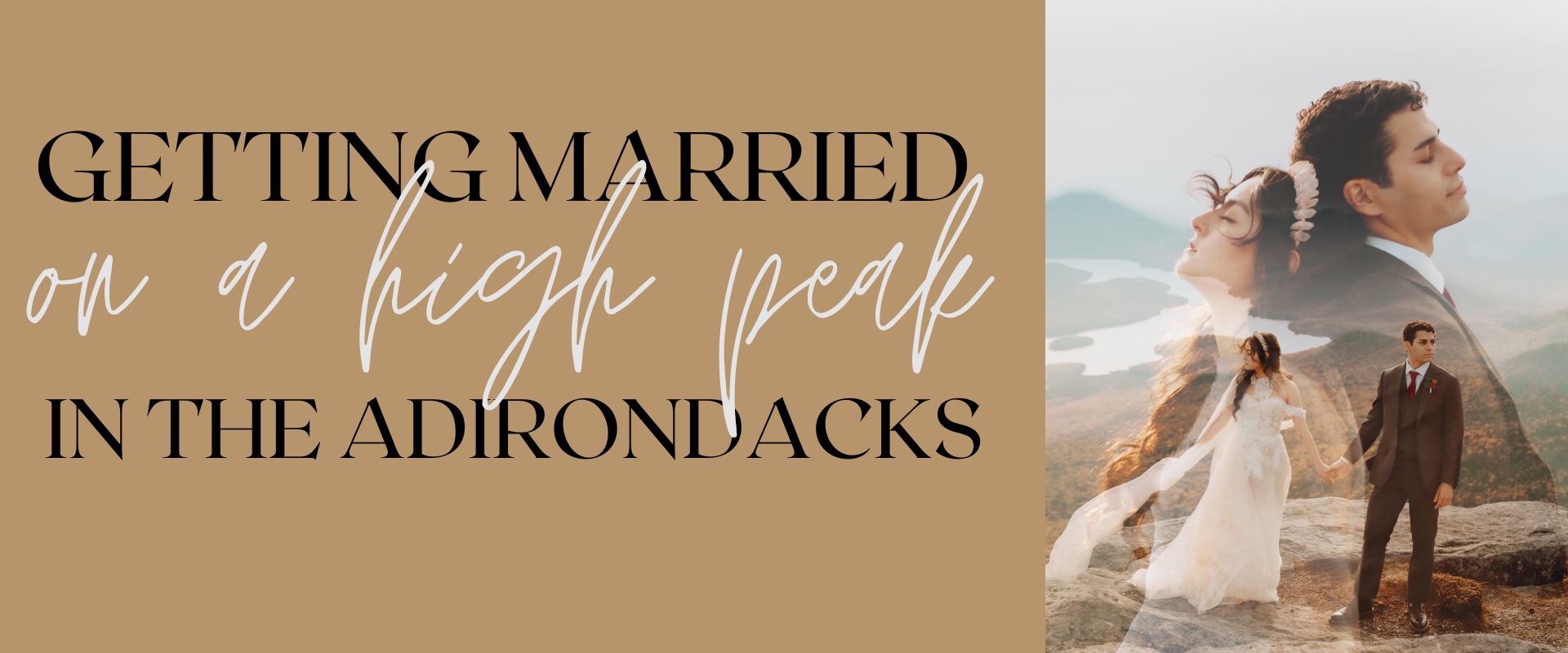 Getting married on an Adirondack high peak is a great way to have a unique, intimate wedding that is meaningful and fulfilling. Whether you're a current ADK 46er, working on becoming one, or you just like the idea of getting married on one of the tallest mountains in New York, eloping on a high peak might be the perfect alternative to a full-blown traditional wedding.
---
Can you get married on a high peak in the Adirondacks?
Short answer: yes, you can get married on a high peak! The summit of an ADK high peak can be the perfect place to say your vows and will give you an incredibly intimate, unforgettable experience. As long as you have an officiant and at least one witness, there is no reason you can't get married on your favorite high peak.
---
How to get married on an ADK high peak
Getting married on a high peak in the Adirondacks might not be as hard as you may think. The legal process is simple. 1). Apply for a marriage license no more than 60 days before your wedding day. 2) Bring an officiant and witness to fill out their portions of the marriage license. 3) Return the marriage license to the same town clerk where you received it. 4) You will receive a marriage certificate in the mail.
To get married on a high peak, all you need to do is bring an officiant and witness with you on the hike. If photos are important to you, you'll also need to find a photographer who is able and willing to hike with you.
We like to make the process as easy as possible, so we take care of everything for you! We'll be your photographer, officiant, and witness, so you can have an epic elopement on your favorite high peak without worrying about whether or not you'll find the right people to summit the mountain with you.
You can also check out this article we wrote about How To Elope in New York State.
---
What does an ADK high peak wedding look like?
There is no cookie-cutter approach to weddings like this. You can make yours look however you want. That being said, here are some examples of high peak weddings that we've done:
Sunrise elopement on Algonquin
For this elopement, we woke up around 2am to head to the trailhead and meet up with MJ and Sam. The plan was to summit Algonquin before sunrise, so they could read their personal vows to each other as the sun broke the horizon. We made it to the top with about 40 minutes to spare, giving them enough time to change in our pop-up changing tent.
MJ and Sam read their vows to each other, and we took pictures and video from a distance to give them privacy. After their vows, we got started with their wedding portraits. It was cold and extremely windy, so we worked quickly. After the portraits, MJ and Sam changed back into their hiking clothes, and we began the descent.
When we reached the trailhead, we parted ways so MJ and Sam could freshen up and get ready for the rest of their day, while we took a 2-hour nap.
In the early afternoon, we met up with MJ, Sam, and about a dozen of their family members for a small "official" ceremony by Mirror Lake in Lake Placid, NY. Following the ceremony, we did family photos and a few more portraits of just the two of them (including some on a rowboat that were so unique!).
Camping overnight for a Mt Marcy elopement
While we didn't actually complete Mt Marcy, this elopement was a very unique experience – one that might be perfect for some couples.
We met up with the bride and groom in the afternoon at the High Peaks Information Center by the Adirondack Loj the day before their mountain top wedding. We came prepared with tents, sleeping bags, and food, because the plan was to camp overnight at the last campsite along the trail. After a couple miles on the trail, we set up our tents and were able to enjoy a nice, quiet evening. We went to sleep early, because we were going to be waking up with plenty of time to finish the hike before sunrise.
Not all adventurous elopements go according to plan, though. It was an abnormally cold night, and the bride had a hard time sleeping. We talked together and decided to change the plan to sleep a little longer, and if she wasn't feeling up to completing Marcy, we could veer off and do Phelps instead.
That's what we ended up doing.
While we didn't get to do the summit that the couple was hoping for, it was the best decision, because it made the day more enjoyable for them. And although Phelps doesn't have the same amount of space as Marcy's summit, it still made for great photos and video!
We did the couple's ceremony, they popped champagne to celebrate, and then after some photos of the two of them together, we got ready to hike back down the mountain.
Tyler and Craig's elopement on Cascade was much more simple. Cascade Mountain is widely known as one of the easiest of the 46 Adirondack high peaks, so it's very popular for couples who want to get married on a high peak without it being too challenging.
We met up with Tyler and Craig at the parking area along Route 73 in Lake Placid, NY in the early afternoon and started hiking right away. It didn't take long to get to the summit, and because it was close to sunset, there weren't many people there.
After taking a few minutes to rest and enjoy the view, Tyler and Craig changed into their wedding clothes, and they read their vows to each other and exchanged rings. As simple as that! We took a handful of pictures before they changed back into their hiking gear to begin the descent.
---
What does it cost to get married on a high peak in the Adirondacks?
The cost of getting married on a high peak depends on what you want your day to look like. If you choose to get married without a photographer, you'll be able to do it without spending very much money. With a photographer (and possibly a videographer), you should budget for at least $5,000 – 10,000 for your mountain top elopement.
To get a better idea of how much your elopement will cost, you can take this quiz.
---
Which high peak is best for an elopement?
There are three factors that we would encourage you to consider when choosing a high peak for your mountaintop wedding / elopement:
Is there a summit that is particularly meaningful for you? Maybe your first high peak, or the first one that you and your fiance hiked together. Or it could be your final high peak to become an ADK 46er!
Choose a summit with a good view and plenty of space. For the best photography of your high peak elopement, you should get married on a mountain with the best view possible, but you also need to have ample space in case there are other hikers there.
Pick a high peak that is relatively easy at your skill level. If you're working on becoming a 46er, you may enjoy the challenges of the more difficult mountains, but it's also your wedding day! That being said, if conquering a challenging hike is what will make the day more meaningful to you, go for it!
We have helped couples get married on a few different Adirondack high peaks, including Cascade, Phelps, and Algonquin. Cascade Mt is a popular option because of how easy it is in comparison to the rest of the high peaks, and it also has a great view and plenty of space for privacy.