Lake Placid, NY is an incredible place to visit year round – skiing in the winter, beautiful foliage in the fall – but one of the best times to visit Lake Placid is in the summer months.
Enjoy this comprehensive guide to making the most of your summer in Lake Placid! We'll highlight our favorite spots and things to do so you know where all the locals are.
---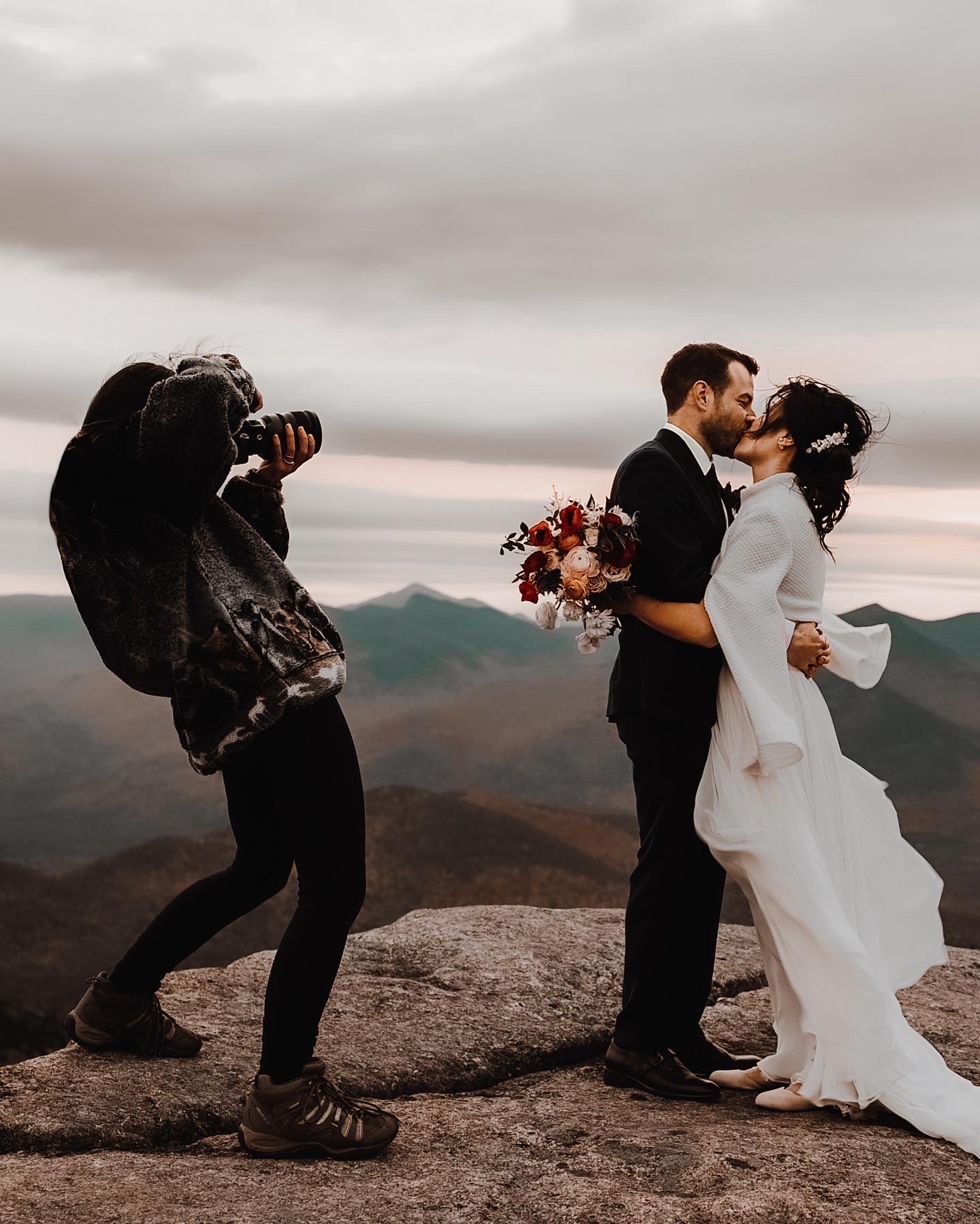 Who are The Pinckards?
Our names are Dan + Laura Pinckard, and we're adventurous wedding + elopement photographers in the Adirondacks. We help couples have stress-free, truly authentic wedding days in epic places.
Want to talk to us about getting stunning photos while you're in Lake Placid? Click here to send us a message!
---
Best outdoor activities in Lake Placid, NY
Zip lining 
What better way to enjoy the beautiful views of the Adirondacks than through soaring through the sky? Check out the beautiful Experience Outdoors ziplining course that includes 6 ziplines, ATV ride, and rappels. 
Rock climbing
There are so many places near Lake Placid to enjoy rock climbing. You could test your skills at Avalanche Pass, Noonmark, or Rooster Comb. 
Hiking
Want to enjoy Lake Placid surrounded by nature? There are trails for every skill level in the Adirondacks, and the views are stunning because Lake Placid is in the high peaks region.
Here are a few easy-to-moderate hikes in the Lake Placid, NY area.
Water Activities
There are so many water activities to enjoy in Lake Placid! Here are a few of our favorites and where you can find them! 
---
Other things to do in lake placid, NY
Helicopter Ride / Airplane ride 
Take in Lake Placid from the sky! This is truly one the most incredible things to do in Lake Placid in the summer. Take a guided tour through any number of beautiful locations. 
Horseback Riding
Explore the beauty of the Adirondacks in the summer on horseback! This is a great activity to enjoy with a whole family or even as a romantic date night. There are plenty of locations and different ranches to choose from. 
Horse Shows
Upstate New York is known for its amazing horse shows and competitions. Lake Placid is no exception! If you love horse shows, check out this year's competition on June 28th and July 3rd.
Shopping on Main St.
Although this might not be quite as adventurous as the other activities listed, we highly recommend it! It wouldn't be a complete visit to Lake Placid without checking out some of their local shops. From bookstores to old fashioned candy, you can truly find it all. 
Golf
Lake Placid is home to beautiful greens, including the Lake Placid Golf Club. If you're an experienced golfer or just playing for fun, you can have a great time here. 
Spa / Massage
What better way to enjoy a vacation to Lake Placid (or anywhere for that matter) than by enjoying a spa day or massage. Mirror Lake Inn boasts an award-winning spa with extensive services that will leave you refreshed and renewed. 
Good Eating
There are so many great restaurants to enjoy in Lake Placid! Check out our list of the top 10 restaurants & bars in the area.  
Drive up Whiteface Mountain
If you need a break from all the tiring activities, you can also enjoy breathtaking views right from your car! Skip the hiking and drive up Whiteface Mountain (one of our favorite locations for photoshoots!), one of the tallest peaks in the Lake Placid area. There is even an elevator at the top of the mountain to take you to the summit after you park.
Local coffee shops
Need a pick-me-up after all those activities? One of our favorite coffee shop in Lake Placid, NY is Origin Coffee Co, and Old Mountain Coffee Co in Keene Valley, NY is only about 20 minutes away. Both coffee shops truly serve as a hub for the community, bringing people together in the name of great coffee. 
John Brown was an American abolitionist, best known for his role in Bleeding Kansas, a small civil war over slavery. Brown's simple farm is located in Lake Placid and has been preserved to allow visitors to take guided tours. If you're lucky you can even catch a live historical reenactment performance.
---