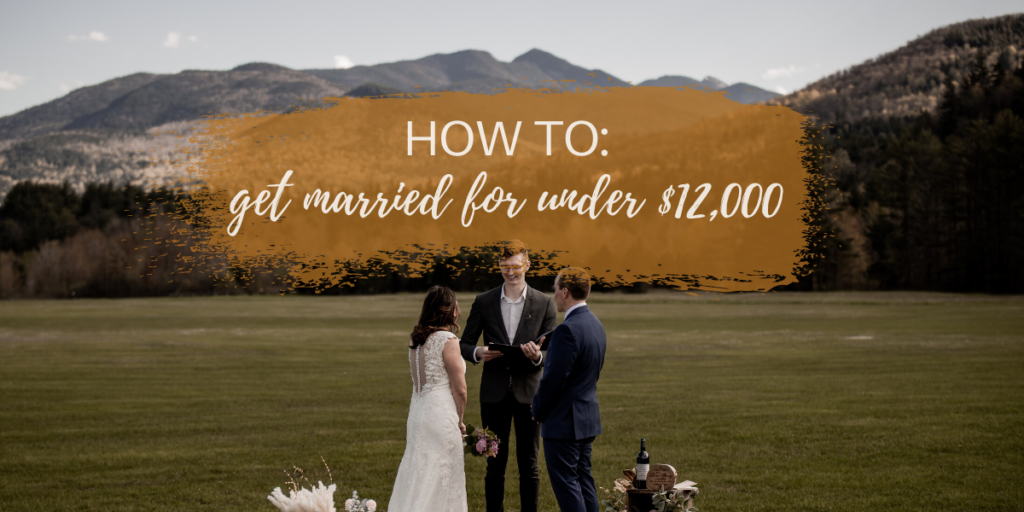 Seriously, it's possible to get married for under $12,000.
Not only possible, but you can actually have a wedding that you absolutely LOVE. I can say that confidently, because I've heard it from couples time & time again.
You do NOT need to spend tens of thousands of dollars for your wedding to be amazing. And the price tag on your big day doesn't make your marriage any more or less valid.
But before we dive in, if you haven't read my other blog posts about this topic (links below), I would recommend starting off here: 7 Reasons You Should Consider Eloping
At the time of this blogpost the average wedding cost has skyrocketed over the past couple years to a whopping $44,000 (Brides). Coincidentally, I've noticed that the stress-levels seem to have skyrocketed as well. I don't have analytical data for that, but I think my Facebook post about the topic (which got 12,400 shares) speaks for itself.
Brides keep saying things like "I couldn't wait for my wedding to be over" or "I SO wish I heard this before my wedding."
But it doesn't have to be that way.
Your wedding doesn't have to be expensive + stressful
Along with all of the brides who have told me that their wedding was beyond stressful, SO many couples have told me that they chose to forgo the expensive traditions and have no regrets whatsoever.
This is why I'm convinced that spending more money + putting on a bigger production usually results in more stress and a less enjoyable wedding. Not always, but it seems to be a trend.
From what I've witnessed, small weddings + elopements are more memorable, intimate, and meaningful. Instead of being stressed out when things go wrong, brides can relax and enjoy their day. Instead of worrying what 200 people think about your wedding, brides can spend quality time with their loved ones.
Instead of crying because of overwhelming stress, brides can focus on what truly matters – marrying the love of their life.
And at the same time, these couples can save money and put it towards a house, retirement, or a college fund for their children. Laying the foundation for the family they are about to begin.
Here's how to get married for under $12k
I'm going to preface this by saying that I know this isn't for everyone. Some brides have dreamt of a full-fledged wedding their entire life, and they would be devastated to do anything less.
Do whatever makes the most sense for you + your fiancé. If you have the money and want an elegant wedding, I'm 100% supportive of that.
BUT, if you're ready to get married for a quarter of the price and have an incredible experience, keep reading.

Step 1: Destination ($800)
First, start by choosing a destination. It can be in the mountains, by the ocean, on an island, or wherever your heart desires. For sake of this example, I'm going to estimate a reasonable flight cost of $400 per ticket. That's $800 to travel to your destination. Depending on where you're going, you may be able to fly for significantly cheaper.
Step 2: Airbnb ($1600)
AirBnb's can be so much cheaper than hotels, and you usually get a nicer place with more privacy! Let's estimate a 4-day trip at $400/night.
Step 3: Rental Car ($240)
During your 4-day trip, you will probably want a rental car – unless you plan on using Uber to get around. At $60/day, you will be spending $240 on the rental car.
Step 4: Wedding Attire ($2,000)
Factoring in your dress, his suit, shoes for you both, and the other accessories, you should be able to keep the cost at $2,000 and look absolutely stunning.
Step 5: Photographer / Officiant ($6,000)
Whether you have a $44k wedding or a $12k wedding, you'll want to be able to show your children stunning photos of your big day. Our price for elopements start at $6,000, which includes not only gorgeous photos, but an officiant, witness, and help with planning your perfect elopement as well.
Step 6: Florals ($360)
You can rent a faux bouquet and boutonniere from Adirondack Boho Co. for under $360.
Step 6: Rings ($1,000)
Try to find wedding bands for under $1,000, and you'll be right at the $12,000 mark!
Don't let people pressure you into a wedding you won't love
Unless you are one of the brides who has always dreamed about her wedding day, I can almost guarantee that you will enjoy an intimate experience with your soon-to-be spouse 10x more than hosting a "production wedding" for 200+ people, and you will save SO much money.
But friends and family will be offended if they can't participate, right?
Here's the thing. Your wedding day isn't about them.
If someone truly cares about you, they will be supportive of whatever is best for your relationship. Sure, they might be disappointed that they can't be there, but they will still be happy for you!
And you might be surprised to find out that some of your family and friends will be excited to find out that you are getting married for under $12k.
Because they WISH they did it that way.
Plus, you don't have to fully exclude all of your loved ones. Here are a couple ideas that some of our clients have actually done:
1. Invite only your closest family
You can have a destination wedding or elopement and invite the people who you care about most. One of our clients did this knowing that MOST of the people invited wouldn't be able to make it. But they weren't hurt/offended, because they still got an invitation.
2. Host a "reception" party
Elope with just your photographer and officiant (and maybe a few loved ones), and then host a party later on to celebrate with everyone else. Hint: you don't even need to call it a "wedding reception," because it will be more laid back and less stressful if it's just a celebratory party.
3. Plan your elopement with family
Have your closest family and friends help you plan! Even if you are eloping without them, it will mean SO much to them if they can participate by helping you plan and form a vision for your wedding. That way, it won't feel as if you are "running off and eloping" without including the people you love the most.
---
Bonus tip: if you want to do it for EVEN less, you can get married for way under $12k here in the Adirondack Mountains in upstate New York.
You can stay at the Lake Placid Stagecoach Inn or Warner's Camp and get married in one of these beautiful locations.
If you want to get married in the beautiful Adirondack mountains, don't hesitate to contact us!