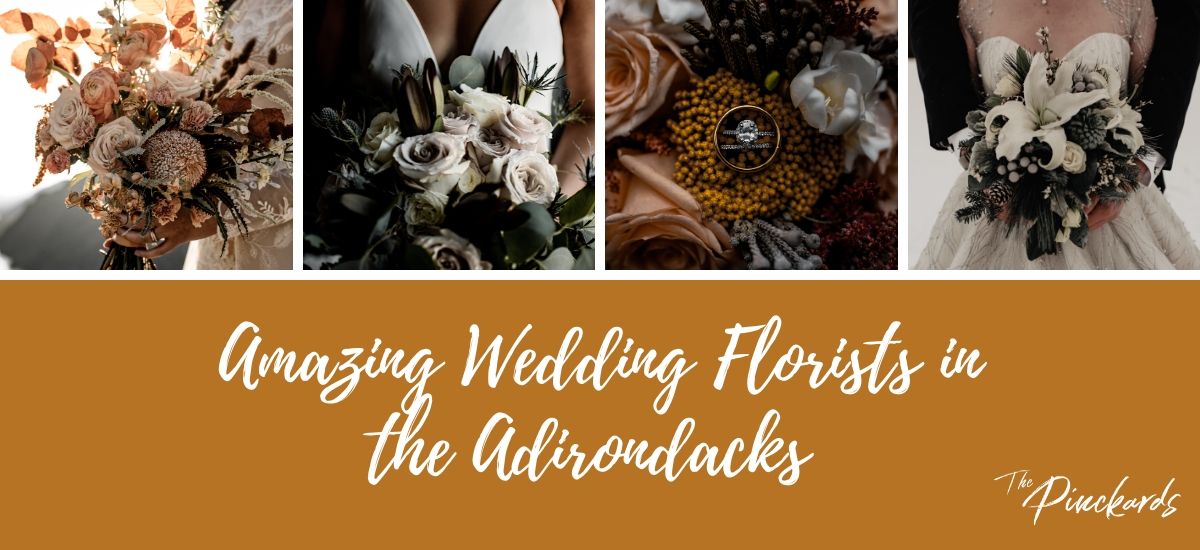 Being Adirondack wedding photographers gives us an excellent opportunity to work with many local florists. Below is a list of some of the amazing wedding florists in the Adirondacks who have designed flowers for our wedding clients.
If you are looking for a photographer in the ADKs, feel free to reach out to us here or check out our photography here.
---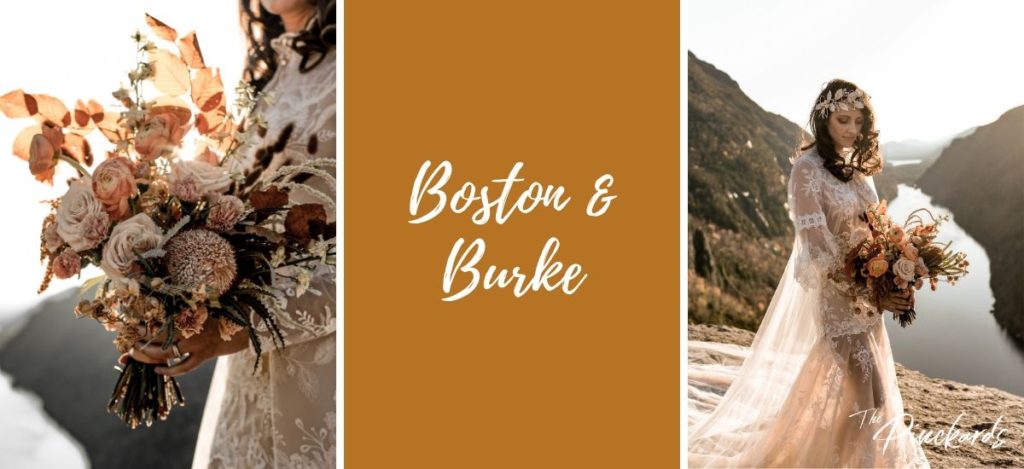 We got to work with Boston and Burke when we collaborated with them and Something Bleu Bridal on a styled shoot at Indian Head in the Adirondacks. The bouquet for this shoot was so earthy and beautiful, which worked perfectly with the styled Adirondack elopement shoot. We absolutely love everything that they create, and they will always be highly recommended to our clients.
Here's an excerpt from their website: "At Boston and Burke, wedding and event flowers are all we do! That means we are well versed in all the latest floral trends, from those perfect Pinterest finds to up-to-the-minute Instagram styles. If traditional is more your thing, we can definitely accommodate that too. From arbors and aisle flowers to suspended installations and raised centerpieces, we are ready to make your dreams a reality."
Visit Site: https://bostonandburke.com
---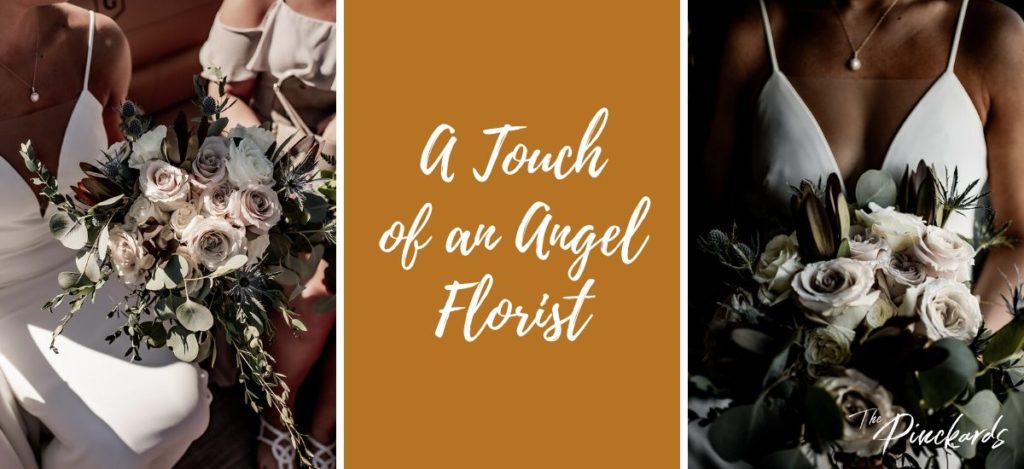 A Touch of An Angel Florist created the flowers for our couple who got married at Surfside on the Lake in Lake George, NY in the southern ADKs. The flowers were so elegant and fit our bride's wedding style perfectly. We couldn't stop swooning over her bouquet!
Here's an excerpt from their website: "Our experienced, creative designers will use their years of skills and unique style to create the perfect wedding floral arrangement for you. Whether you have a small, intimate gathering or a lavish wedding planned, A Touch of An Angel Florist will help you create your unique vision. Gorgeous flowers create a stunning atmosphere at your ceremony and set the tone for your wedding."
Visit Site: https://atouchofanangelflorist.com/wedding/
---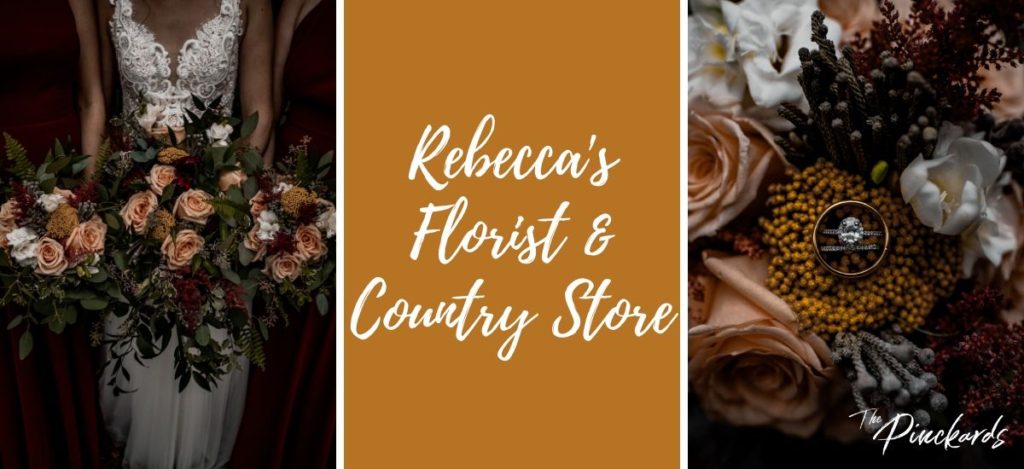 When we got to the wedding we were shooting in Indian Lake, NY, we were so enamored with the bridal bouquets that Rebecca's Florist & Country Store made for our clients. They were so elegant and yet perfect for their boho-chic outdoor wedding. The colors and textures of the flowers that were arranged together were really show stopping and they really completed this wedding.
Here's an excerpt from their website: "Rebecca's Florist & Country Store is your local source of fresh floral selections for weddings… With over 25 years experience, we offer a wide variety of fresh flowers from a single rose to a beautiful arrangement… No event is too big or too small. We deliver as far north as North River and as far south as Wilton."
Visit Site: http://rebeccasfloristandcountrystore.com/florist/
---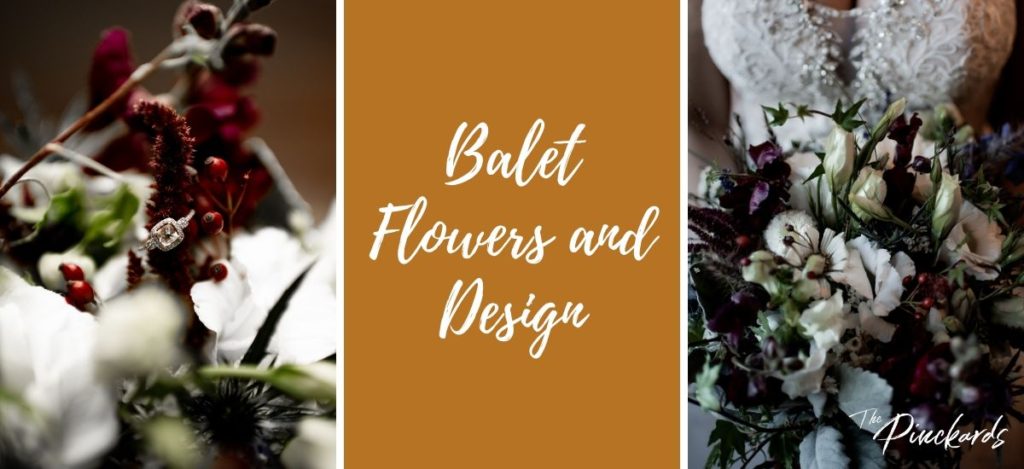 Balet Flowers & Design made such a beautiful and elegant arrangement for our bride who got married at The Queensbury Hotel in Upstate New York. When we think of a hotel wedding, we think luxury, glamour, and elegance. That exactly what these flowers were for this beautiful wedding!
Here's an excerpt from their website: "Designing flower arrangements for weddings requires special attention and experience. Suzanne enjoys visiting with each wedding party to plan personalized flower displays that will "wow" guests and help make a truly memorable event. Balet Flowers and Design can create a variety of looks – from free-flowing, locally grown garden style events to contemporary or formal bouquets and arrangements… Whether you are planning a formal affair at the Canfield Casino or the Sagamore or are thinking about an intimate garden wedding, Balet Flowers and Design can help develop floral designs that fit your style."
Visit Site: https://www.baletflowers.com/weddings/
---
5. All Seasons Floral | Lake Clear, NY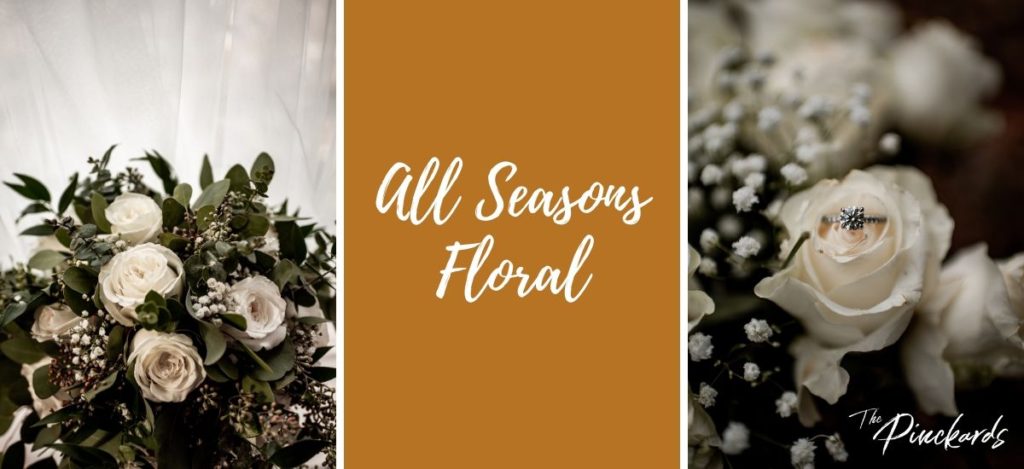 All Seasons Floral created a STUNNING bouquet for one of our clients who got married at The Lake Placid Club in the Adirondack Mountains. Everything about this arrangement was so dreamy. The flower placement was impeccable and the white roses added a beautiful touch of elegance.
Here's an excerpt from their website: "Thirteen years ago my husband and I started this floral/landscaping business in the basement of our home! Today, we are growing and expanding our services and location. We are known for our elegant flower arrangements, stunning landscaping, and delightful personalities."
Visit Site: https://all-seasons-floral.business.site
---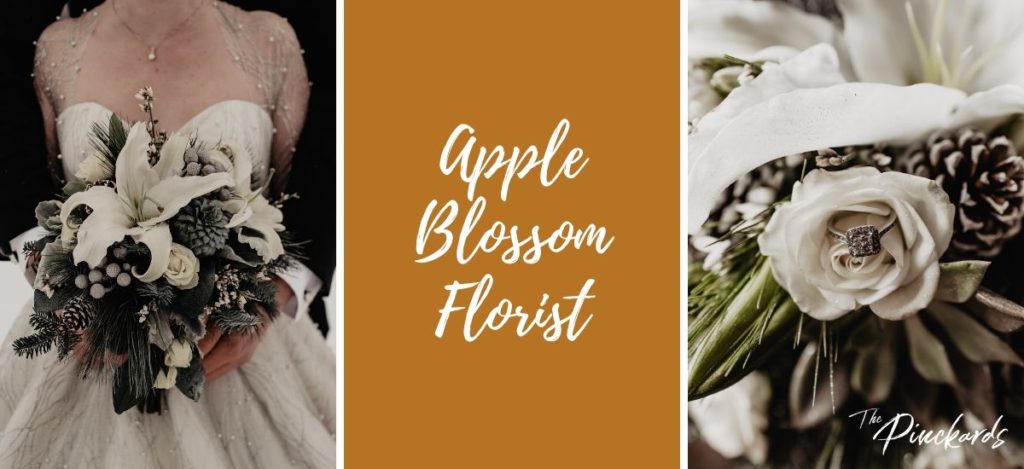 Apple Blossom Florist created such a unique bouquet for our bride who got married in Lake Placid, NY. They incorporated her favorite flower and pinecones for her beautiful Adirondack winter wedding. The flowers looked so great with the bride's sparkly grey dress, and you can definitely tell that Apple Blossom Florist love what they do!
Here's an excerpt from their website: "Apple Blossom Florist has been doing business in Peru, NY for over 40 years. In 2011, the business was purchased by Rulfs Orchard. Both Apple Blossom Florist and the Rulfs Orchard farm store are now located together at Rulfs Orchard, Peru. Call us to schedule a consultation, so we can help you start planning flowers for your dream wedding or a special event – large or small. Our talented designers create bouquets, centerpieces and arrangements with each client's individual style in mind."
Visit Site: https://www.appleblossomfloristinc.com
---
While Wood and Word Blooms are not local to the Adirondacks, they do ship the flowers to you! The flowers are made of sola wood + are perfect for anyone who has allergies or who wants to be more eco-friendly (they also last for forever!). One of our brides who got married in Lake George, NY, ordered a bouquet for her wedding, and we have to say, it was one of the most unique bouquets that we've ever photographed!
Here's an excerpt from their website: "Wood & Word Blooms sprung to life in November of 2018. Having spent countless hours drooling over wood flower bouquets on Etsy, I knew that I could create my own. As a reading teacher at an environmentally focused school, I also felt passionately about using sustainable and recycled materials. Both the "wood" and "word" blooms live on forever. Creating beautiful centerpieces, bouquets, corsages, boutonnieres, and home decor featuring my wood and word flowers began to feed my soul. Now I can't wait to create more inspiring and long-lasting beauties for others. Whatever your vision, I can help bring it to life with my eco-friendly and enduring flowers."
Visit Site: https://www.woodandwordblooms.com
---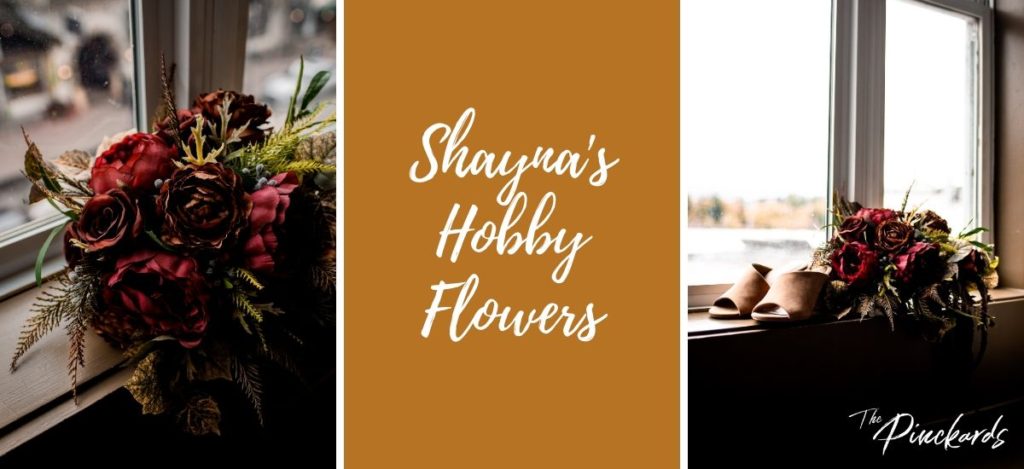 One of our brides who got married at Smoke Signals in Lake Placid, NY, ordered her bouquet from Shayna's Hobby Flowers on Etsy. They make amazing silk wedding bouquets that are beautiful and affordable (and they last for forever!). The pictures above show just how gorgeous the bouquet was! If this sounds like what you're looking for for your wedding, visit their Etsy shop: https://www.etsy.com/shop/ShaynasHobbyFlowers
---
Do you know of any other amazing wedding florists in the Adirondacks? Let us know in the comments!