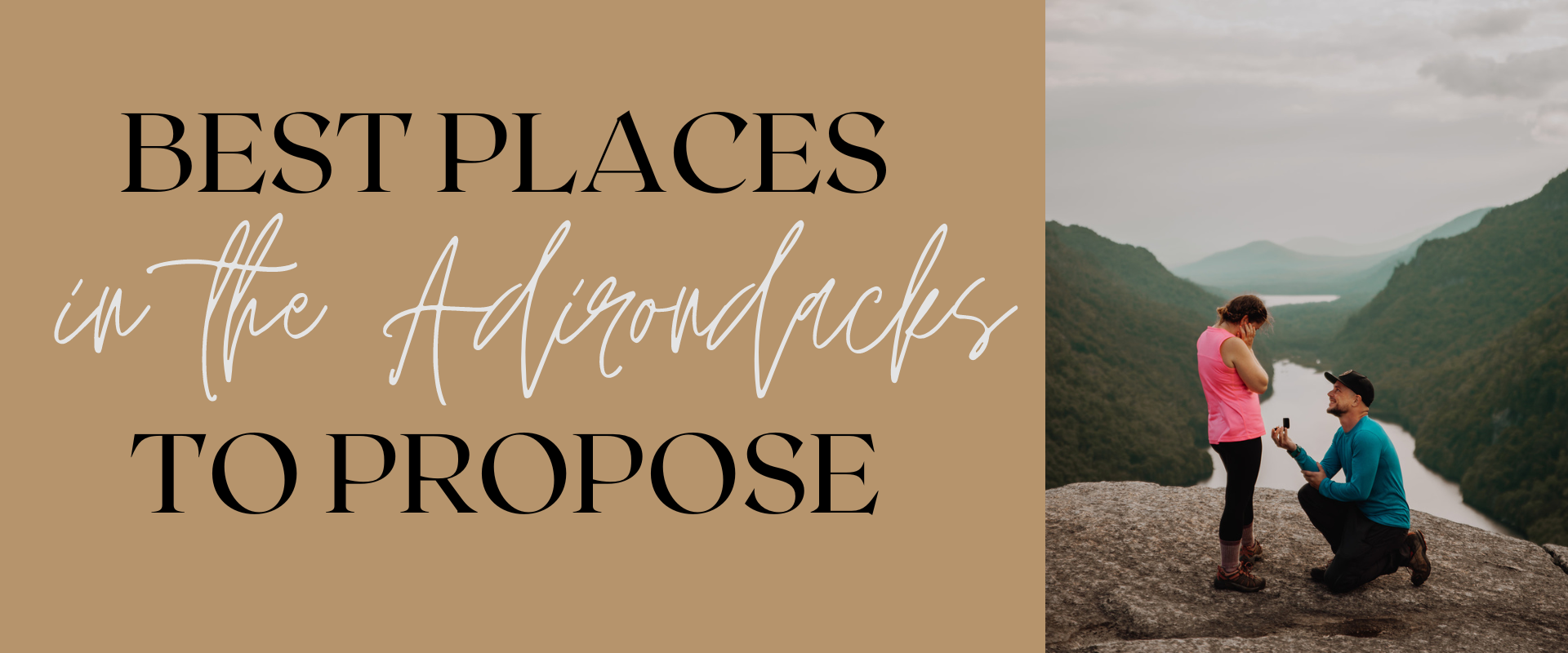 Looking to propose in the Adirondacks? You've come to the right blog post! We put together a list of some of THE BEST places to propose in the Adirondacks, and we'll be adding more to this list in the future!
If you don't already know us, we are Dan & Laura Pinckard – wedding and elopement photographers in the Adirondack Mountains. Three of the things we love most are 1) the Adirondacks, 2) each other, and 3) capturing the special moments in people's lives through photography.
One of our absolute favorite events to capture is marriage proposals.
We know it's not right for everyone, but to some couples, hiring a professional photographer to take pictures of the proposal can be SO meaningful. When we got engaged, Dan had someone there waiting to take pictures, and those pictures are actually more special than our wedding photos.
Plus, the Adirondacks are one of the best places for photos of a proposal! If you want to chat about hiring us to photograph your marriage proposal, reach out to us here!
---
Best places to propose in the Adirondacks: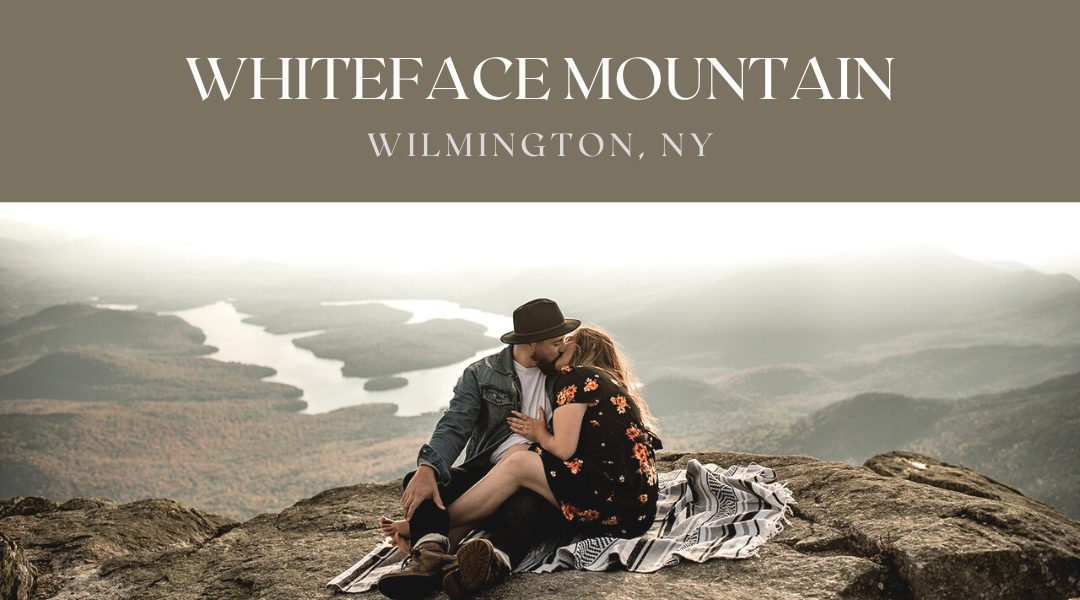 One of our favorite spots in the Adirondacks is Whiteface Mountain.
There are a few reasons that it's a perfect place to propose. Firstly, this mountain is the BEST option if you want a mountaintop proposal but don't feel like hiking. In the summer and fall months, you can drive up Vetrans' Memorial Highway to a parking lot at the top of Whiteface. From there you can take an elevator to the summit. If the elevator is closed, you can take a ten minute walk to the top on the stairs.
The second reason we love Whiteface is for its unparalleled views. It's the fifth highest peak in New York and has an insane view of the beautiful Adirondacks (you can also see Montréal on a super clear day). Whiteface is even pet friendly (but animals are not allowed on the elevator, so be prepared to walk up the stairs if you bring your doggo)!
Whiteface Mountain is one of our clients' favorite photoshoot locations in the Adirondacks, and you can't go wrong choosing it for your proposal.
---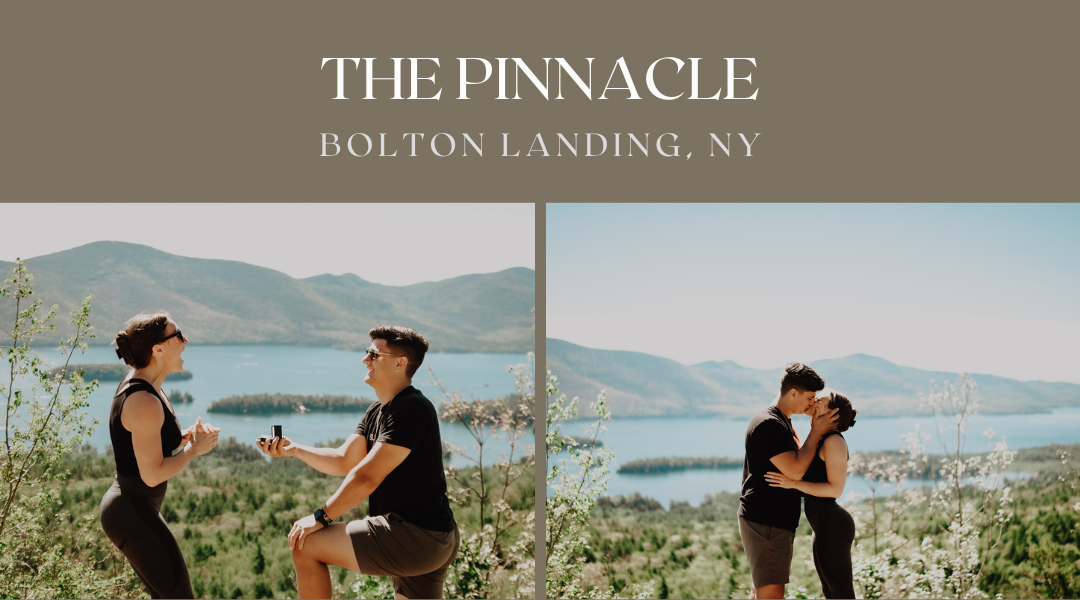 Another great place to propose is the Pinnacle, which is a super easy hike (1.5 miles) with an amazing view of Lake George.
Most Adirondack hikes with incredible views require a lot of effort, but with the Pinnacle, you get the view without all of the work! This spot is perfect for anyone who wants a quick and easy hike, as it takes about 30 minutes to get to the summit. You won't be out of breath or sweaty while you're trying to propose!
The pinnacle is also pet friendly, so it's the perfect trail to bring your furry friends if you want to include them in your proposal.
---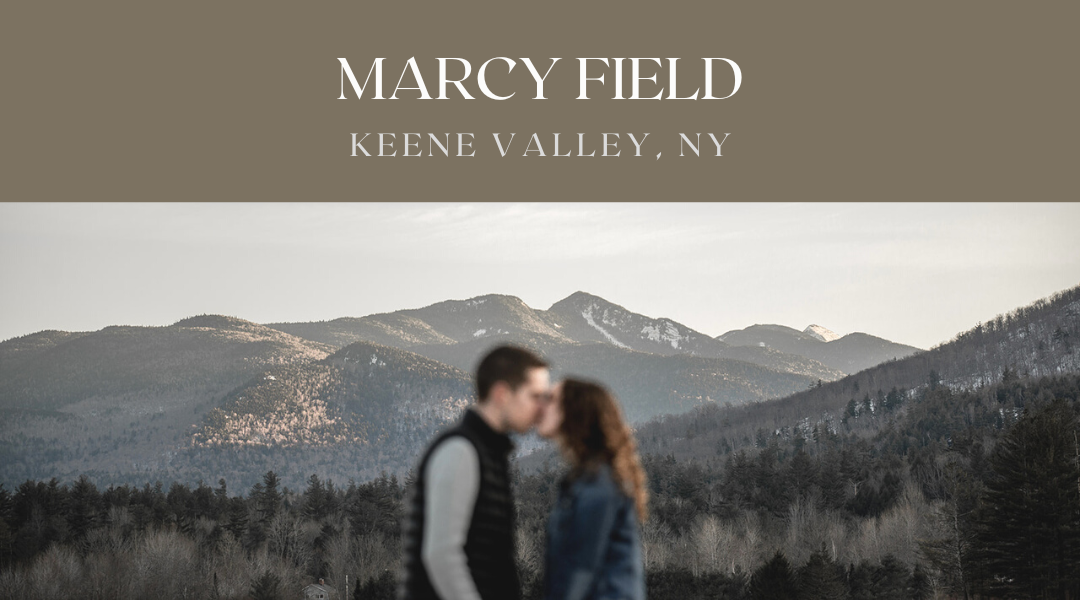 Marcy Field is another GREAT option for anyone who doesn't want to hike but still wants a mountainous background.
It's pet friendly and super accessible (right off Route 73 in Keene Valley, NY). This field is definitely one of the most beautiful locations that you can drive to in the Adirondacks. And it's especially perfect if you want to do a picnic or anything else that requires some setup. OR if you want to propose in the winter, because who actually enjoys hiking in 4 feet of snow?
We totally recommend this spot for anyone who knows their significant other wouldn't want to hike :).
---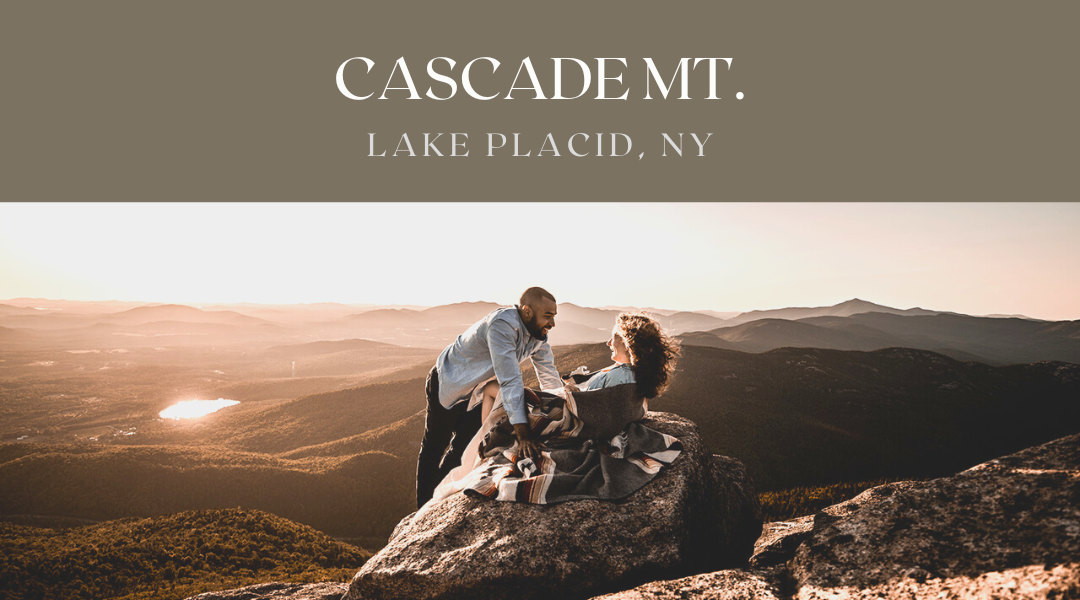 Cascade is considered one of the easiest high peaks to hike in the Adirondacks, and it also has one of the best views. It's 2.4 miles to the top and will take a moderate hiker around 2.5 hours to summit.
The time is definitely worth it, as you get almost a 360º view of the Adirondacks at the top. Seriously, there are few places in the ADKs that compete with Cascade as one of the best proposal locations. And once again, this hike is dog friendly, so bring your pup!
---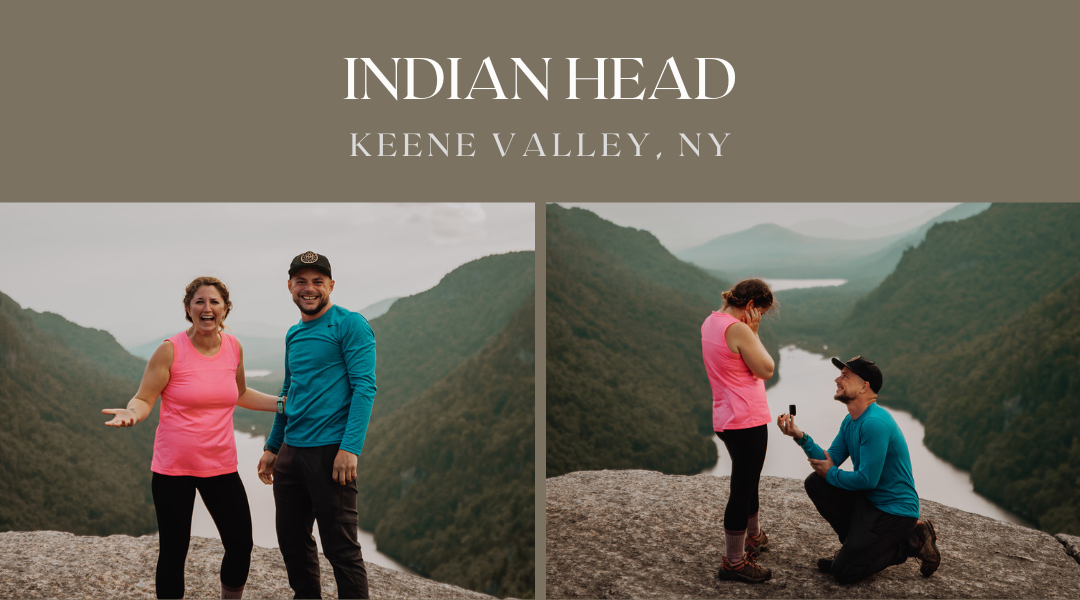 Last (but definitely not least) on our list is Indian Head. This is by far one of our favorite views in the Adirondacks!
This hike starts out on a dirt road for 3 miles before you get to the trailhead. As a loop, it's 10.4 miles. Although we wouldn't consider the hike to be difficult, it is a semi-long "hike" due to having to walk the first 3 miles on the dirt road. It's estimated to take an out of shape hiker 6-7 hours altogether, but we promise that the view is worth it! You will immediately be blown away at the stunning view of the Ausable Lake.
Warning: this hike is NOT pet friendly, and they strictly enforce that rule because the land is privately owned.
---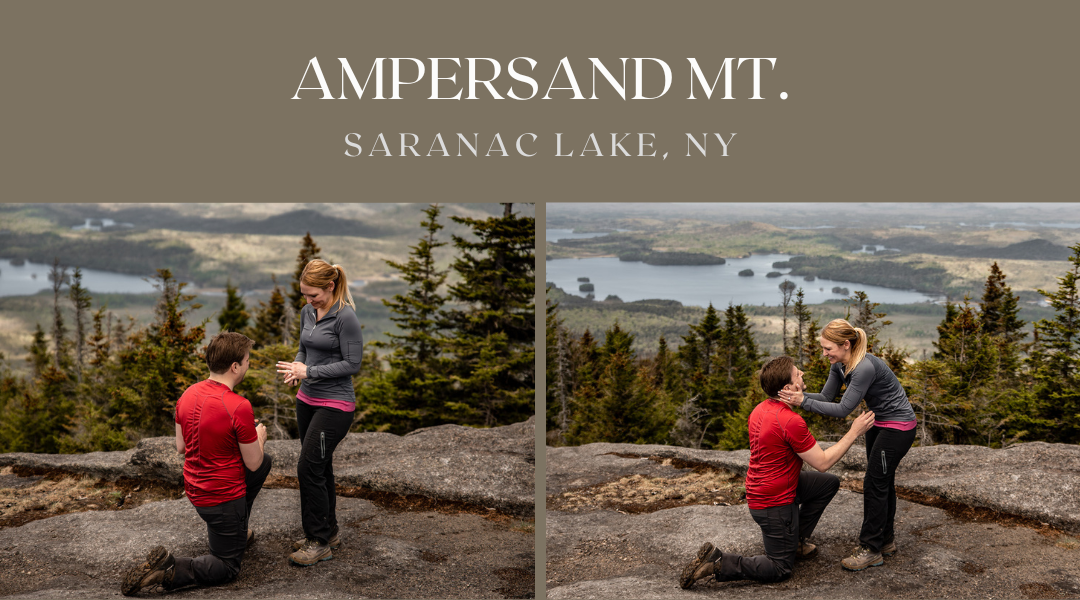 Another addition to our list of favorites is Ampersand Mountain. This hike is a great option, because the summit is very spacious! Even if there are a lot of people there, you can still find a great spot to propose.
You can expect the ascent to take you two or three hours depending on your pace. It is just over two and a half miles to the summit, with the last mile being fairly steep. The total elevation gain is 1,765 feet.
The trail is dog-friendly, but there are a couple spots that may be challenging or impossible for some dogs to traverse.
---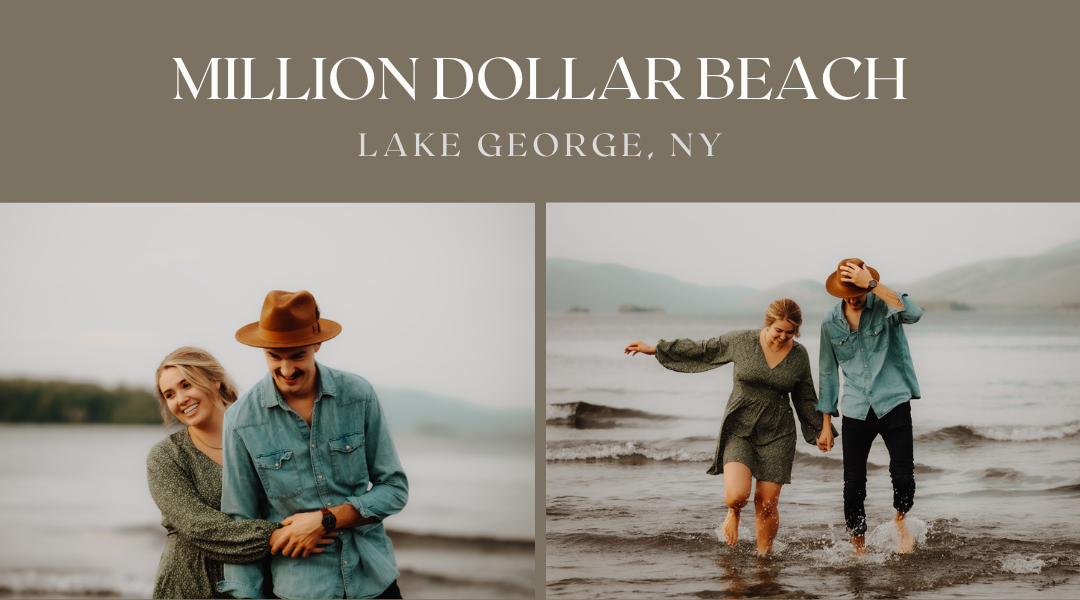 We wanted to add one more location for anyone who doesn't want to hike for their proposal. Million Dollar Beach has a beautiful backdrop of Adirondack mountains, and it's conveniently located in the southern ADKs, so it's much closer for anyone traveling from downstate.
---
These locations are some of our all-time favorites, and in our opinion, some of the best places to propose in the Adirondacks if you want a stunning backdrop.
If you or someone you know is looking to propose in the ADKs, please feel free to contact us! We are a husband + wife elopement photography team based in the Adirondacks, and we would love to capture your proposal! Read more about us here.