Wondering how to plan an elopement without it feeling bland and boring? Just because you're eloping does not mean that you have to skip out on the little details that make weddings beautiful.
You can still have an amazing dress, a suit, bridal florals, a cake, champagne to celebrate, and anything else that you've dreamt of since you were a kid. In fact, you can do essentially everything that a traditional wedding includes, but planning it for an elopement is about 1000x less stressful.
Here's the thing: "eloping" does not mean "running off to get married in secret" like it used to. You can involve all of your loved ones in the planning process to make them feel included, and you can essentially have a "real wedding" – just downscaled significantly. That way, you're saving money, making the planning process way less stressful, and keeping the focus 100% on marrying the love of your life, rather than planning a production for hundreds of people.
Things to Consider Before You Start Planning
Below are some things that we thought of to help you plan your elopement without skimping on your dream wedding style, but before we jump in, here are a couple things to think about and consider:
Decide on your style. There are SO many vibes that you can choose for your elopement, and this should be the first step before you begin to plan the details. Everything – from the location to the outfits to the miscellaneous details – should match and fit together nicely. Your style can be boho, rustic, indie, modern, elegant, etc. There are dozens of vibes to choose from. If you want some inspo, you can do some Pinterest searching or check out articles like this one.
Plan ahead. It can be easy to put it off till last minute, because elopement planning isn't as time sensitive as wedding planning. However, the more you plan ahead, the more cohesive and seamless your elopement will be. Your day will also feel less rushed and more intentional, leaving you to enjoy your day with minimal to no stress.
Ask your photographer for input, help, and inspiration. If you're eloping somewhere they've shot before, ask them what they think you can pack and bring to your elopement. For instance, if you're hiking, check with them how hard the hike is and if they think you'll be fine bringing a backpack or two of decorations. Most photographers will probably be willing to help you carry anything extra that won't fit into your bags. If you' re stuck on how to decorate, we can pretty much guarantee that your photographer will have a ton of ideas to send your way.
Include family and friends at your elopement. We know that for some couples, having important family members at their elopement is a must, and there are no set rules when it comes to your elopement. You can do whatever you want, including having your family and some friends at your ceremony. We definitely recommend that you check with your photographer that having guests won't change their pricing or contract before you go ahead with your plans.
Now onto our list of advice about how to plan a beautiful elopement!
1. Go Dress Shopping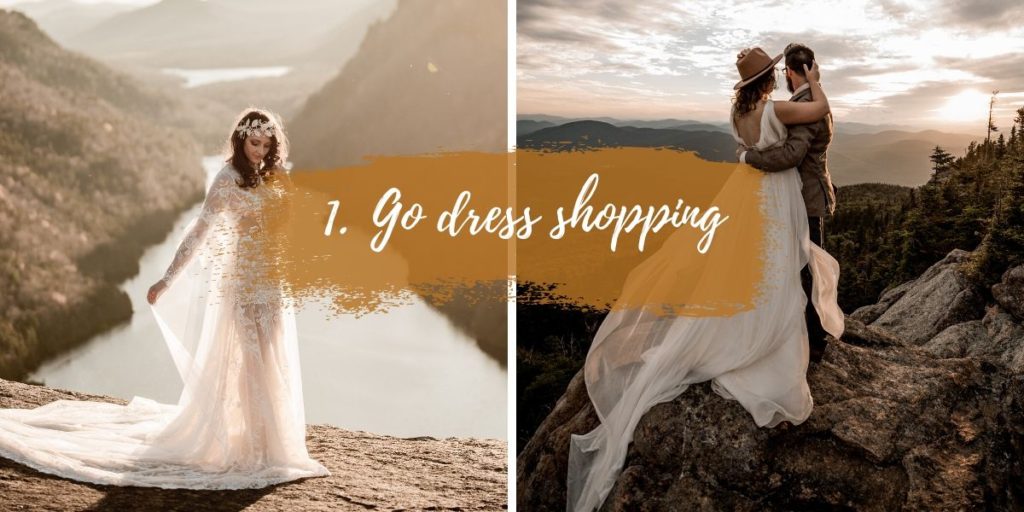 Because eloping is all about you and your fiancé (and not about what anyone else wants), you have all the time in the world to focus on yourself. You can totally go dress shopping to find your dream dress. Even if you're not having any guests at your elopement, you can still take the people you care about dress shopping with you (unless you don't want to, in which case, you definitely shouldn't).
Because you're eloping, it probably means that one of your larger expenses will be your dress. You can totally splurge on your dream dress if you that's important to you!
Some bridal shops that we love and have worked with in the Adirondack area are Something Bleu Bridal and Gee June Bridal. If you're not local to the ADKs, definitely do your research on bridal shops in your area so you know that you're getting the most bang for your buck!
2. The Groom's Outfit
It's an easy thing to overlook, but a high quality, tailored outfit will add class and really bring everything together. It's 100% up to you, but we would suggest NOT just grabbing a suit out of the closet. The groom should shop for an outfit that specifically fits the style of the elopement, and it should fit perfectly.
For example, if the entire elopement has a classy vibe, a sharp black tuxedo with a pocket square can be perfect. If you're aiming for a indie, hipster vibe, you might want to skip the jacket and go with suspenders and a bowtie. Check out this article for some style inspiration.
The bride and groom should work together to make sure every detail has a consistent style. We know this isn't always true, but most of the time, the bride makes most of the styling decisions, so it's important to work together on the guy's outfit.
Don't stop at choosing matching colors! Make sure the materials and overall vibe are super consistent. You should be super intentional in all of the little details:
Belt / Suspenders
Tie / Bowtie
Tie Clip
Pocket Square
Watch
Cufflinks
Suit
Shirt
Shoes
3. Bring Decorations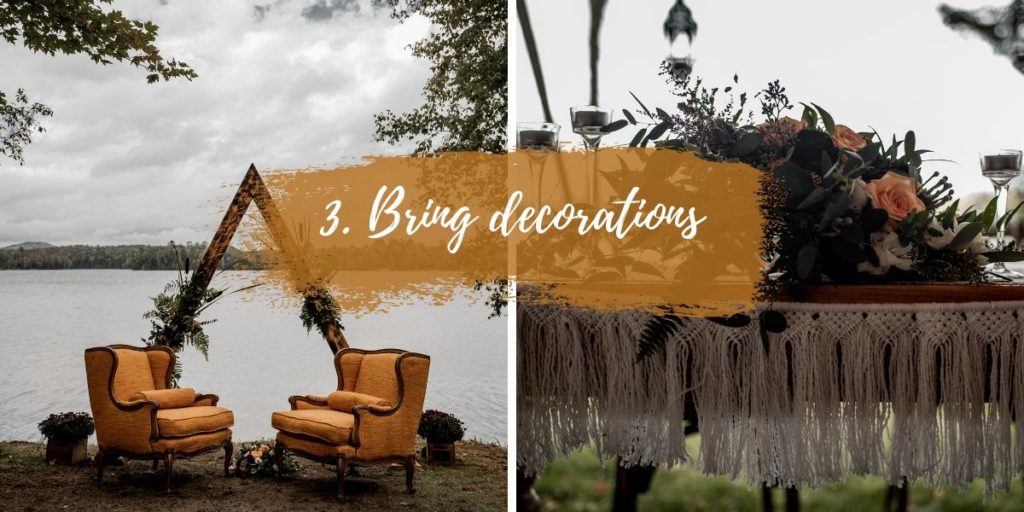 Depending on where and when you elope, there are so many options for simple but amazing decorations to bring. Even if they are small, decorations can definitely add that extra flair that you might be looking for at your elopement. Wether you bring fake flowers, a small carpet, or make an arbor and cover it in greenery, your decorations should reflect your style and the vibe you want for your elopement. Below are a few things that you could potentially bring to your elopement (obviously a lot of these depend on where and when you're eloping).
A wooden arbor
Metal arbor
Macrame
Real/fake greenery
Real/fake flowers
Boho carpets
Pompas grass
Boho chairs/ stools
Pillows
Leather floor pouf
Personalized sign (ie: "We eloped")
Cow/animal hide
Candles or lanterns
Sparklers
Smoke bombs
Mirrors
Other meaningful/personal decor
You could bring all of these items to elopements if you're not hiking, but if you are eloping on a mountain, there are definitely ways to pack a lot of the things listed above in your backpack. For example, you could hike with fake flowers, a small carpet strapped to your backpack, a disassembled arbor in a bag with the tools you need to assemble it, a macrame, some smoke bombs, and even sparklers thrown into your pack.
4. Hire a Makeup Artist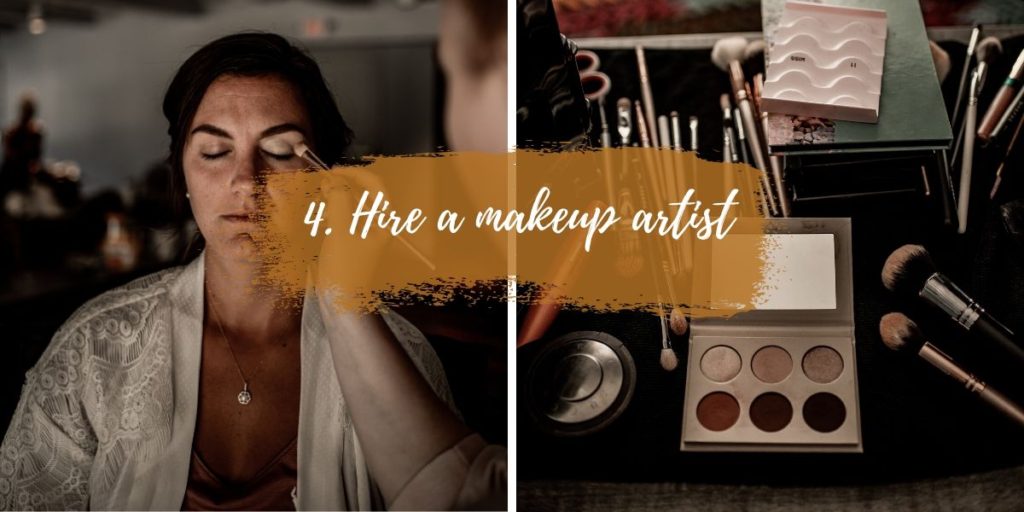 Just because you're not having a wedding doesn't mean you shouldn't invest in a talented MUA to make you look your best, but this does partially depend on where you're eloping. If you're hiking, it might be better to do your makeup at the summit before your ceremony.
However, if you're eloping in the woods or a valley/field, we would recommend getting your makeup professionally done so that 1) you look and feel your best and 2) it's one less thing that you have to do or worry about on your day. It can feel like a waste of money when you don't have hundreds of people watching you, but you'll still have the photos to look back on for the rest of your life!
If you're planning an elopement here in the Adirondacks, we would recommend talking to Color Me Gorgeous!
5. Hire a Hair Stylist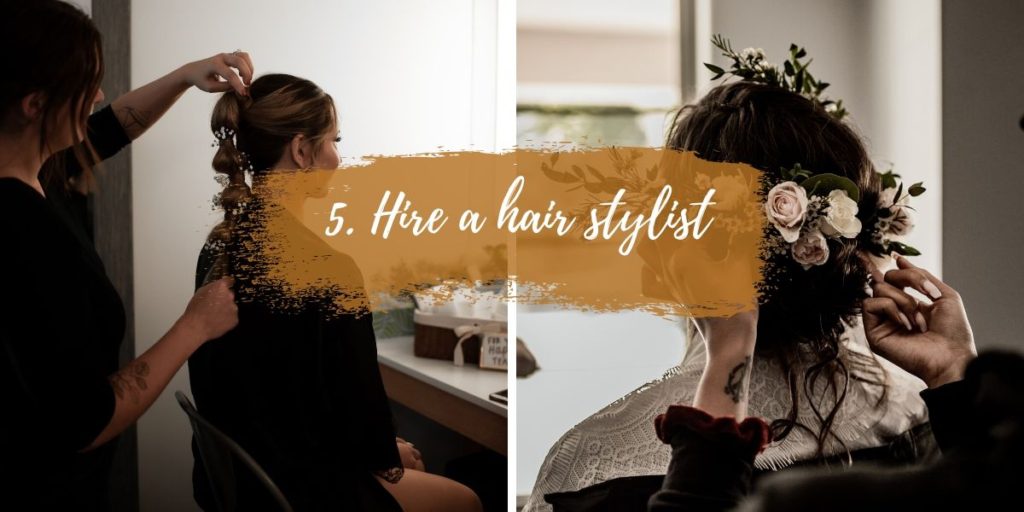 Something that will really add to your elopement is getting your hair done. Professionally done hair will stay in place better and it will also make your hair beautiful for your elopement pictures.
For brides that are hiking, you could get your hair curled and have your stylist pin it up until you get to your destination. You could also have your hair put in a braid and add details/ hair pieces to it on the summit. Either way, we would definitely recommend keeping it pinned up in case you get sweaty during the hike!
If you're not hiking, the possibilities are pretty much endless. Consult with your stylist and get their input. They will be able to tell you what will and won't work for the elopement you have planned AND what fits the vibe you're going for.
For elopements here in the Adirondacks, we would recommend Painted By Ashley Marie!
6. Buy Flowers and a Bouquet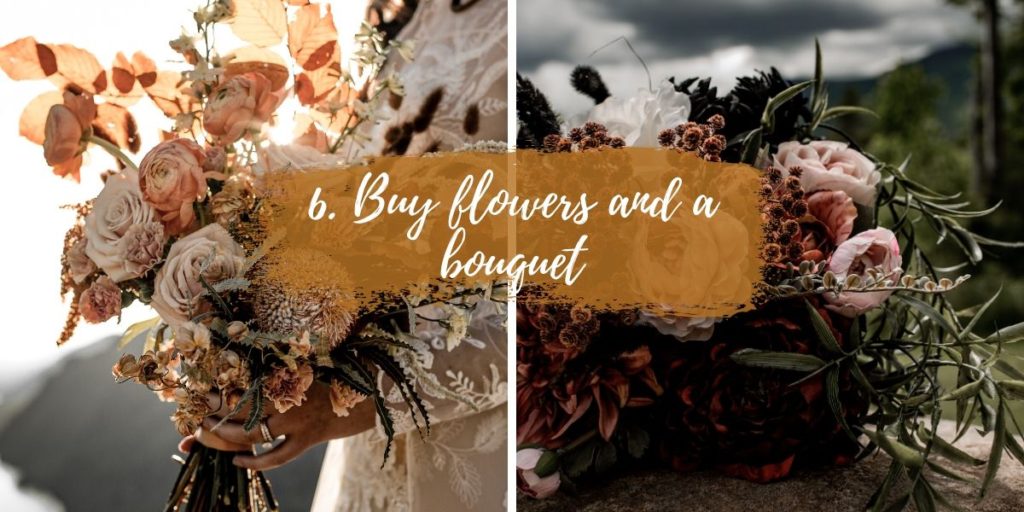 Wether you decide to go with real or fake flowers, a wedding bouquet is an easy way to take your elopement and your pictures to the next level. We've worked with a lot of great florists in the Adirondacks, and we wrote about them in this blog post. No matter who you choose as your florist, explain to them the vibe for your elopement and have a few inspiration photos to show them.
If you want to do the flowers yourself, you can buy real flowers and put them together how you'd like, or get some fake flowers and greenery from stores like Hobby Lobby or Jo-ann Fabric. We've seen so many beautiful bouquets that look real and were handmade by the bride herself. Do whatever makes sense for you personally and financially.
7. Bring a Wedding Cake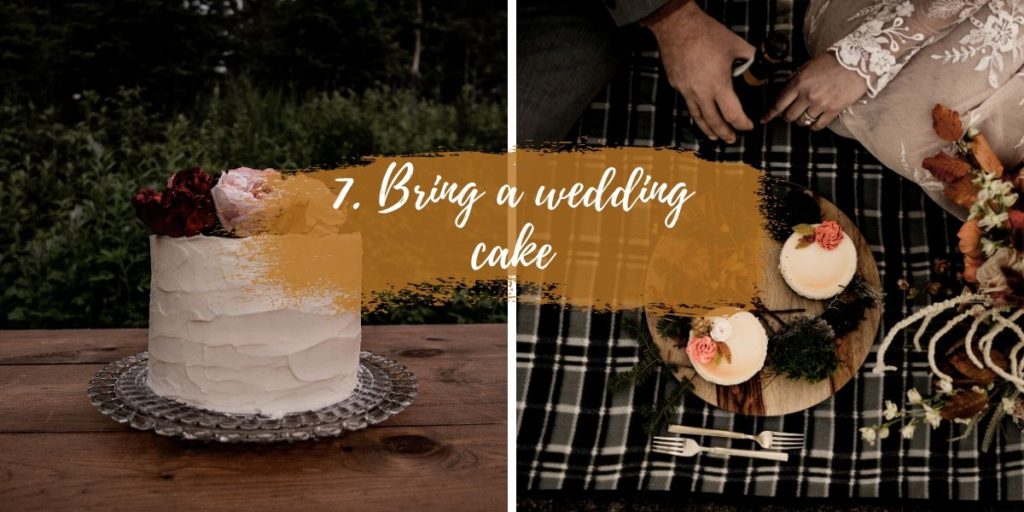 If you're into cake, you can totally bring a small one (or even cheesecake or cupcakes) to your elopement to enjoy after you get married!
From experience, you can even hike with cheesecake without destroying it, so that's perfect for mountaintop elopements. There's nothing quite like treating yourself to cake after an elopement hike.
If you're in the ADKs, check out Two Birds Marketplace's mini cheesecakes like the ones they made in the photos above!
8. Bring Champagne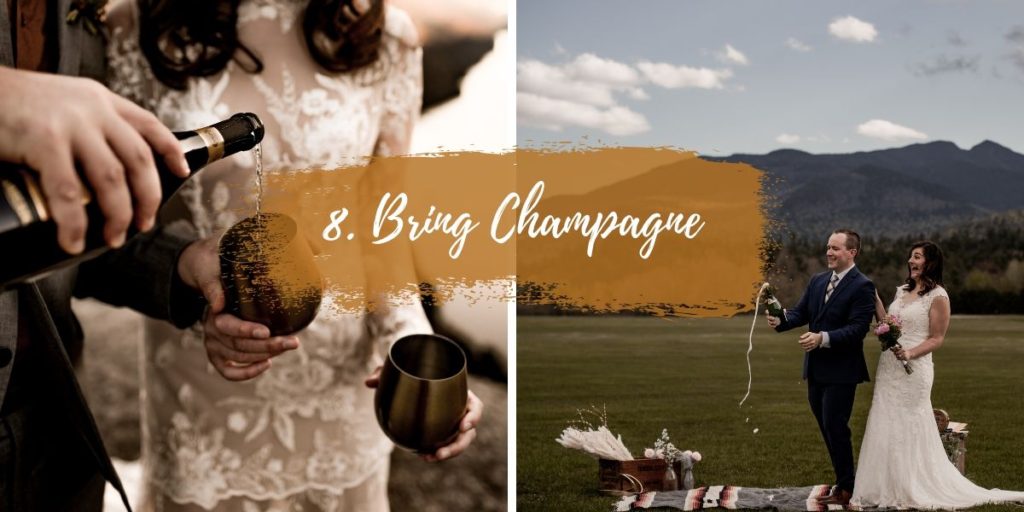 If you drink, consider bringing a bottle of champagne and some flutes (bring plastic ones if you're hiking, unless you're feeling super risky) to drink out of. We always try to give our clients a few minutes to relax by themselves and enjoy the moment after their elopement ceremony, and having a quick drink can be the perfect way to celebrate that intimate moment together.
Plus, it's always super fun for photos to add more lifestyle/action shots. Whether it's just you sitting and laughing together or popping the champagne, having movement and genuine interaction in the photos can really bring them to life.
9. Get Creative for Photos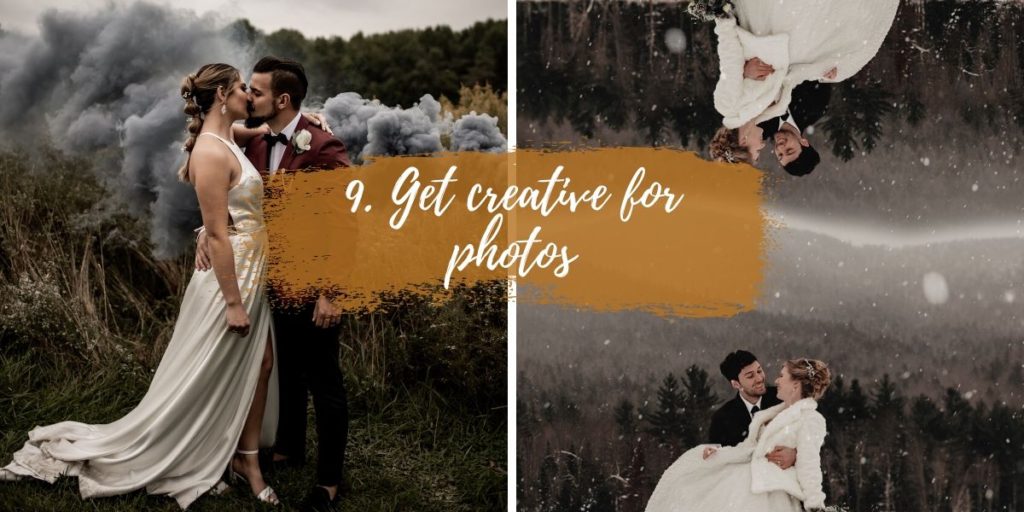 Because eloping gives you more flexibility in every aspect, you have more time to be creative with your photos. Consider bringing items like smoke bombs and sparklers to add another element into your portrait session.
You can also ask your photographer if they can make double exposures for you (like the one above)! They are a really unique way to make your photos epic without having to bring anything extra.
Another GREAT way to add to the quality of your photos is to explore a few locations. Some elopements are short and sweet, but why not spend a few extra hours with your photographer going to incredible locations? For example, here in the Adirondacks you can hike Indian Head Trail and add an extra half hour to stop at Rainbow Falls to get stunning mountaintop views and a super cool waterfall backdrop all in one.
Finally, save unique and interesting poses that you want to try at your elopement and send them to your photographer beforehand. An easy way to do this is to create a shared Pinterest board with your photographer and continue adding to it as you find photos you love. But fair warning: every photographer is different, and sometimes they won't be able to capture every pose that you save (some photographers actually prefer to maintain their independence and don't allow "shot lists"). But we LOVE when our elopement clients come prepared with some creative ideas!
10. Bring Your Pets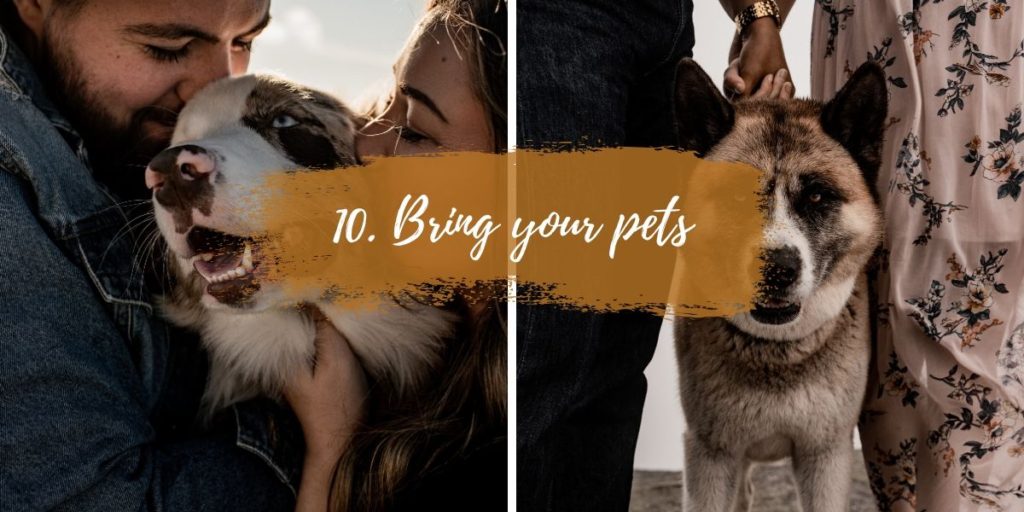 If there's one thing we love as much as elopements, it's when our clients bring their dogs. If your elopement location or "venue" allows pets to be present, we totally recommend including your dogs in your big day.
First of all, it is so meaningful to have your pets with you. It's always a ton of fun when our clients get to include their fur babies, because they're always a special part of the relationship. Secondly, having your pets in your photos adds another way to get creative with your photos, because your photographer can incorporate them into a bunch of different poses. Thirdly, we honestly also just want to meet your doggos, so you'll also be our favorite clients if you bring them.
11. Don't Skip The Little Details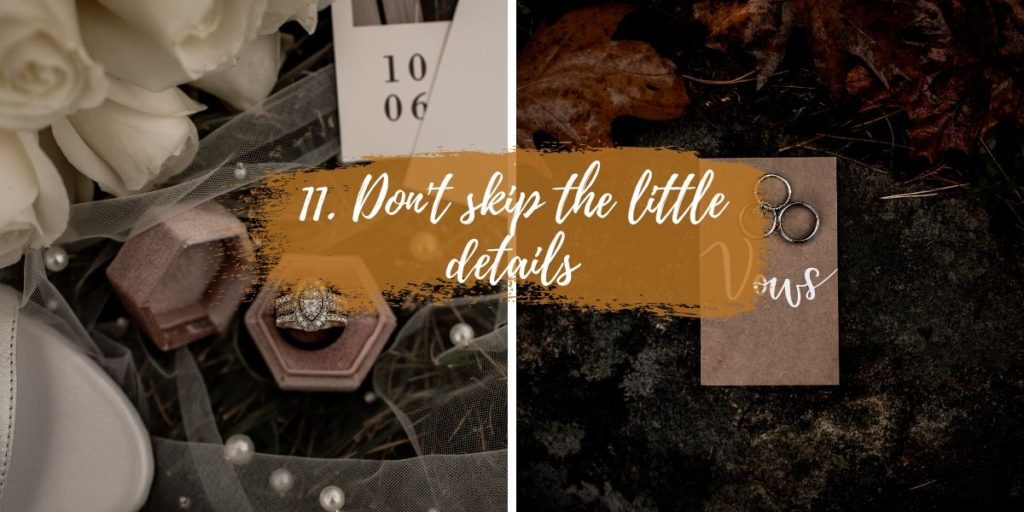 Something that we feel is often overlooked at elopements are the smaller details like veils, rings boxes, jewelry, a boutonniere, vow books, anything meaningful to you, etc. You definitely don't have to follow traditions, but you could even consider incorporating the "something old, something new, something borrowed, something blue" wedding tradition.
A good way to think about your elopement is to visualize it as you would a bigger wedding. What do you want to look like? Do you want decorations? What do you want photos of? What small details will add a sentimental touch? All these questions can help make your day even more intimate and memorable.
---
Summary: How to plan an elopement?
We hope that this list has been helpful for you as you begin to plan your elopement. Of course, the above items are purely suggestions and you can do whatever the heck you want at your elopement. Don't forget that the day is 100% all about you! People can offer their advice on how to plan an elopement, but in the end, every decision is exclusively yours. Unlike weddings, you aren't bound by traditions or peoples' expectations when eloping!
If you're looking for an elopement photographer, please reach out to ask about our availability, and we'll send you info about our elopement packages! We'd love to help you plan and capture your special day.
If you still need help figuring out how to plan your elopement, contact us or check out some of our recent posts for more elopement planning advice: