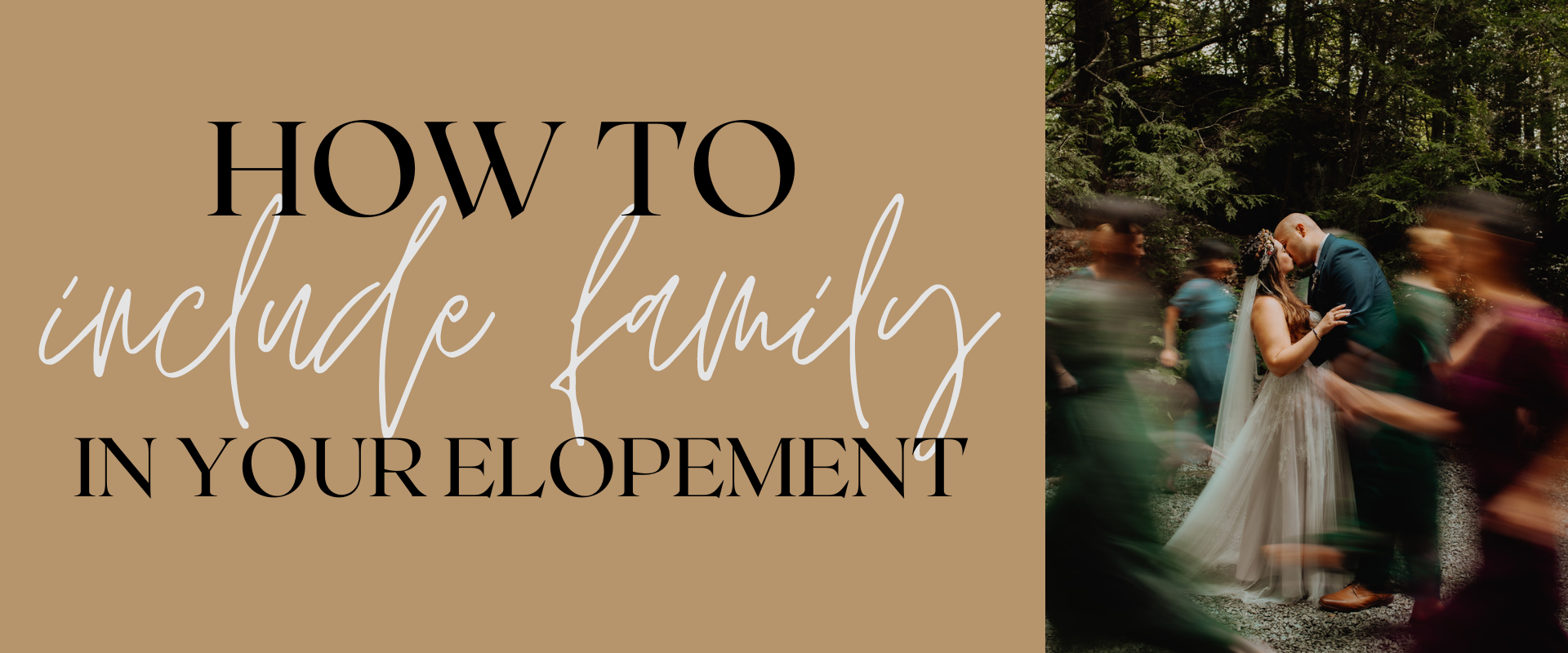 A guest post by Associate Photographer, Sarah Short
Whether your "family" is related to you by blood or not, they hold a special place in your heart. Even if you're eloping instead of having a big wedding, you might want at least a few of those loved ones to be involved in such a big life event.
Even if it's not important to you, some family members just won't rest until you cave and allow them to participate in some way.
Regardless of the reason, if you're trying to find ideas of how to include your family when you elope, we hope this blog post helps. Our goal is to make the elopement process as stress-free as possible!
Here are 15 unique ways to involve your family in your elopement:
1. Involve your family in your elopement by inviting them!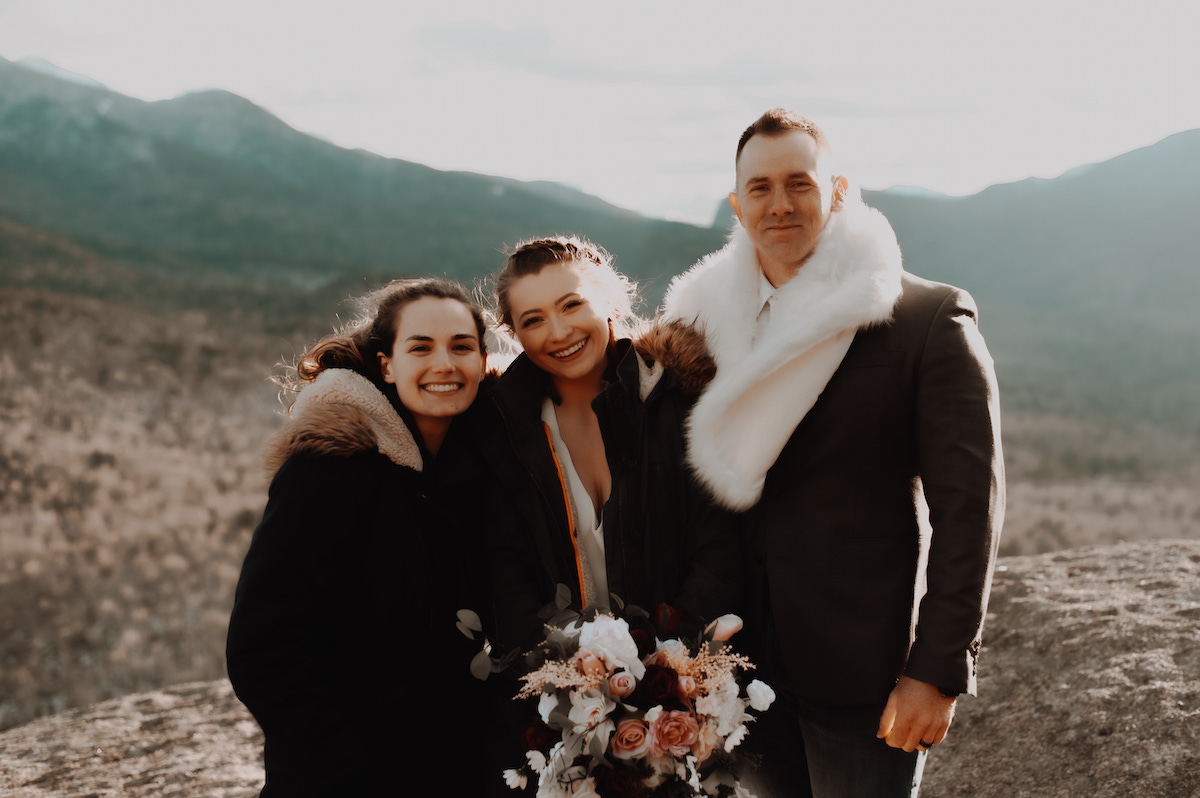 Unfortunately, people still believe "eloping" means running off secretly to Vegas and getting married in the heat of a moment. Nowadays, that couldn't be further from the truth!
The thing we love most about elopements is that there are truly no rules. That means if you want to have an elopement with guests, you can! Whether you want to bring 20 guests or 1, we support you. Speaking of bringing 1 guest, check out Sarah + Tyler's elopement here for a little inspiration!
We know every family is a little different (so we can't make the decision for you), but we would encourage you to only invite the loved ones who won't overwhelm you on your wedding day.
2. FaceTime / Skype your family during your elopement
These days, there's no reason you can't feel connected to your loved ones on your elopement day!
A great compromise to keep your elopement private without excluding your family members is to call them via FaceTime or Skype on your elopement day. It can be during your ceremony, in the morning while you're getting ready, or after you've said your vows.
We've had clients set up a phone on a tripod, so their family can watch their ceremony. Others have just done a 5-minute call immediately after their ceremony to let their family know that it's official. There really is no right or wrong way to do it, so do whatever feels right for you!
3. Get a wedding video to share with your family
I (Sarah) eloped with my husband in 2021, and I asked Dan + Laura to include a video in our package.
We knew we wouldn't be able to have any guests the day of, so we wanted to capture as much as we could to be able to share it with family later. Our elopement video reveal was in-person, and the reaction of our friends & family were priceless. It truly felt like they were right there with us!
Especially if your vows are incorporated into the video, your family will love to be able to hear part of your nuptials.
4. Do something with your family later in the day
One of our couples, MaryJane and Sam, eloped on one of the tallest mountains in New York at sunrise. A few hours later, they met up with their loved ones for some family pictures.
This doesn't work for every couple, depending on where you're eloping and if your family is local, but incorporating them into the day separate from your actual elopement can be a really good compromise.
It doesn't have to be just family photos, either. You can also have a separate ceremony with your family, so they feel like they didn't miss the most important part. Some of our clients have even hidden the fact that their "official" ceremony had already happened earlier in the day.
5. Throw a pre-elopement send off party
Similar to an engagement party, you can have a send off party before you leave for your elopement! This way, you can celebrate your impending marriage with family and friends without the pressure of hosting an actual wedding.
This works well if you're traveling somewhere for your elopement, especially if it's not feasible for everyone to travel with you.
You can have a simple dinner party the weekend before you leave. Let everyone know in advance that it's nothing extravagant, but that you wanted to celebrate with them before you officially tie the knot.
6. Host a reception party the following week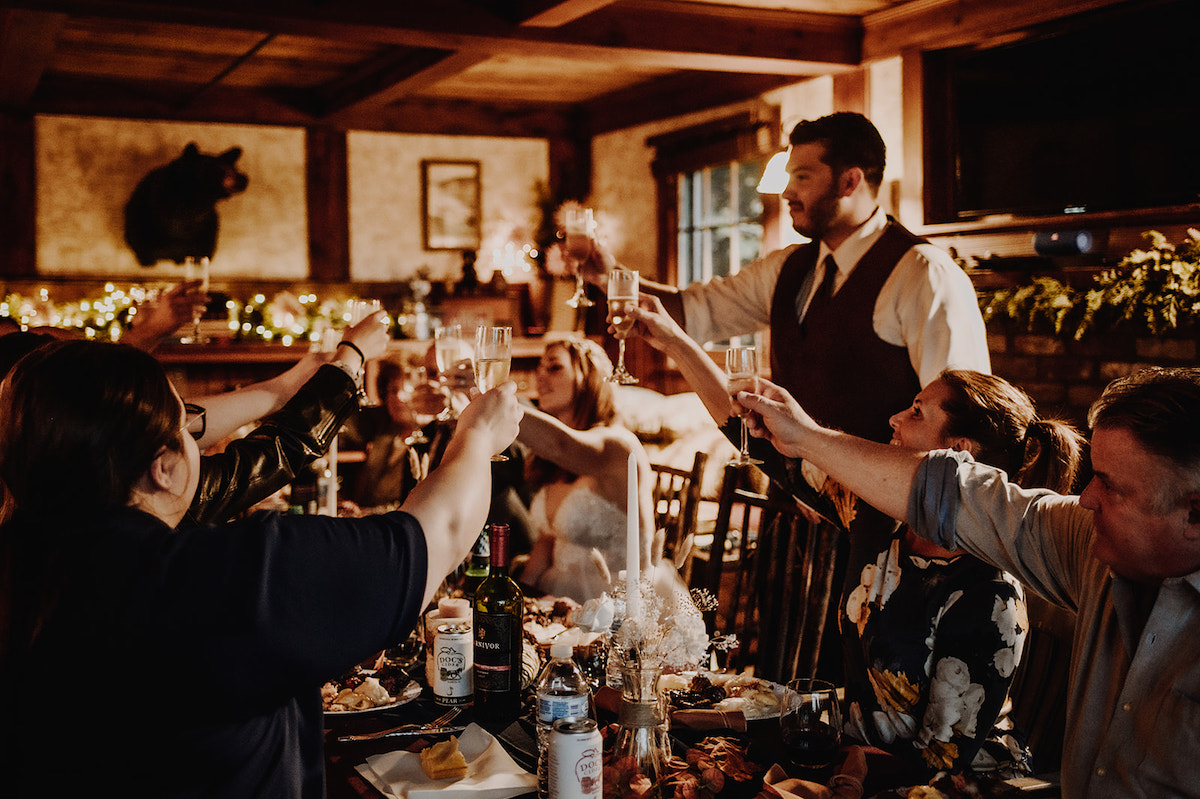 If you'd rather celebrate your marriage after it happens, consider hosting a "reception" after your elopement. You can make it as fancy or as casual as you'd like (and maybe even watch that elopement video with everyone!)
Some couples do it the following week, but you can also wait a few weeks if you'd like.
Our recommendation is to give your family members formal invites before your elopement to make sure they don't feel like an afterthought.
7. Involve your family in dress / suit shopping
Another great way to involve your family in your elopement is to take them wedding attire shopping with you! This is a great way to help your family feel more "normal" in keeping with a great tradition.
If you're a bride with a mom or sisters, take them to a bridal boutique. Even if you don't find the dress with them, it can go a long way in making them feel included. You don't even need to shop for a long time – just try on a couple dresses!
A lot of grooms aren't as particular about their suit choice, but it's definitely an option to include your family in suit-shopping, too. It just depends on your family dynamic.
8. Plan your elopement together!
You can ask some family members to be involved in your elopement by helping to plan it. Not only will this make them feel involved, but you might be surprised how helpful it is to you as well.
A couple ideas of how they can help:
Make a list of AirBnbs that fit your criteria
Contact florists to get quotes for a bouquet
Research restaurants for dinner the night of your elopement
Book travel arrangements – rental car, flights, etc.
9. Livestream your elopement 
With modern day technology, it's easier than you might think to livestream your elopement.
You can use an app like Lovecast to broadcast your elopement. If you want to, you can make your elopement livestream available for hundreds of people who would have received an invitation if you were doing a traditional wedding.
10. Ask your family to write letters to include in your ceremony
Before our elopement, we asked different members of our family to write us letters that we could privately read the day of. To this day, this is one of our absolute favorite memories that we will cherish forever (and a definite source of waterworks.)
When officiating for one of our couples, Dan read letters from their family aloud as part of their ceremony. They also had us record the ceremony, specifically so they could show their family afterwards.
If you're worried that you won't be able to feel your loved ones presence / involvement on the day of, this is a great way to make sure you do. 
11. Include heirlooms or traditions in your elopement
There's a reason the old adage, "Something old, something new, something borrowed, and something blue" is so popular.
If you want to include your family in your elopement, try incorporating heirlooms or traditions into your big day. You could wear a piece of family jewelry, turn your mother's dress into a veil, ask your photographer to take pictures of you with a picture of grandparents, and so much more!
Your family can be involved in your elopement in spirit even when they can't be in person. 
12. Have a two-day elopement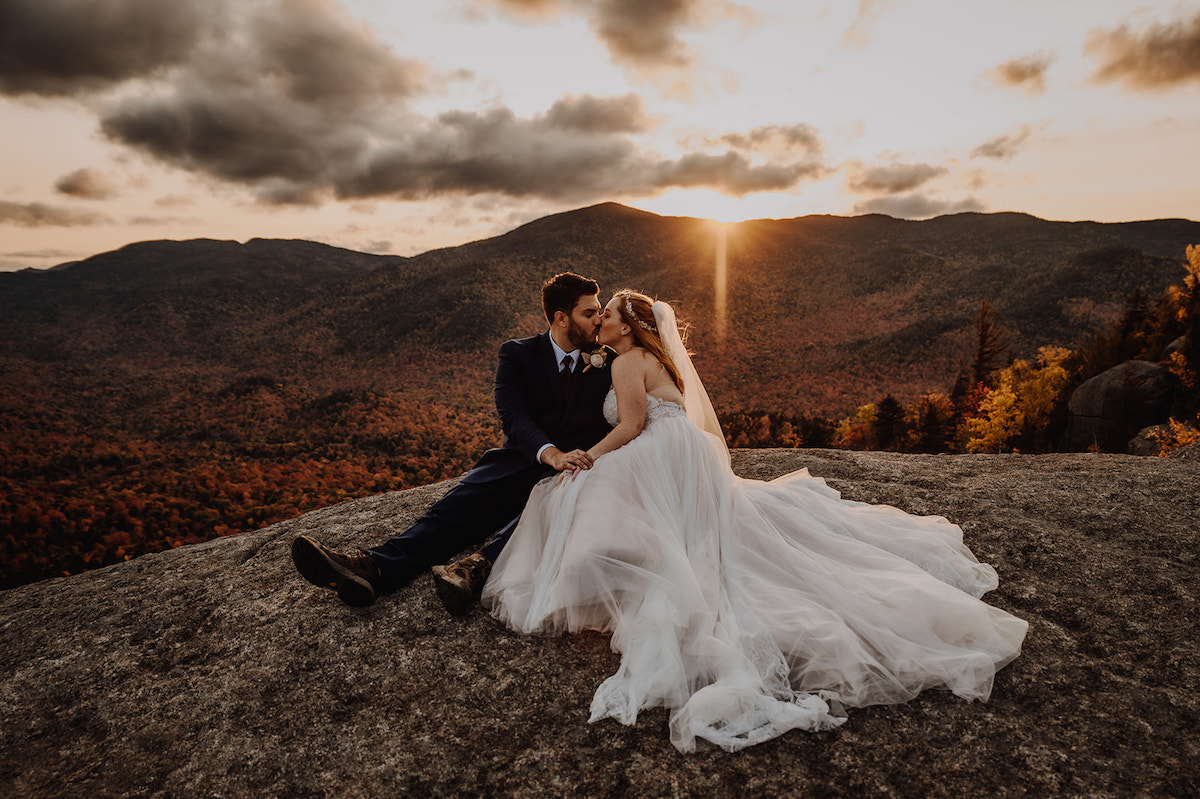 When one of our clients, Danielle + Anthony, decided to get married, they faced a dilemma.
They considered it essential to include their family and friends on this day they wanted to remember forever, but also wanted adventurous mountaintop elopement photos. They went with the two-day solution: they decided to break up their wedding festivities over multiple days. 
On day one we captured their private first look and reading of vows on a nearby mountaintop; and on day two they had a ceremony and reception with a handful of family members. The best of both worlds!
Want to read more about Danielle + Anthony's story? Click here.
13. Get ready with them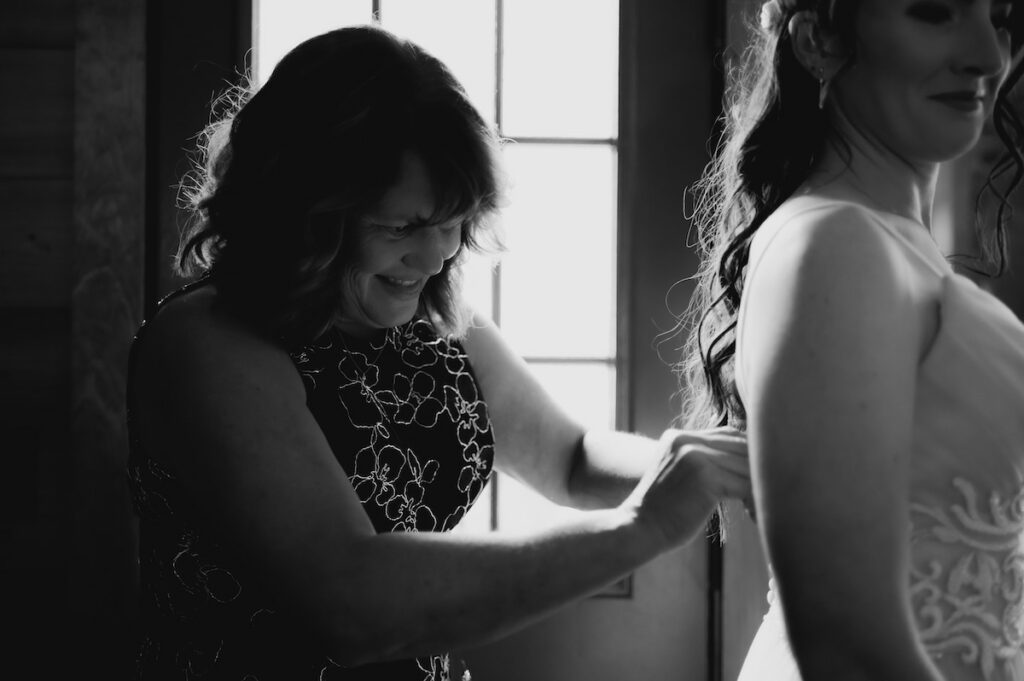 If you'd rather have a private ceremony, but still want to have your family participate in your elopement on the day-of, consider getting ready with them!  
Again, this depends on if your family is local to where you're eloping, but we can speak from experience, this can be a great way to make lasting memories with your loved ones.
14. Send out cards afterwards
If you're choosing to keep your elopement a secret beforehand, consider sending out "we eloped" announcement cards following the big day!
Not all photographers will do this, but you can ask yours if you'd be able to get one or two photos right away to include on the cards. We typically send sneak peeks within a week, but if you ask, we're happy to get a couple to you even more quickly.
15. Gift a keepsake album
Your family may not have been able to be present at your elopement, but gifting them a keepsake album just might make them feel as though they were.
There are so many beautiful options when it comes to printing an elopement album. Our galleries include a built-in store that offers albums, and we're happy to help you design one if you ask!
Happy Eloping!
We hope this post has given you some inspiration as you decide how to involve your loved ones in your big day. If you're interested in working with a photography team whose goal is to make your day stress-free & deliver jaw-dropping photos, contact us here.