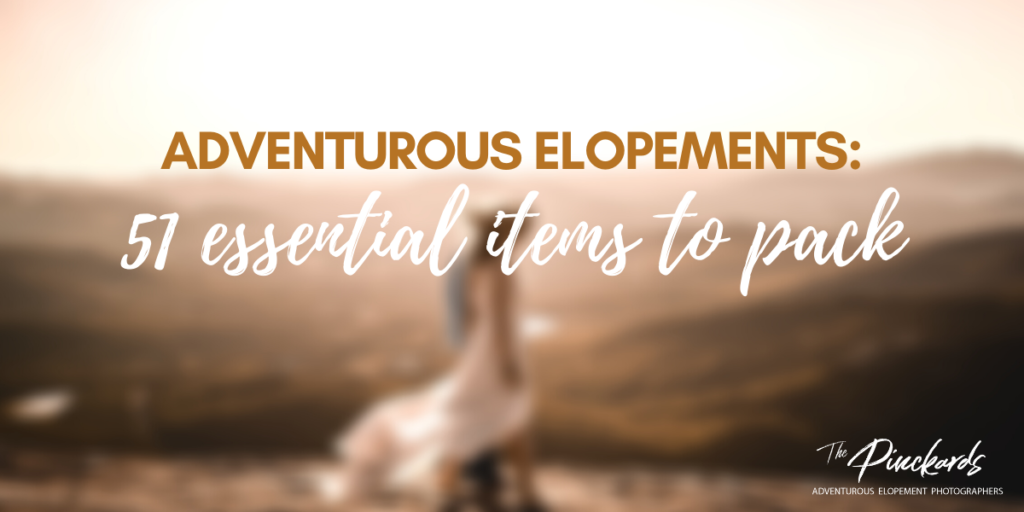 Adventurous elopements are rapidly growing in popularity for a bunch of (great) reasons: 1) unforgettable memories at incredible locations, 2) jaw-dropping photos to cherish for the rest of your life, 3) a special, intimate ceremony with the love of your life.
Whether you want to get married on a random mountaintop, in another country (like Iceland, Italy, Norway, etc.), or a sentimental location, an adventurous elopement is an amazing way to have a meaningful and exciting wedding without $40,000+.
If your elopement location involves hiking and exploring, it is essential to pack all of the necessities. It wouldn't be fun to hike up a mountain and realize you forgot a pen to sign your marriage licenses!
To help you out, we put together a packing list of items that can be extremely useful on your adventurous elopement.
Hiking Clothes
1. Hiking Shoes / Boots
This may be one of the most important things you can't afford to forget on your adventurous elopement. Here in the Adirondacks most of our elopements involve a decent amount of hiking, so you'll want to be prepared! I absolutely love my Merrell boots, because they're waterproof and super comfortable.
PSA: make sure to wear your boots a lot prior to your elopement! There's nothing worse than blisters or finding out a boot doesn't fit quite right on your special day.
2. Rain Ponchos
You don't need anything too fancy or expensive here, but it's important to avoid getting drenched during your elopement. We have experienced torrential downpour when hiking here in the Adirondacks, even when there's supposed to be a 0% chance of rain.
A clear, disposable raincoat like this 5-pack from Amazon is perfect. Bonus: buying clear raincoats means opportunity for some aesthetic rainy pictures, feat. your clothes underneath.
3. Windbreaker / Warm Jacket
Depending on the season of your adventurous elopement, you should plan to bring a durable jacket that can help break the wind and/or keep you warm. In the Adirondacks, it's not uncommon for wind speeds on high peaks to reach 50mph. Look for one that has removable layers so you can adjust throughout the day.
4. Wool socks (bring extras)
It's so important to have moisture-wicking socks that can keep you warm as you hike and stay breathable. Believe us, it's worth it to spend a few extra dollars on some quality socks! Make sure you bring extras in case they need to be changed for some reason (soggy socks is a no-go).
Bonus: If you're looking for an easy way to break in your hiking boots, try layering a few pairs of your thick, wool socks and wear the boots around the house for a few hours at a time. That way, you can rest assured knowing blisters won't have any part in your adventurous elopement.
5. Comfortable pants
The rule of thumb for hiking pants is pretty simple: anything but jeans. The same goes for your elopement. Although we love a good ripped jean around here, it's not the best choice for hiking as the fabric isn't moisture wicking, flexible, or breathable. Try and find some comfortable (and warm, depending on the season) joggers, workout leggings, or cargo pants. Eddie Bauer has some great options!
Believe it or not, we have hiked with people who chose to wear jeans. Unsurprisingly, it was a very long and difficult hike.
6. Seasonal items as needed
Depending on the location and season of your elopement, you may need some extra items. It's a good idea to check local weather to see what to anticipate. For example, if you're having an adventurous elopement here in the Adirondacks in the late fall or early spring, you'll want to think about multiple layers of insulation and foot/hand warmers. Eloping in the Rockies in July? Different story. If your photographer is a local to the area, ask them what extras they pack that time of year!
Elopement Attire
For the bride
It almost could go without saying, but do not forget to pack any of your wedding clothes. You should have a checklist that you physically mark off when packing for your elopement. Also, as a side note, check out our article about eloping in style.
7. Dress
One of the things we love most about adventurous elopements is their intimacy and how personal they are to the couple. Without any pressures of what they want, a bride can focus on what she wants. Oftentimes, that means choosing a dress that's unique, perfectly matches her style, and reflects her adventurous spirit. All that said, don't leave the dress at home. 🙂
Be sure to evaluate ahead of time how you'll need to pack your dress. Depending on the material, we recommend either hanging your dress on your backpack in a doubled up garment bag or (if you're less worried about wrinkles) try rolling your dress and putting it in a protective bag.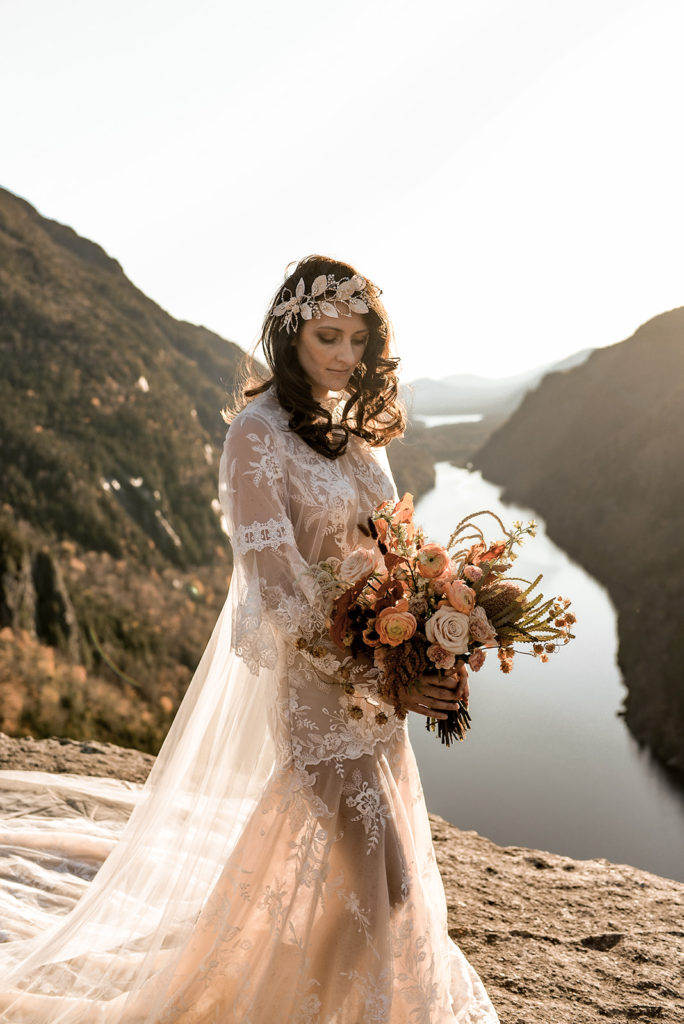 8. Shoes
Unless you want to wear your hiking boots during your elopement (which is definitely a legitimate option), remember to pack the wedding shoes you plan on wearing. We recommend staying away from those super pointy "Devil Wears Prada"-esque shoes as they can make walking (or even standing) on mountain terrain pretty difficult.
9. Jewelry
No explanation necessary here. Whether you're going minimal with jewelry or are packing an extravagant headpiece, find a way to pack your accessories in your bag to ensure they won't be damaged along the way. You could try out a carrier like this one that folds up your jewelry inside of it and keeps everything from getting tangled or lost.
10. Veil
Whether your veil is a family heirloom, has religious significance to you, or is just plain gorgeous, make sure you don't leave it at home. It's special touches like these that create magic in your adventurous elopement.
11. Makeup
Find a sturdy, waterproof makeup bag that will leave your mind at ease knowing your liquid foundation and aforementioned veil will never meet. Whether you need some makeup for touchups or want to wait to apply any makeup until after you're done hiking, there's a few things you'll definitely want to consider packing…
Clean & Clear Oil Blotting Sheets
Let's face it, a lot of physical exertion can give some of us more than a "natural glow" than we'd like. These sheets are great for quickly removing excess oil.
Extra concealer
Grab the concealer you're using if you need a quick touch up or see a surprising and unsightly blemish you weren't expecting the morning of.
Makeup Wipes
Sometimes you just need a good eraser! Throw a few of these in your makeup bag just in case.
12. Mirror
You don't need anything huge here, but it's easy to forget. You will want something to check your makeup, hair, etc. after hiking. We'd suggest packing a mirror that you're not too worried about breaking in case something happens on the trail.
For the groom
Almost (but not quite) as important as the bride's dress is the groom's suit.
We've listed all the components below that the groom will need for the perfect elopement vibe. Apart from the no brainers (i.e. remembering the belt, tie, etc.), we have a few tips to make things easier for the groom. Consider using the same methods of doubling up a garment bag or rolling your suit. If you're particularly worried about wrinkles, consider a suit and shirt made of a polyester/cotton blend. They're almost completely wrinkle-free and will look crisp after a long hike to your elopement destination.
13. Suit – Pick out a suit that fits the style of the bride's dress and flowers, as well as the overall elopement style. And make sure it fits well!
14. Shirt – The advice above applies here, too. Make sure your entire outfit is tailored and coherent.
15. Undershirt – It can get chilly on mountaintops, so consider getting a warm undershirt.
16. Tie – Skinny tie? Bowtie? Top button undone? Do whatever fits your style.
17. Pants – Even though you are probably hiking in different clothes, be careful not to wear pants that are too restrictive. You may want to explore a little for photos in multiple locations.
18. Dress socks – Our personal opinion? Wear socks that are fun and represent something funny in your relationship!
19. Belt / suspenders – Honestly, this is probably the easiest thing to forget. Triple check your bag!
20. Accessories – Don't forget the small things – a tie clip, cufflinks, pocket square, watch, etc.
21. Wrinkle spray – A great option for wrinkles is a travel-size bottle of wrinkle spray. We can speak from personal experience, this stuff is magical.
Hiking Gear
22. Comfortable backpack
Whether or not you have a good backpack can make or break your hiking experience. Note, that does not mean you have to go out and spend $300 on the finest top of the line professional backpack.
If you have a backpack that you know works for you, use that! Whatever you do, make sure you take the pack you're using for a test run with most (if not all) the things you plan to bring on the big day. You also should make sure your backpack is either waterproof or has a rain cover. This TETON backpack would do the trick.
23. Matches / lighter
If you want to light candles or start a cozy, romantic fire, you'll need to pack something to spark the flame. But even more importantly, if you are going for a long hike, fire is one of the "ten essentials" of hiking in case of emergencies.
If you go with matches, pack them in a ziploc bag to prevent them being ruined by spilled water or rain. Our recommendation is a lighter like this one that is windproof and waterproof.
24. Compass
Your great grandpa was right, sometimes you can't trust technology. Bring a compass just in case your phone dies or simply want to avoid pulling out your phone on the trail. You may never need to use it, but in the off chance that you do, you'll be glad it's there.
As a side note, the All Trails app is fantastic. You can pre-load a map of most trails (at least here in the Adirondack Mountains), and it will use your phone's GPS to show you where you are on the trail, even without service.
25. Flashlights / headlamps
Packing extra lighting is extremely important, especially if you're planning an elopement at sunrise or sunset. We can speak from personal experience…headlamps may seem like overkill at first, but when you're hiking at 4am to catch a sunrise, you'll be so glad.
A couple tips:
Your phone's flashlight might not be bright enough. Your depth perception can be distorted without enough light (which can be dangerous when hiking), and it can be hard to see when rocks are casting shadows in front of you. Also, you probably don't want to risk dropping your phone.
A headlamp can be really nice, because it frees up your hands. If you trip, having those hands freed can save you from taking a nasty fall.
26. Water / filter
We can't overstate how important it is to stay hydrated during your adventurous elopement. Nothing is worse than running out of water on a long hike.
Depending on the length of your hike to your elopement spot, you may not want to pack enough water to last through the day. Instead, you can buy a purifier like this that you can attach to your water bottle and even connect a little more with nature. (:
27. Snacks
When thinking about what snacks to pack for the trail, you want to make sure you're getting protein and carbs. Some great options are nuts (or trail mix), bananas and peanut butter, beef jerky, or a protein bar.

Bonus: if you have the space in your backpack, you can also pack some of you and your partner's fancier, non-hiking snacks for your elopement. For example, cheesecake makes a great wedding cake replacement.
28. Champagne
Just because you're not having a traditional wedding doesn't mean you can't break out the champagne! This is definitely an essential in our book.
Plus, popping the champagne on a mountaintop makes for stunning photos.
29. Pocket knife
A great all-purpose pocket knife almost always comes in handy. From simple things like a tag you forgot to cut off to first aid emergencies, a simple knife is a great investment.
You never know when you might need one, but trust us, you will be thankful that it's in your backpack if a situation arises.
You could also buy a pack of essentials like this one.
30. Sunscreen
Depending on the season and weather, you should plan ahead with sunscreen. Burnt honeymoon skin? Not the experience we're going for.
If you've every gotten a really bad burn – like red as a tomato bad – you can probably imagine how unpleasant it would be to put on a wedding dress and suit in that condition.
31. Bug spray
This one's pretty self explanatory, but if you don't do much hiking, you might not realize how important it is to have bug spray. This is essential, unless of course you want to be thinking about the bug you're trying to swat away rather than your vows!
You can get some unscented bug spray, or even bug repellent wipes like these ones.
32. Map of the trail
Don't count on the maps at checkpoints! Save yourself some stress on the day of your elopement by printing a few copies to keep in your backpacks. You can sometimes just google the name of the peak or trail or hiking and find a map listed on the official government website.
You can also use All Trails to pre-load the map on your phone, but it's still a good idea to have a physical copy if it's a long hike that you're unfamiliar with.
33. Battery pack for phone
As someone whose phone is constantly dying, I've been saved by these before. Find one that can hold a couple charges and be sure it's charged before you pack it and head out!
Having your phone charged can be super beneficial, even if you don't have service on the hike. You can use it as a backup flashlight, compass, and trail map. Plus, you can sometimes find a signal, so it can still be helpful in emergencies!
34. First aid kit
You can go as fancy or simple as you feel here, as long as you have the basics. If you want to, you can definitely make your own first aid kit, but here's a pre-assembled one if you want the convenience.
Here is an article about the essential first aid items to bring with on a hike.
35. Bear spray
If you're hiking in bear country for your adventurous elopement, it's a great idea to bring bear spray. Here in the ADK mountains, we have a decent number of bears, although we haven't personally seen any while hiking.
Again, the idea is to prepare for the worst case scenario that probably won't happen, but if it did, you'd be ready.
36. Waterproof bag / ziplocks
When you're hiking, stuff happens. Things can fall onto a muddy trail, water spills, sometimes it rains, etc.
A good rule of thumb: if the thought of it getting wet on the trail stresses you out, throw it in a bag. For example, you do not want to drop your marriage license in a puddle of water!
Better safe than sorry! You can separate small things into categories and throw in transparent, waterproof bags for easy access.
37. Lightweight tent
Depending on where you are eloping and how adventurous you are being, it can be worthwhile to have a tent. You don't need anything too fancy here. Just go for something easy to assemble, lightweight, and relatively durable.
(There's a good chance this will end up in pictures, so buying a slightly nicer option that looks more aesthetic could be worth it depending on what you already have.)
Decorations / Details
38. Flowers
If you're planning on incorporating flowers into your elopement, there are a few things you can do to protect them and make sure they last as long as possible.
Obviously there's the option of fake flowers, but if you're partial to fresh ones, we recommend keeping them in water for as long as possible until you start hiking. Then, take a damp rag or paper towel and wrap the stems, stick the stems in a plastic bag and let the flowers peak out of your backpack! They should last several hours this way.
You can also build a protective box out of cardboard that fits in your backpack, or even try to attach it to the side of your backpack.
39. Blanket / carpet
Find something cozy that you won't be upset about getting dirty. These will look perfect in your photos and also help transform your outdoor elopement space into an intimate oasis.
They're a little pricey, but we love Pendleton blankets like these.
40. Candles & Candlesticks
Candles can be the perfect way to make a space seem instantly more intimate, cozy, and romantic (aka perfect elopement vibes.) Just wrap them up in a plastic bag to prevent moisture and damage…and you're good to go!
Fair warning – if it's super windy on a mountaintop, they might not stay lit, but they'll look amazing if it works out.
41. Greenery
Just like flowers, you'll want to make sure you do some research to make sure you can keep live greenery looking fresh.
In our experience though, it's a lot easier to get away with some high quality faux greenery than it is with flowers. Adding some greenery will give your elopement a bohemian chic vibe and blends your special moment into the great outdoors.
You can get creative here! Combine some different types of greenery to make it unique.
42. Sentimental Items
If you have any special items that you want to be a part of your ceremony or the photos, bring them along! For example, you can bring items for the "something old, something new, something borrowed, something blue" rhyme.
Just make sure you pack them in a way that makes sure they're protected from water or damage. For smaller, more delicate items, try packing them in several layers of fabric (maybe those extra wool socks we recommended) and then seal in a labeled waterproof bag.
43. Elopement announcement card (calligraphy by Starry Eyed Letter Co.)
Having a hand-lettered card that says "we eloped" can be a really fun addition to your elopement photos, and it's perfect for announcing the big news on social media.
Check out our recent interview with Sara from Starry Eyed Letter Co. She is a super talented calligraphy artist!
You'll love looking back and seeing the announcement of your beautiful elopement come to life.
For the Ceremony
44. Rings and ringbox
There are so many amazing options for ring boxes to keep your rings safe in a beautiful way. Find one that matches you and your fiance's personality and style and (again) make sure it's in a waterproof bag.
45. Marriage license
You can't make your elopement official without your marriage license! Do not forget to pack this. Consider grabbing a cheap folder for all the documents you need (vows, trail maps, etc.) so that a paper doesn't magically disappear.
46. Pens
This is a very easy thing to forget, but make sure you have pens to sign your marriage license! You can bring some cheap ones, or buy some nice ones if that's your thing. Just make sure you have backups in case one doesn't work or gets lost somehow.
47. Vows
As we mentioned above, a folder can be really handy in keeping track of the ride or die essentials like these. If you're keeping your vows a surprise, each person can pack their own folder. If you need a little more assurance, you can print out multiple copies and store them in different locations.
You could also buy vow books like these to write your vows in. When we did a 3-year vow renewal, we used some like these ones, and it was a lot of fun. We now have them to keep for decades to come, and there were super cute in our photos!
Additional Items
48. Pop-up changing tent
Trust us, this will make your life so much easier. You can find one as cheap as $30. They fold up easily and make changing in nature a little more comfortable, especially when there are other people on the mountain.
We have one of these that we always offer to bring with. Some of our clients don't care about changing in nature, but if you do, these little tents can be extremely useful.
49. Quick dry towel
This is great to have for any spills, touch ups, or clean ups you might need to do. We recommend finding one made of microfiber that dries quickly so you don't have to put a wet towel back in your bag.
If you are overly sweaty after the hike, a towel like this can be great to freshen up a little bit before your elopement.
50. Deodorant
Don't get us wrong, the smell of post-hike BO is natural and a totally acceptable part of the process. That being said, it's probably not what you want to remember about your partner at your elopement.
Bring some deodorant to freshen up before saying your vows!
51. Tissues
Last, but certainly not least, get ready to wipe away some extremely happy tears. Pack tissues for you both. You're about to share one of the most special, intimate moments of your relationship. The rest is history!
Plus, sometimes mountaintops can get a little chilly. We always like to bring tissues on a hike, just in case.
Planning Your Elopement?
We hope this list can help you think of all the odds and ends you'll need to have the perfect adventurous elopement. Let your mind rest knowing you crossed every "t" and dotted every "i"… Allow yourself to be completely present, taking in each beautiful moment of one of the most special days of your life with the most special person in your life.
If you are planning an adventurous mountaintop elopement – whether it's here in the Adirondacks or elsewhere – we would love to help capture your memories! Contact us here to chat about details.