So you're planning an adventurous mountaintop wedding or elopement – we're so excited for you! Having your wedding / elopement on top of a mountain is such a special, exciting, and intimate way to get married, especially for adventure-seeking couples. In this article, we're going to share some advice about hiking with your wedding dress and suit.
It's a question we get all the time, and lucky for you, we have quite a bit of experience in this area! We hope this article is helpful!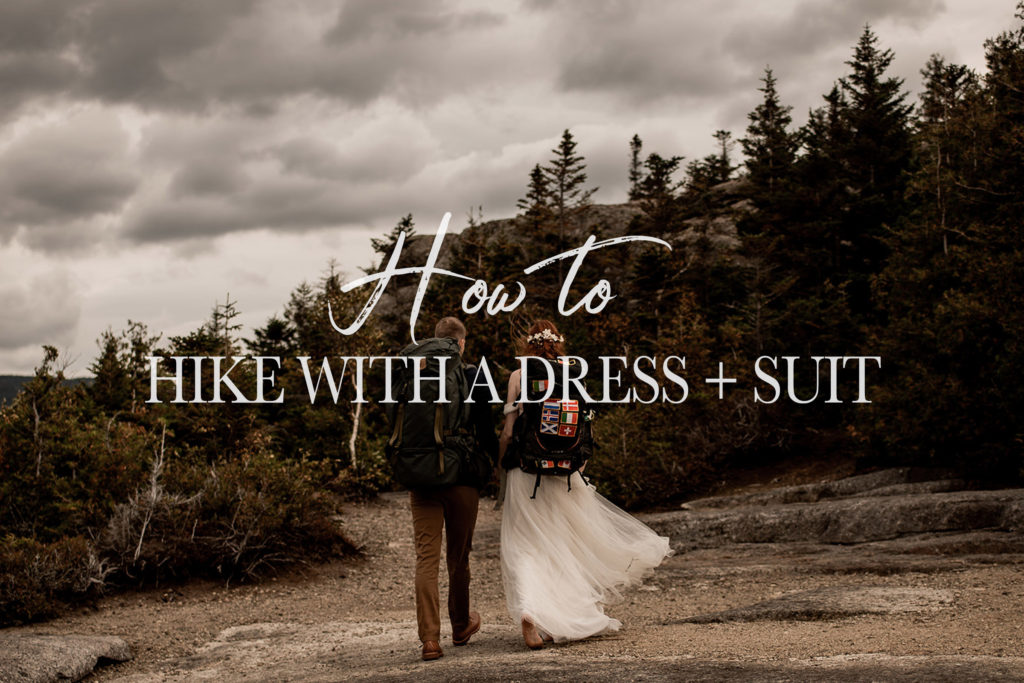 As we're sure you've figured out by now, there are several things that need to be planned for your mountaintop wedding, and there are probably many questions that you didn't even know you had until you started planning.
If you don't know us, we're Dan and Laura Pinckard (a.k.a. The Pinckards), and we are photographers who specialize in micro weddings and elopements in the Adirondack Mountains of upstate New York. We're especially known for our mountaintop elopements, where we hike to a summit with a couple, Dan officiates a ceremony with a jaw-dropping mountainous backdrop, and Laura captures the special moment.
Want to know how to elope in New York? Here's a how-to guide.
One of the most common questions we get about adventurous elopements / weddings is how couples hike up with their wedding dress and suit, and how they get ready on the summit. Since we get these questions so frequently, we thought it would be beneficial to write down our thoughts from first-hand experience with elopements.
We hope this blog post is helpful to you, and if you have a question that we missed, please feel free to reach out to us to ask!
Do brides hike in their wedding dress for mountain top weddings / elopements?
Short answer, no. Well, at least not usually.
We never recommend wearing a wedding suit + dress on the hike, and there are several reasons.
For one, it's inconvenient. Wearing a dress while hiking will inevitably slow you down. You move slower, you will get caught on branches and rocks, and you will be way less comfortable and more constricted. Another reason we do not recommend hiking in your dress is that it will be extremely dirty and sweaty. Trails tend to be muddy, steep, and rocky. This combination is never ideal for wearing nice clothes, especially if your dress is white. Even on the easiest of trails, it might be a humid day, and the walk on a simple trail can be tiring and sweaty.
To us, it's always easier to hike in regular hiking clothes and leave time in your schedule to clean up and get dressed at the summit before you get married.
How to pack your wedding dress and suit in your backpack for your mountaintop wedding / elopement
Since we've already talked about why we don't recommend hiking in your wedding dress, the next question that we get asked is, How do we pack our wedding dress and suit in our backpack for a hike?
What has worked for us and past clients is carefully putting your dress and suit into garment bags, folding them carefully, and jerry rigging them to the outside of your backpack so they're not swinging around. Another option is packing the suit in a garment back and folding the dress up into the backpack itself. This usually only works best with dresses that are not easily wrinkled (i.e tulle, lace, crepe).
We also have travel-sized bottles of wrinkle spray to bring on hikes, which can be super helpful at the summit! If you're hiking with anyone else, we recommend either bringing your own or making sure your photographer has some!
How to pick out a wedding dress and suit that won't easily wrinkle
The type of material that you choose for your wedding attire can make a huge difference. We know that sometimes brides already have their dress picked out, and some grooms may want to wear a suit they already own. But if you are buying new outfits for your wedding / elopement, consider choosing a wrinkle-resistant material!
Tulle dresses are probably the most popular for mountaintop weddings, because tulle is not easily wrinkled, it's usually pretty lightweight, AND it looks amazing when the wind catches it.
Another option is a lace dress. While this material may be a little heavier, it's still not easily wrinkled. Lace is also a timeless wedding dress material, so if that's more your style, it will work very well for a mountain top wedding!
We always recommend asking wedding boutiques / online sellers what they professionally recommend. You can tell them your vision and style, and they will be able to give you amazing recommendations based on their collection. Because they live and breathe wedding dresses, they should be able to offer you tailored and experienced suggestions.
For the grooms, a quick Google search for companies that sell wrinkle resistant suits will show you that there are SO many that will fit your needs for a hiking wedding / elopement.
Jos.A.Bank has a whole section of "Travel Suits" that are ideal for mountain top weddings. Bluffworks has travel suits that they say still looks like wool, but is wrinkle resistant and machine washable. Travel and Leisure wrote a whole post on 13 Best Low Maintenance Travel Suits that would be really helpful to check out. Who What Wear wrote a blog about the 6 Best Wrinkle-Free Fabrics for suits that listed wool, lyocell, polyester, cashmere, knit, and spandex as the top material, so definitely keep that in mind while shopping for a travel suit for your wedding.
How to get ready / dressed on a mountain before your wedding
So if you don't wear your wedding dress and suit on your hike, how do you get ready on the summit for your wedding without looking disheveled, sweaty, and gross? I'm glad you asked!
We recommend two different options when it come to changing on a summit:
The first is to just change wherever you are. This options usually works for those who don't care about changing in the woods where people could potentially see them. We've had several clients change with us right there looking the other way, and it's never bothered us.
For anyone who is more private, we always offer to bring our pop-up changing tent to their mountaintop wedding / elopement. This is a great option if the summit is bare and doesn't have tree cover. Sometimes while the bride is changing in the tent, the groom is fine with changing on the summit or in the woods. It's really all about your preference, and we are always willing to work with you and provide the most comfortable and stress-free experience.
In addition to getting dressed, you may also need to clean up and get ready. We always leave plenty of time at the summit to cool off and not be sweaty before changing, and we recommend bringing wipes or a cloth to clean up with before changing into your wedding clothes. We also suggest bringing dry shampoo if you know that your hair / head tends to sweat when you hike.
Brides usually have their hair done before hiking. Many choose to curl it and put it up to keep the curls, while some get it braided. Others opt to include a hairpiece and / or a veil. If you know how long you hair can or can't hold a curl, that will help you in deciding what style is best for you. Always chat with a hair stylist to see what they recommend for your unique hair type and a mountaintop elopement in general.
Because the majority of the human race gets super sweaty while hiking (Dan is a rare exception), we recommend waiting to do your makeup (if you're wearing any) until you're at the summit. If you're not comfortable doing your own makeup, many MUA's are now offering online, one-on-one training sessions to help you learn how to apply your own wedding makeup. If you need any recommendations, definitely reach out to us! We know some great makeup artists that we can introduce you to!
Something that you might not think about is what you're going to wear on the hike down. It is possible that the clothes you hiked up in will still be damp from sweat, so we recommend bringing a change of clothes for the way down just in case.
Any other questions about mountaintop weddings / elopements? Just ask!
If there is anything else that you're wondering about for your adventurous wedding day, just ask us or your photographer/planning team! We always love giving our clients advice to make sure they have the most exciting, stress-free day possible.
And if you are looking for photographers to capture your day (or a photography and officiant team), feel free to reach out to us! We are based in upstate New York, but we are willing to travel anywhere in the U.S and occasionally internationally. Shoot us a message if you want to talk about details!