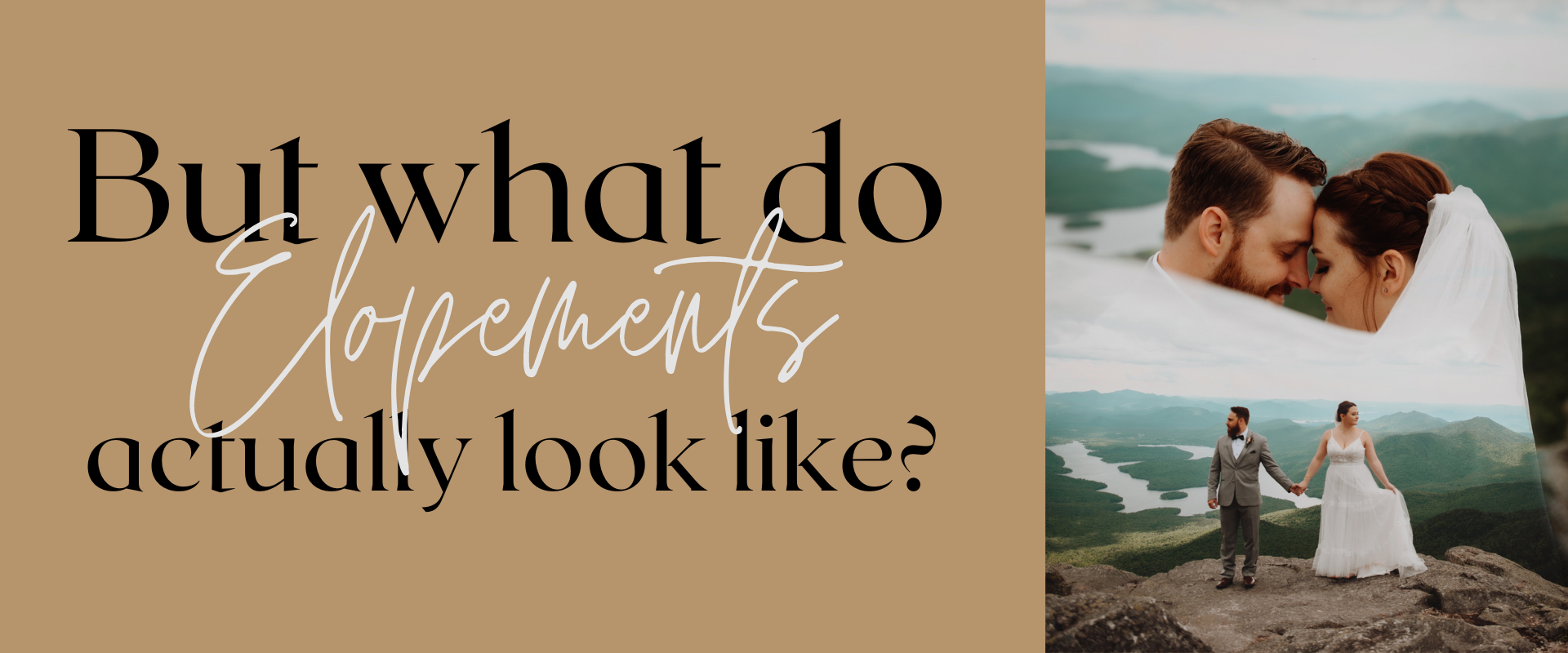 While elopements have grown in popularity in the last several years, you might be wondering, what does an elopement actually look like? That's because, unlike weddings, you probably have never actually attended an elopement before! To get an idea of what "eloping" actually means, you'd probably have to talk to someone who has been to elopements before.
Thankfully for you, we are that someone. With years of experience and countless elopements under our belts, we have the familiarity and knowledge of what elopements look like.
And while we have all of this know-how, we also recognize that elopements are not at all cookie-cutter. You can pretty much elope any way you want to, so if you don't see your elopement vision or ideas below, don't fret! You can incorporate them into our list, or go in a totally different direction that better fits you and your partner's needs and desires.
Always keep this in mind when planning your day: elopements are never the same and vary from couple to couple. What your elopement ends up looking like may end up being very different than what we're describing, and that is completely okay.
That being said, below are 5 ideas of what yours could look like based off of elopements that we've been a part of.
---
Elopement idea #1: A simple ceremony with beautiful photos
If you're looking for an elopement with minimal planning and stress, this elopement option might be the one for you!
Typically with these types of elopements, we meet up with the couple at an easily accessible location that they chose (or that we helped them choose) for a simple, quick, and meaningful ceremony followed by portraits. These elopements usually last about 90 minutes depending on a few details.
We find that this option is great for couples who don't necessarily want to have their pictures taken for a long period of time and prefer to have a more traditional, low-key ceremony. Some couples often write their own personalized vows to read mid-ceremony or privately together, while others opt for the traditional "repeat-after-me" vows by the officiant.
After the first kiss, we typically let the couple have a moment alone together to take in the first few minutes of married life by themselves. When they are ready, we go into taking portraits. If they did not bring guests, we just take pictures of the two of them together. If they have family and friends in attendance, we usually start with group photos of everyone and then move on to the portraits.
---
Elopement idea #2: A day full of activities that are meaningful to you and your partner
If you're looking for an elopement filled with fun adventures throughout the day, this elopement option might be right up your alley.
We've shot an elopement where the couple has gotten matching tattoos right after their ceremony to remember the day by. Another couple had a picnic together with their dog before their ceremony and had us capture it. One of our couples had their ceremony one day, and then the next day we went to a location further away for more portraits. The possibilities are truly endless.
Some other ideas could include a helicopter ride, skiiing, boating, snowshoeing, off-roading, painting, snorkeling, sunrise coffee date, skydiving, going to the zoo, going to an art museum, and so on. Basically, think of date ideas that would be perfect for you as a couple, and have a photographer come along to capture it.
Like any other type of elopement, you can make this day look however you please. You can do activities before, during, or after your ceremony + vows. You can skip vows all together. You can read vows through your day. The possibilities are endless.
---
Elopement idea #3: A hiking adventure with epic photos on a mountain
If you're an adventurous couple who loves to spend time outdoors together, we have a feeling you're going to love this option. And fun fact: this type of elopement is our specialty.
A large majority of our couples opt to hike for their elopements. We meet up with them at the trailhead and hike whichever summit they have chosen, usually based on the difficulty level and length of the hike.
When we get to the summit, the couple usually takes a few minutes to relax, have a snack, and take in the views. They typically will then change into their wedding clothes (in a changing tent that we hike up with) and they sometimes even do a first look on the summit.
Then they have their meaningful ceremony (and a time to read their vows either mid-ceremony or privately). Afterwards they typically get there portraits taken on the summit with the gorgeous views, and we capture anything else they may have planned (i.e. a champagne pop, cake cutting, elopement signs, etc.).
We then sign the marriage license to make it official (usually off of the summit so the papers don't blow away).
Sometimes couples will then hike down to a different but close location (like a lake) for a few more photos before they head off to dinner or to start their honeymoon.
---
Elopement idea #4: A hybrid elopement / wedding with some of your family and friends
If you're looking to elope but still want to include others in your day, this is the best option for you.
Some couples want to include some family members and a close friend or two in their elopement.
Sometimes this looks like having a ceremony with them, and then going somewhere alone to read their personal vows and get their portraits done. Some couples hike with their families and include them in all aspects of their hiking elopement, while others opt for an airbnb ceremony or a location easily accessible for any group members with mobility issues.
Here is an example of what some of our clients did.
As we've said before, there is no right or wrong way to elope. There is no right or wrong way to include friends or family members in your elopement. It truly does just depend on what you both want.
---
Elopement idea #5: A destination elopement
This is one of our favorites.
If you want to combine your honeymoon and elopement all in one swoop, this is such a great elopement option.
If you could go anywhere in the world, where would it be? Ireland? The Caribbean? Bora Bora? New Zealand?
Why not make your elopement, which is one of the most important days of your life, be the excuse to take a once-in-a-lifetime trip!
It's easier than you might think to get married overseas. Most countries make the process very simple, and generally, as long as you get married abroad legally, the United States still recognizes the marriage as valid.
To keep it stress-free, find a photographer who will help you plan, or work with a certified travel agent. We would be happy to help you plan your dream destination elopement.
---
So what should your elopement look like? That's up to you.
Without making it feel like elopements have to fit into some sort of mold, hopefully this article has helped you to better understand what an elopement day actually looks like. The important thing: do what will make you and your partner happy.
Do what you both love! The day should be exciting and memorable, but don't go overboard. Some people subconsciously romanticize a certain type of elopement, but you have to be careful not to do something that will make you miserable (e.g. don't go camping on a 15 mile trail to elope thousands of feet above sea level if you hate the outdoors).
Want help planning your elopement? We're always happy to chat!