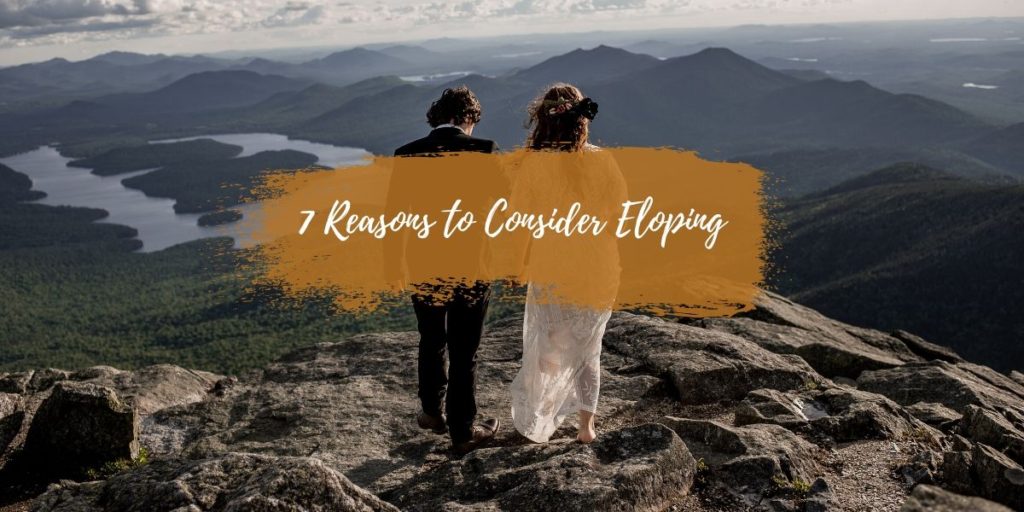 The traditional wedding is becoming less popular every year, probably because the price of weddings is skyrocketing. SO many brides are asking, "should I elope? is it right for me?"
Let me be the one to tell you – elopements can be an AMAZING experience, and it is definitely worth considering.
But before you misunderstand me… no, I'm not just talking about running away to a courthouse.
I'm talking about a day that is ALL about you. Without feeling like you have to meet other peoples' expectations. Without unbearable stress overwhelming you on your wedding day.

Elopements aren't what they used to be.

Your grandparents probably hear the term "elope" and think of rebellious hippies who ran away together in defiance of their parents' wishes. It used to be a last-minute decision to just quickly fill out the paperwork and make it official. But that's not what an elopement is anymore.

Today, elopements can be a great alternative to a traditional wedding.

Have you ever heard brides talk about being SO relieved when their wedding day ended? It happens all the time. Brides are so worried about everything that can go wrong that they don't even enjoy their own wedding day. Let me say that again for the people in the back – they don't even enjoy their own. wedding. day.

What are we doing people?!

Why do we feel obligated to do things the "traditional" way? Let me be the one to tell you – you are absolutely free to do your wedding day HOWEVER you want.

So let's get right into why an adventurous elopement is 100% something you should consider doing…
1. Your day is all about you
Without a doubt, the number one reason to consider eloping is to make your wedding day 100% about you. It's your special day, and other peoples' opinions shouldn't matter.

*You deserve to be the sole focus of your wedding day*

Traditions? Keep 'em or lose 'em. It really doesn't matter either way. All that matters is that you and the love of your life enjoy the day when you commit your lives to each other.

That's why elopements are so special. You aren't locked in trying to do the same exact thing as everyone else. You can be as creative as possible or as simple as you want. As long as you love every second of it, you are doing it right.

2. Your closest family and friends can be included
Like I said before, elopements aren't what they used to be. You CAN invite friends and family to join you and celebrate with you.

A couple weeks ago I captured Ryan and Kristen's elopement on top of Whiteface Mountain in Lake Placid, NY. It was one of the most memorable weddings/elopements ever, because it was so intimate. They had 17 guests, and because it was only the people who were the most important to them, they spent quality time celebrating with the people they cared about most.

Their elopement wasn't running away without their family knowing. It was a precious, intimate celebration of their love for each other with people who truly loved them.

Now, to contrast that to traditional weddings…

I seriously can't believe how many times I've heard engaged couples say something like, "well I guess we have to invite her or else she'll be offended. And if we invite her, we need to give her a plus-one. And if they're coming, then these people would feel left out."

Or when family members insist that their friends are invited – "oh, but they are such a close family friend!"

I remember dealing with this at my own wedding, and it made me want to cry. I didn't want to be forced to invite people I barely knew. I had nothing against these people, but it was my wedding day. I just wanted to celebrate with people I loved.
That's why elopements are such special memories. If I could do it over again, you already know I would plan an adventurous elopement.

3. You can save thousands of dollars
If you have started planning a traditional wedding, I don't even need to explain this to you.
Everything is SO expensive. The save-the-dates. The invitations. The food. The venue. The DJ. The flowers. The favors. The list goes on.

Before you know it your wedding costs more than a new car.

Statistically, the average wedding in the U.S. costs $25,000 – $45,000. Tens of thousands of dollars for a day that ends up being so stressful that you're relieved when it's over.

Elopements give you so much more control over where you spend your money. You can choose to spend it on what matters the most to you, instead of dropping $100 for a plate of food for someone you barely know.

When you elope, everything can be scaled back as much as you want. A cute Airbnb instead of a full-fledged venue, a fancy restaurant instead of expensive catering, a few bottles of wine instead of an open bar.

A more intimate celebration at a fraction of the cost.

4. You can choose an incredible location.
Have you ever dreamt of getting married on top of a mountain? Or on an island in the Caribbean?

Because of all of the money you save by foregoing the expensive traditions of a full-fledged wedding, you have more flexibility in the things that are important to you. If an exotic or adventurous location is what you want, just book the plane tickets already!

Earlier this year, I captured James and Emily's elopement in the Adirondack Mountains. They love everything about the ADKs and regularly go hiking/camping, so it was important to them that their wedding would be in one of their favorite places on earth.

Together we planned out an intimate elopement in a field that had a gorgeous view of the mountains in the background, and it was absolutely perfect. My husband officiated the wedding, I took the photos, and James + Emily got the adventurous elopement that they dreamt of.

When you have 200 guests at your wedding, it can be nearly impossible to get married somewhere exciting/adventurous/exotic.

5. You can get incredible photos
This goes hand-in-hand with the location, but elopements are perfect (let me repeat that – PERFECT) for photos.

Traditional wedding photos tend to be basically the same every time. But elopements? They are so unique and exciting. Something that you'll look back at and reminisce. Something to show your kids and be proud of.

Imagine eloping on top of a mountain with your dress flowing in the wind mid-ceremony, a beautiful backdrop of lakes + forests, and the sun setting over the horizon of mountains.

Plus, when you elope, you aren't racing against the clock to keep everything running on time.
A few years ago, I went to a friend's traditional wedding, and I felt SO bad for the bride. After the ceremony the bridal party was going to take photos, but the matron of honor accidentally went to the wrong location. It delayed the photos by 40 minutes. Then to make matters worse, the drive to the reception took twice as long, because it ended up being rush-hour traffic. All of the other guests sat waiting for over an hour, even though only only 15 minutes was scheduled for the photos. The bride was beyond stressed. Needless to say, her photos don't bring back very good memories.

At your intimate elopement, you can take as many photos as you want. Doing whatever you want. Wherever you want.
Trust me, it makes a big difference.

6. Planning doesn't have to be stressful
Traditional weddings are a huge production, and it's a full-time job to plan one. So many vendors to book, contracts to sign, details to hash out. Especially if you want to save money and do it DIY-style, you are going invest a lot of time into planning.

It can be overwhelming, especially when you have other responsibilities to keep up with.

In December I took photos of Briana + Perry's adventurous elopement in the Adirondacks, and they kept talking about how they LOVED the simplicity of their wedding. They found a gorgeous inn that offered everything they needed in one, simple package. Other than booking me as their photographer and getting a marriage license, they were all set!

They didn't have to try to get a head count for the caterer. They didn't have to go over a list of songs with the DJ. They didn't have to print out wedding programs.

Planning was easy, and the day was perfect. What more can you ask for?

7. Your vows are more meaningful
This is an important one.

When you are standing there committing your life to love + serve your soon-to-be spouse, what is going through your mind?

For many couples, they are thinking about not stumbling over their words, or maybe about what they look like on stage with everybody watching.

There are so many distractions. Whether you're repeating after the officiant or reading your personal vows, it's easy to forget the impact of the words that you're saying. You are making a promise "from this day forward, for better or worse." When you say those words, it should be from the bottom of your heart.

When you are eloping, whether it's by yourselves or with your closest loved ones around you, there are no distractions. You aren't trying to impress anyone. Especially when you're surrounded by the privacy of nature, your vows suddenly become more than just ceremonial words.

You are making a lifelong commitment to love someone despite their failures, even when they're old and full of wrinkles.

Bonus Tip: You can host a celebration/reception later on
If you're still unsure about eloping, because you really want to celebrate with ALL of your friends (or maybe you just want to get crazy on the dance floor), don't worry!

A lot of people actually elope and then host a party to celebrate it later on. It's basically just a delayed wedding reception, but you can do it without feeling the wedding-day pressure!

Plus, everybody loves those wedding gifts. If you host a reception at a later date, you can still send out invites with a link to an online registry!

Best of both worlds – you get the intimate elopement while still getting to celebrate with friends and family.
Thinking about eloping? Contact me, and I'll help you start planning!