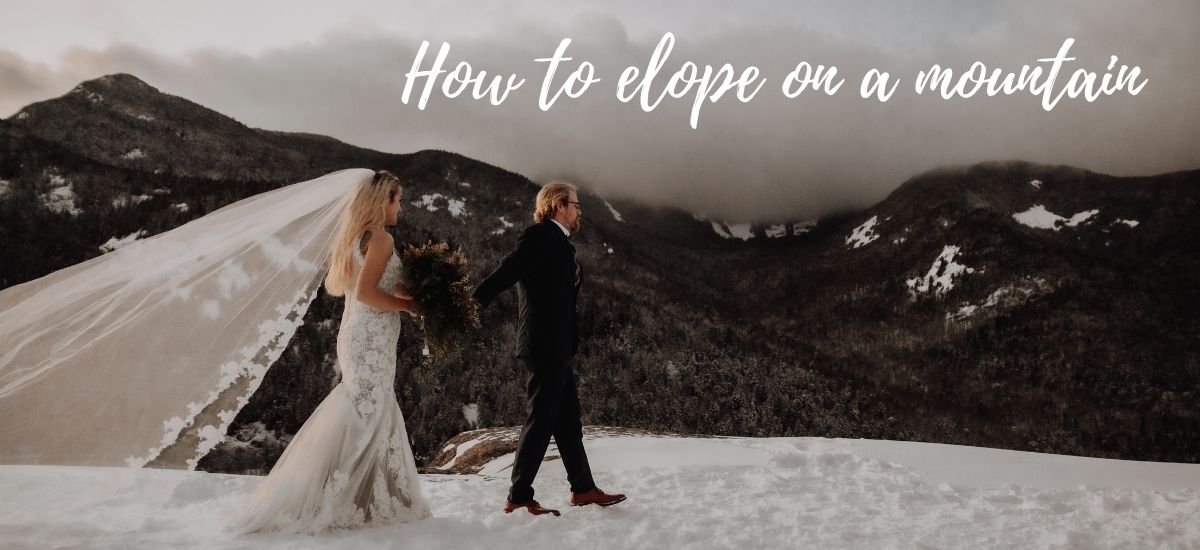 As Elopement Photographers in the Adirondack Mountains, our primary focus is helping couples have the wedding day of their dreams without the stress of the traditional production-level wedding. But most people are clueless about how to elope on a mountain. We absolutely love helping couples navigate the elopement planning process to have the wedding day of their dreams.
As experts in this niche of the wedding industry, we get a lot of questions from couples wondering how elopements (more specifically, adventurous elopements) work. Below are some of the most frequently asked questions that we get. If you're thinking about eloping, hopefully this article will help you navigate the mysterious elopement planning process!
Obviously, you probably don't have many friends or family who have eloped on a mountain before, and there aren't very many specific resources online about adventurous elopements. If you have any other questions that we don't answer below, just send us a message here!
1. Do couples wear their dress and suit up the mountain for their elopement?
This is probably one of the most common questions that couples ask us, and the answer is no! Not usually, at least. We have only had a handful of couples hike in their wedding clothes for their mountain-top elopement.
Most brides and grooms change at the summit to avoid getting their dress and suit full of sweat and mud. Typically our clients hike with their clothes in garment bags attached to their backpacks. You may see an occasional photo of a couple wearing wedding clothes with their backpacks and hiking boots on, but those "hiking" photos are usually faked.
2. What if I get all sweaty while hiking before my elopement?
This is a very common concern, and we understand why. We can get very sweaty while hiking up a mountain for elopements! 
Obviously, you want to look nice for your elopement photos, so we always leave plenty of extra time at the summit for changing, cleaning up, touching up your hair, applying makeup, and catching your breath. We also plan for extra hiking time, so you don't have to push yourself and struggle to make it to the top of the mountain in the allotted time. It's also convenient that summits in the Adirondacks are usually windy, which helps you cool down and dry off relatively quickly.
We also tend to recommend that clients bring an extra pair of clothes to hike back down in, and we would also suggest that they bring wipes, a cloth, and deodorant to clean up any sweat if they are concerned. A little mirror can also be very helpful at the summit!
I can tell you one thing confidently – we have never had a couple look anything short of stunning at their mountain-top elopement, and we've hiked the second tallest mountain in NY in the middle of the night for a sunrise elopement! Trust me, you will look incredible.
3. Can I bring flowers / decorations / champagne to the top of the mountain?
Yes! A lot of clients want to bring a bouquet of flowers and a few decorations for their elopement to add to their amazing view! We love when clients bring things to make their elopement unique. We also know some great florists here in the Adirondack Mountains (like Boston & Burke) who have helped rig flowers to endure a hike.
4. What if I have too much to carry while we trek up the mountain?
If you feel like you may not have enough room to pack everything you need, reach out to us! Dan tends to carry all of our equipment in one backpack (he's a real trooper), so Laura is usually free to carry an extra backpack for anything you couldn't fit in yours! We don't want you to struggle up the mountain, either, so we're happy to help.
5. How do I change into my wedding clothes and get ready on the mountain before we elope?
This truly depends on what would make you the most comfortable as you get ready for your elopement. Some couples are fine with changing on the mountain behind a rock or a tree with very little privacy, but this often depends on what kind of summit they hike to and if there are any trees at all (some taller mountains in the Adirondacks can be short on tree coverage).
The majority of our couples opt to have us bring our pop-up changing tent. This offers total privacy, and it also helps keep the groom from seeing the bride in her dress if they are doing a first look on the summit.
As far as getting ready goes, some brides have their hair done before they hike, and then put it in a protective hairstyle to keep it curly and in place. Most brides will also bring their makeup in their backpacks and apply it on the mountain with a small mirror so that they don't sweat it off during their hike. Here are a couple hair and makeup artists you can reach out to here in the Adirondacks: Color Me Gorgeous and Painted by Ashley Marie.
For the grooms, they usually just change into their suits and put some hair products in to make sure the wind doesn't blow their hair in weird directions.
6. What time of the day is best for elopement photos on a mountain?
From a photography standpoint, we recommend being on the mountain for either sunrise or sunset. When the sun is lower in the sky, the lighting is better – especially for amazing photos of your elopement. The only real differences between the two options is when you are hiking (i.e. middle of the night for sunrise and back down during the day, or midday for sunset and hiking back down in the dark) and where the sun rises and sets on each summit.
Basically, if you have a mountain already chosen, you should figure out where the sun will rise and set and consider whether you are morning or night people. If either one of you is grumpy in the morning, sunset may be a better option to make sure you enjoy your elopement!
7. Can we bring a few family and friends if we're eloping on a mountain?
Absolutely! We love incorporating family and friends into elopements. 
If they are able to do the hike you have chosen, you can definitely bring them along. If some family members or friends are unable to hike with you, you can have your elopement ceremony in a field with a mountainous backdrop (like this one in the Adirondacks), and then hike a mountain for photos and personal vows afterwards. The beauty of elopements is that you can truly do whatever you want. We can tell you how we usually do mountain-top elopements, but there is no right or wrong answer.
8. What about dogs at my elopement? Are there pet friendly trails in the Adirondack Mountains?
If there is anything we love more than elopements, it's pets! Having two dogs of our own, we know the important role that they can play in their owner's lives!
There are a few summits in the Adirondacks that do not allow dogs, but the majority are pet friendly. We always encourage you to bring your furry friends. If you want your pet in some photos but not all, Dan is the designated pet holder while Laura takes your portraits!
9. What about the legalities of the elopement? Will you sign as the witness?
Because this question has a more in-depth answer, we wrote a whole blog post about how to elope in New York. You can check it out here.
The short answer is that Dan is ordained and can marry couples in the Adirondacks. New York only requires one witness, and Laura is always happy and excited to sign your marriage license. We can also explain the whole process of eloping with you via email or a phone call. Just reach out! 
If you're wondering where to get a marriage license in the Adirondacks, you can set up an appointment to go to a town clerk (like the North Elba Town Clerk).
10. What if the mountain is crowded during the elopement?
If you're thinking about eloping, you probably want some privacy for an intimate ceremony. The nice thing about mountain-tops is that they can feel super private, but depending on the trail and the time, some summits in the Adirondacks can be fairly crowded.
We obviously can't guarantee anything that we don't have control of, but we have never seen more than a handful of people on a mountain at sunset or sunrise. Typically, the large majority of people want to make it back down the mountain before it gets dark, so we pass dozens of people who are leaving when we are just starting the trek up.
It also helps to plan your elopement for a weekday. You may still see some hikers, but the trails are usually less crowded than on the weekends.
Lastly, choosing a mountain with plenty of space on the summit can be a game changer. If there are people at the top, they will typically stay away from your ceremony out of respect! We would be happy to help you choose a mountain in the Adirondacks that would give you the highest chance at privacy.
11. What if there is bad weather during our mountain-top elopement?
One of the risks of an adventurous elopement is the unpredictability of the weather (especially in the Adirondack Mountains). Obviously, when you plan your day 6 months before, there is no way to guarantee a beautiful day. That's one of the reasons we call them "adventurous" elopements.
There are a few things that you can do, depending on your personal situation.
One option is to choose a weekday and be flexible with the surrounding dates. If you book with us on a weekend, we can't change the date unless you're willing to pay a new date-reservation fee. The reason for that is because weekend dates are very limited, and we have to turn away other clients by reserving a weekend in advance. Of course, rescheduling on weekdays is still dependent on our availability, but we try our best to make it work when needed!
Another possibility is to consider a backup location, such as a cute Airbnb (like Warner's Camp or the Lake Placid Stagecoach Inn). If the weather ends up being terrible, you can still get married and get amazing photos somewhere a little less adventurous!
Lastly, some couples are 100% okay with eloping in "bad" weather, as long as it's not dangerous! Photos in the rain can actually be super moody and unique. The weather definitely doesn't have to stop you, so if you're cool with rainy weather, so are we!
12. What does a mountain-top elopement ceremony look like?
Your elopement ceremony can be whatever you want it to be. That's the beauty of eloping and why we absolutely love them!
Here are some basic ceremony options that our couples usually choose from for their elopement:
If you want your elopement ceremony to be a little more traditional, you can have us perform a "traditional" ceremony with either repeat-after-me vows or your own vows.
If you want it to be more private and

intimate,

you can write your own vows and read them to each other, and forego the "traditional" ceremony. In this scenario, your vows are your ceremony, and the only part we play is the signing of the marriage license.
If you live in another state and don't want to get your marriage license in New York, you can get legally married in your home state at your local Town Hall, and then have your actual, meaningful elopement in the Adirondacks before or afterwards. Who says the government can decide when your real elopement is? The day isn't about legalities; it's about your commitment to each other!
These are the typical options we give to our clients, but if you have any other ideas, definitely send them our way!
13. What should we pack on the hike for our mountain-top elopement?
It's important to fully plan for any and all circumstances when it comes to hiking. We made a list of 51 essential items to consider packing for your elopement, depending on how adventurous it will be. You can check it out here.
No matter what, if you're hiking you should always bring the ten essentials for safety. On a lot of hikes in the Adirondack Mountains, you won't have any service to call for help if you get hurt or lost, so you should always be prepared.
14. How do we choose a good location for our Adirondack elopement?
The location you choose can be whatever you want it to be.
Are you an avid hiker who loves beautiful summit views? Then you could find a high peak in the area that you love.
Do you want the views with less hiking? You should ask us about moderate and easy hikes we recommend.
Are you absolutely against hiking? You should find a field, beach, or Airbnb for your ceremony. Always feel free to email us to ask us for recommendations! We love helping clients find their ideal location!
Note: please keep in mind that we only give out names/coordinates of locations to clients who have signed and paid for our services, as scouting for locations in the Adirondacks is included in our packages. We don't do this to be mean or petty, but we put a lot of time and effort into finding the perfect locations for our clients. One of the many benefits of hiring a local photographer is that they will know a lot of amazing spots since they have spent hours scouting locations. If you have hired another photographer for your elopement or do not plan on booking us, please do not ask us for location recommendations.
15. Do we need a permit to elope on a mountain in the Adirondacks?
No! Unlike a lot of national parks, The Adirondacks are a state park, and they do not require any permits to have an elopement on the summits or in fields. That being said, it's still important to follow the same Leave No Trace principles and to be courteous of other hikers who are trying to enjoy the view.
Most hikers in the Adirondacks are excited to see an elopement and quickly clear the way for the couple to have privacy, but you don't own the mountain. If it's a crowded mountain, it's better to find a more private corner of the summit than to interrupt everyone else's enjoyment of the view.
16. How far in advance do we need to plan our mountain-top elopement in the Adirondacks?
This really depends on how quickly you want to plan, as well as our availability. If you like to have everything planned in advance, you could book your elopement with us as early as the year before your date. If you are hoping to elope sooner rather than later, we've booked and helped plan elopements as early as a week or two in advance.
As long as we're available for your date, we will book up to a few days before your elopement! If you're considering eloping in the fall, please reach out to us as early as possible. September and October are by far our busiest months of the year because of how many people visit the Adirondack Mountains, and we usually book those months fully in advance.  
17. Can we do photos in multiple locations?
Of course! If you want to do multiple locations, we're always willing to accommodate that! If the time frame doesn't work with the elopement package you want to book, you can add on extra time to that package to make sure you can go to all the locations you want! We are always happy to chat about what we estimate the timeframe of the day will look like depending on the locations you want photos at. Feel free to email us to get a custom quote!
We can help you elope on a mountain in the Adirondacks!
Hopefully this article has helped you understand a little bit better how to elope on a mountain! If there are any questions you have that we didn't answer here, please feel free to contact us, and we'd be happy to help you in any way we can.