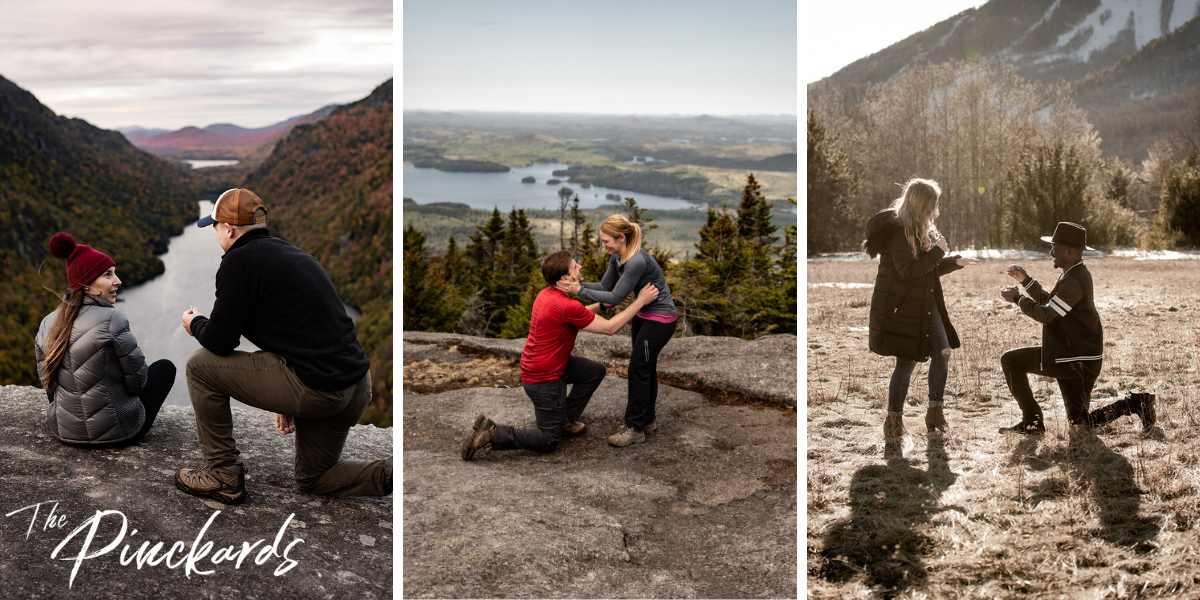 This past Saturday, Dan and I hiked Ampersand Mountain in Saranac Lake, NY (in the Adirondack Mountains) to photograph a proposal. Proposals are some of our favorite events to capture, because they are so emotional and exciting.
Because proposals are a surprise, the photos always show such a genuine reaction that varies from client to client, and that is what really makes every proposal uniquely special.
We are always so excited when people reach out to us about capturing their proposals. Having photos of the moment when you propose is sometimes overlooked, but this is such a special moment in your life. Photos can be priceless.
A lot of people reach out to us about their proposals, but many just don't know where to start. We hear questions like:
How do you plan a proposal in the Adirondacks and hire photographers to capture it?
What are some of the best locations in the Adirondacks to propose to your girlfriend?
What if things go wrong, like bad weather?
How do you communicate with your photographers without giving away the surprise?
How can photographers be at the proposal without being obvious?
Since we have some experience with proposals, we wanted to take some time to share some tips with you!
The proposal in Saranac Lake, NY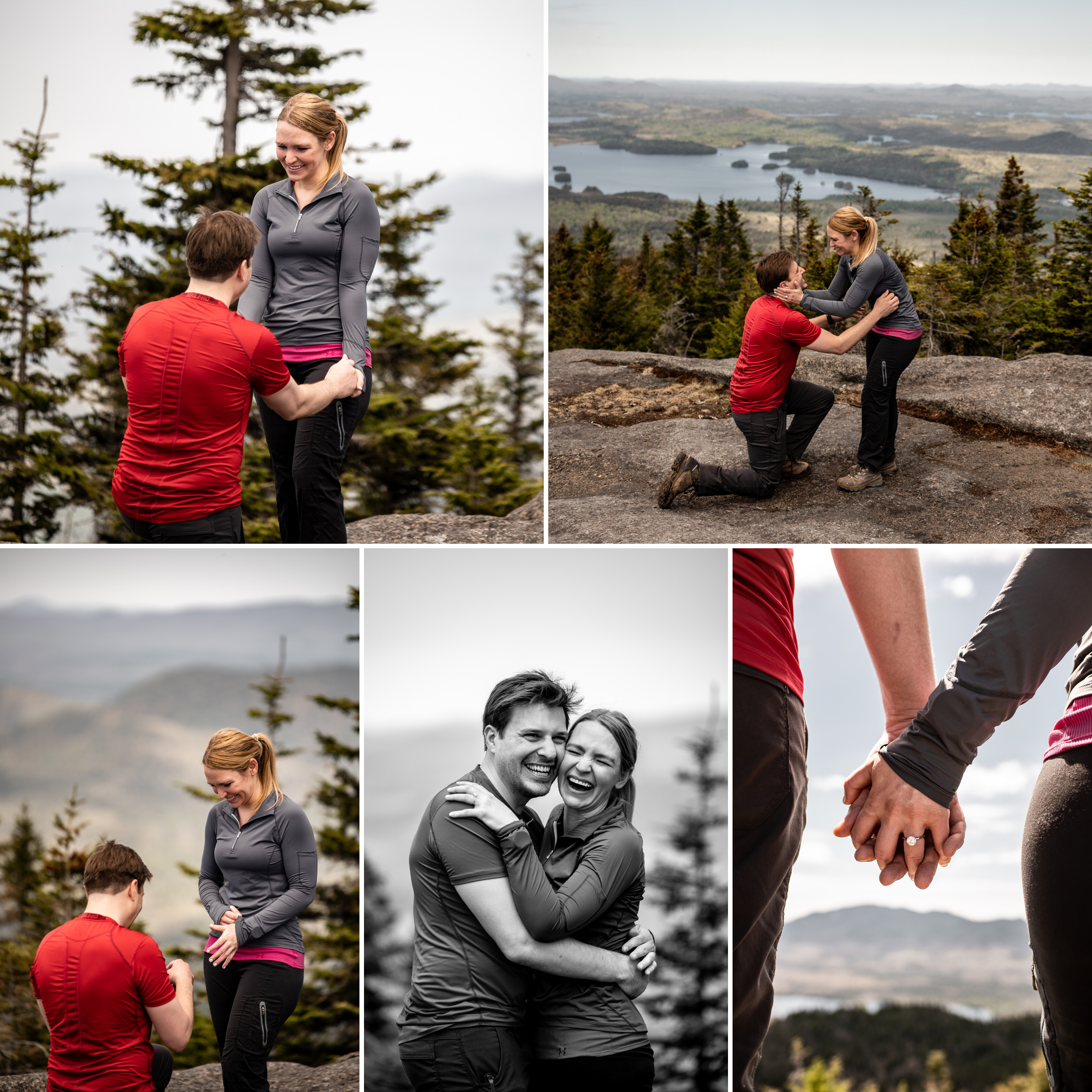 To start off, I want to share the story of the proposal on Ampersand Mountain this past weekend here in the Adirondacks.
Adrian reach out to us about two weeks before he wanted to propose to his girlfriend. He had already decided that he wanted to hike Ampersand Mt and propose on the summit, so we helped him finalize his plans and come up with a strategy.
The trick is always to create a detailed plan, timeline, and communication that won't ruin the surprise.
We decided that Dan and I would hike a couple hours before Adrian and Emily so that we were all set and ready to capture the proposal by the time they made it to the summit. This also gave us the time to catch our breath from hiking and get all of our settings ready without having to rush.
Adrian emailed us a photo of what they looked like the day before so we could spot them right away when they summited. We also had cellphone service the whole way up the mountain, so we were able to text Adrian when we made it to the top. He kept giving us updates on where they were, and even secretly sent us a selfie that they had take at the beginning of the hike so that we would know what they were wearing.
He texted us that he was almost at the summit, and as soon as we saw them, we were ready to go.
When we were planning the surprise, Adrian decided that he was going to set up a tripod with his GoPro on it to make her think that they were going to take a selfie.
They passed us and walked to a more secluded spot on the summit to set up. We followed, acting like another set of hikers so that she wouldn't suspect anything. He set up his tripod and got her to take a "selfie" with him. Little did she know that he was actually filming the proposal with his GoPro while we were taking photos of it. As soon as he got down on his knee, we RAN to get in position to take the photos, because we tried to stay further away to be nonchalant.
Of course, she said YES and was so surprised!
We asked her if she had any idea that he was going to propose, and even though she thought he was acting weird the whole week, she was not expecting him to propose at all! She said it all finally made sense.
Although she didn't realize that we were there to photograph the proposal, she did say later on that she saw us walking towards them and thought we were going to ruin her private view away from the other hikers. (hey, we'll take that over ruining the surprise any day!)
After the proposal (and a few more photos afterwards), we hiked back down while they enjoyed a picnic and champagne on the summit. We absolutely loved being a part of this proposal, especially since we got to hike in the ADKs on such a beautiful day.
How to propose in the Adirondacks (with a photographer)
So, how can you plan the perfect proposal that fits both of your personalities (in the Adirondacks specifically)? There are several factors to consider when planning and executing your ideal proposal. We've listed most of them down below to aid you in your planning process!
1. Finding a photographer in the ADKs
To start, you want to research photographers in the Adirondacks and find one whose style matches your (and your soon-to-be spouse's) personality.
There are dozens of photographers in the ADKs to choose from. We aren't the right fit for every couple, so take a good look at five or six portfolios to find the right option for you.
Once you've found one that has a style that you love, you should reach out to them and ask if they are willing to help you with your vision (will they hike? have they shot proposals before? etc.). If you have a specific date picked out, talk with your desired photographer as soon as possible to make sure they have that date open. If you're flexible on the day, ask the photographer for a list of dates that they have open to help you narrow down your options!
If you're not sure where in the Adirondacks you want to propose, many photographers can give you a list of places that they recommend or shoot at frequently. We always help our clients brainstorm location ideas!
If you're hoping to hike a mountain for your proposal, double check that the photographer is comfortable with and able to hike the mountain you have chosen. There are a lot of photographers who will hike easy trails, but not as many who are willing to hike the ADK high peaks.
Definitely don't hesitate to ask your photographer to help you plan! If you want to chat with us about photographing your proposal, send us a message here.
2. Planning the details of the proposal
You are the one who knows your girlfriend best.
Does she like hiking? Will she suspect anything if you ask her to hike? Do you do photoshoots with her a lot? Would it work to make her think you're just planning a casual couple's photoshoot? Are there any specific places that are special in your relationship?
Take the time to think through all of the options and which one makes sense for your relationship.
Below are a few ideas/scenarios to choose from for your proposal. Keep in mind that the things in this list are not the only things to choose from. If you have a unique idea, discuss it with your photographer and make a plan!
Plan a hike and have the photographer secretly waiting at the summit
Book a "couples photoshoot" and pop the question mid-session
Find a beautiful field and have a photographer waiting somewhere hidden
Think outside the box! You can propose on a boat, in a blooming flower field, by a lake, or anywhere else that has a special meaning to you. You can make it private or involve friends and family to help you plan. The options are limitless!
We have been a part of a number of proposals, and they are always unique to the couple.
3. Communicating all of the details (without spoiling the surprise)
Once you've figured out how you want to propose, it's really important to communicate very carefully with your photographer. Don't forget to talk through these things:
1. Solidify your date and time (TRIPLE check these details to make sure you're on the same page).
2. Decide on a method of communication that your girlfriend won't be suspicious of! Does she see your texts or emails? How can you hide them? Talk to your photographer about the best way to be secretive while you plan your proposal!
3. Talk about the location and do your research, especially if you choose a hike. How hard is it? How long will it take? How early should the photographer be at the summit before your proposal?
4. Send photos of what you both look like to the photographer and send a picture of what you're wearing that day.
5. Text your photographer a few days before to confirm that everything is in order. Your photographer should text you the day of when they are leaving for the location. Again, do this carefully in case she sees a notification pop up on your phone.
6. Talk through any concerns or questions you have with your photographer to minimize stress as you focus on proposing.
7. Make sure you have a backup plan in case anything goes wrong. Talk to you photographer about what weather they are comfortable shooting in and let them know if anything causes a change in your plans. Weather in the Adirondacks can be sporadic, so consider planning out a few scenarios just in case!
Where to propose in the Adirondacks
One of the most common questions from guys planning on popping the big question is WHERE to propose. Here in the Adirondacks, there are dozens of beautiful places to propose, especially if you love the outdoors.
Here are some options:
1. Propose on top of a mountain
Because the Adirondacks are so well known for their beautiful mountains, the majority of people that come to propose here opt for a mountaintop proposal. There are a variety of easy to hard hikes that are great options for every level of hiker.
Easy mountains:
The Pinnacle (1.5 miles) is a very easy hike near Lake George, NY and is a great option if you want to propose in the southern Adirondacks!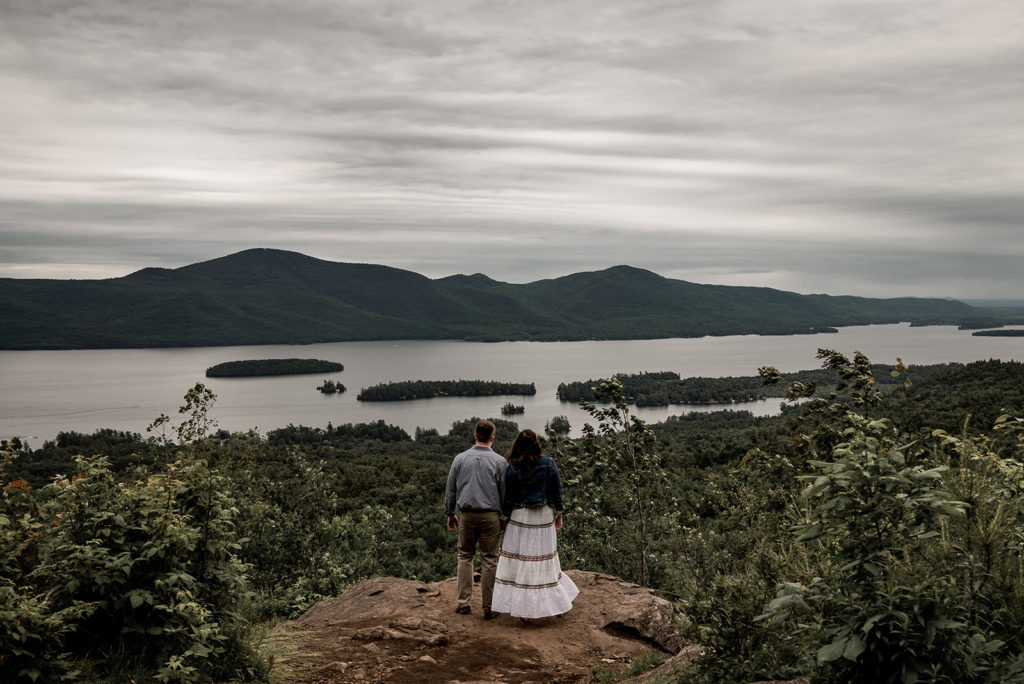 Whiteface Mountain is the only high peak in the Adirondacks that can be driven up instead of hiked ($10 for vehicle and driver, and $7 for each additional passenger)! It's perfect if you want the incredible views but are afraid of getting sweaty during a hike.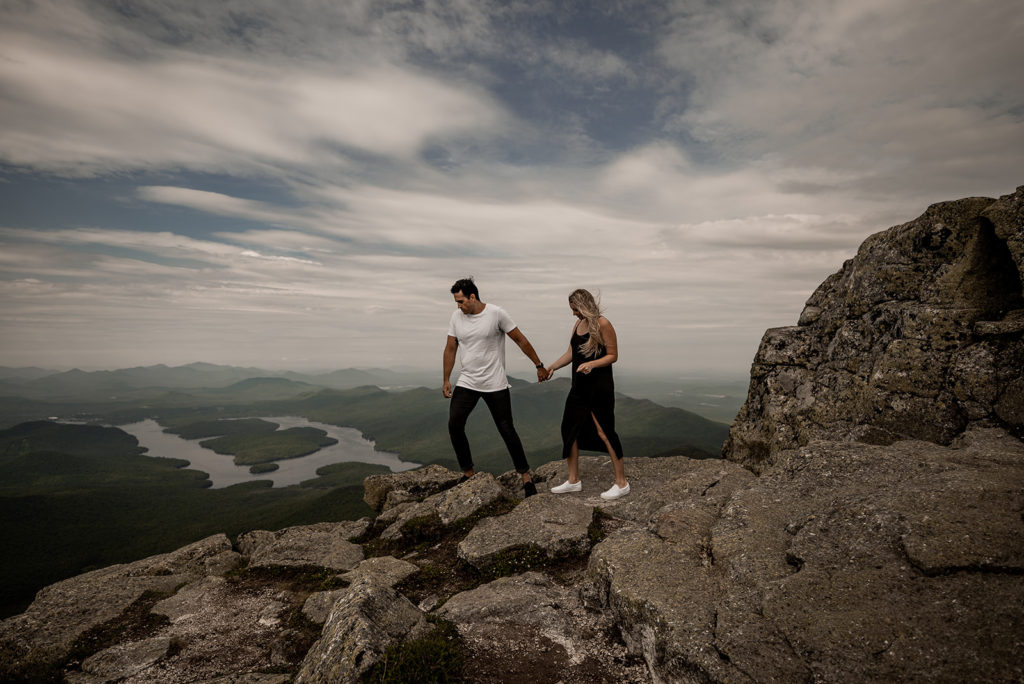 Medium-to-hard mountains:
Cascade (4.8 miles) is one of the easier ADK high peaks, but it would still be considered a moderate hike. It's one of our favorites, with almost a 360 degree view of the Adirondacks, and the sunsets are killer at the summit.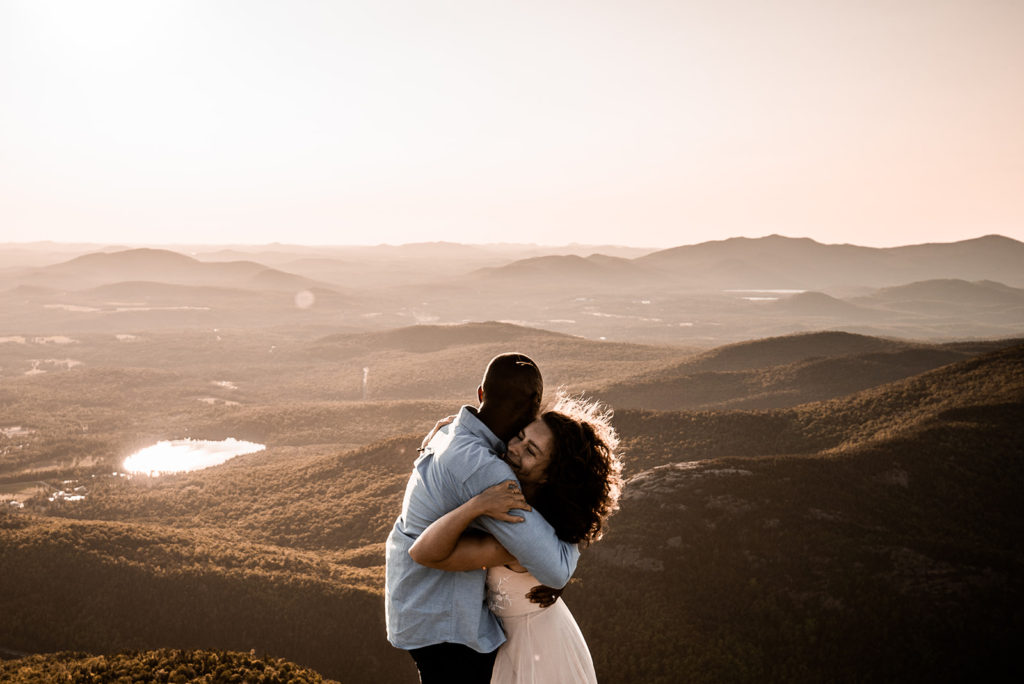 Indian Head trail (11 miles) is a gorgeous hike, with a fjord-like view of the Lower Ausable Lake. We captured a proposal in Indian Head in 2018, and it was absolutely stunning.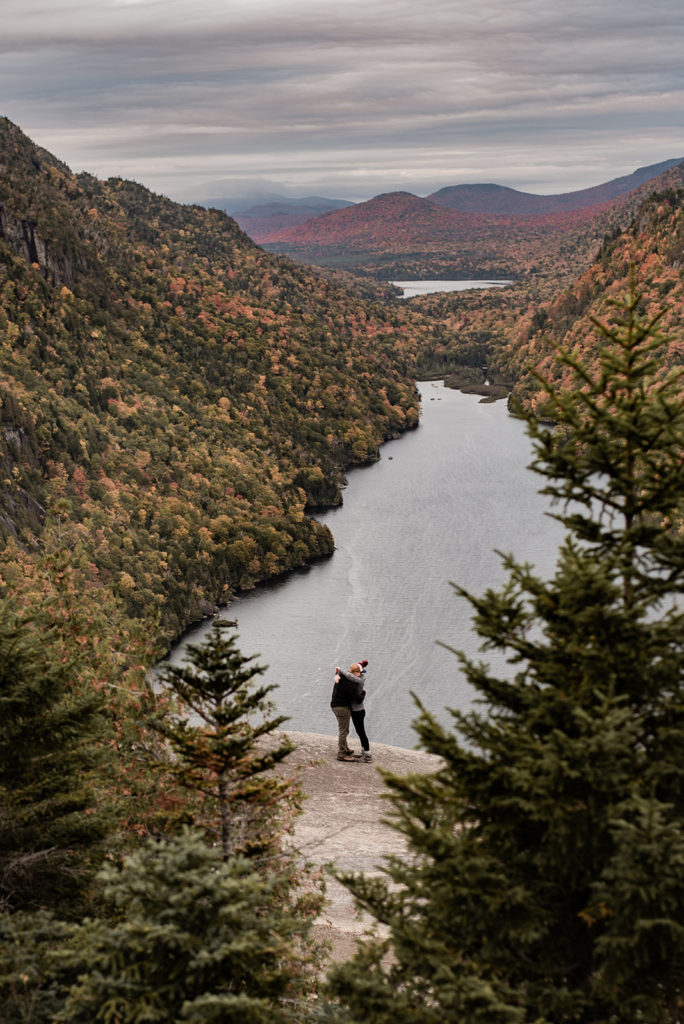 Ampersand Mountain (4.8 miles) in Saranac Lake, NY is a moderate hike with a fairly steep incline near the end, but the views are incredible. There is also a lot of space on the summit, which is great for proposing.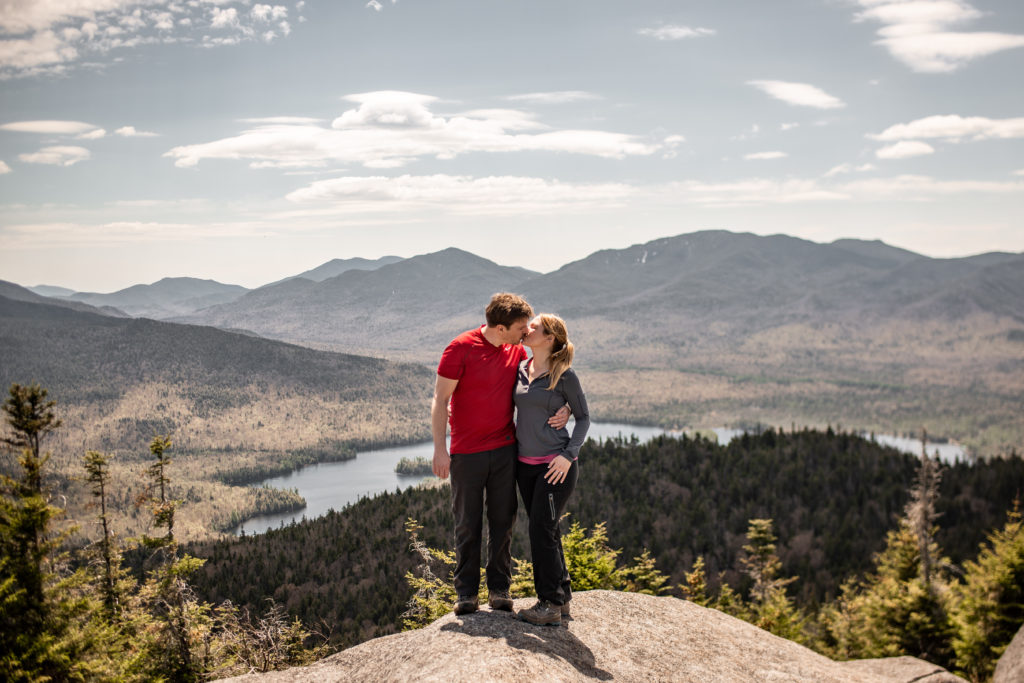 2. Propose by a lake
If hiking isn't your thing (or your girlfriend's thing), there are plenty of lakes strewn throughout the Adirondacks! You can:
Rent a row boat and propose on the water
Buy a ride on a Hacker-Craft boat in Lake Placid
Find a beautiful beach with mountainous backgrounds
Here are some lakes that we love:
1. Schroon Lake. This is actually our hometown, and we have a view of the lake from our house! It's a smaller lake with a close-knit community that feels a lot less tourist-y than many other places in the Adirondacks.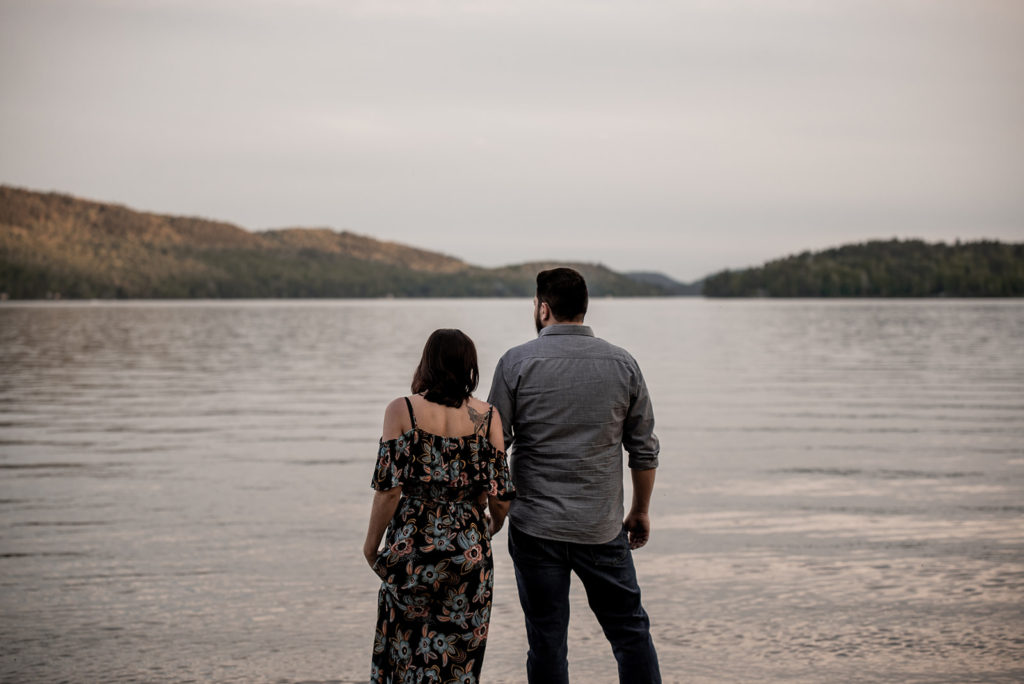 2. Lake Placid. In the high peaks region of the ADKs, Lake Placid is our favorite. There are some amazing places to stay (like the Lake Placid Lodge or the Lake Placid Stagecoach Inn), and the town has an adorable Main Street full of Adirondack businesses.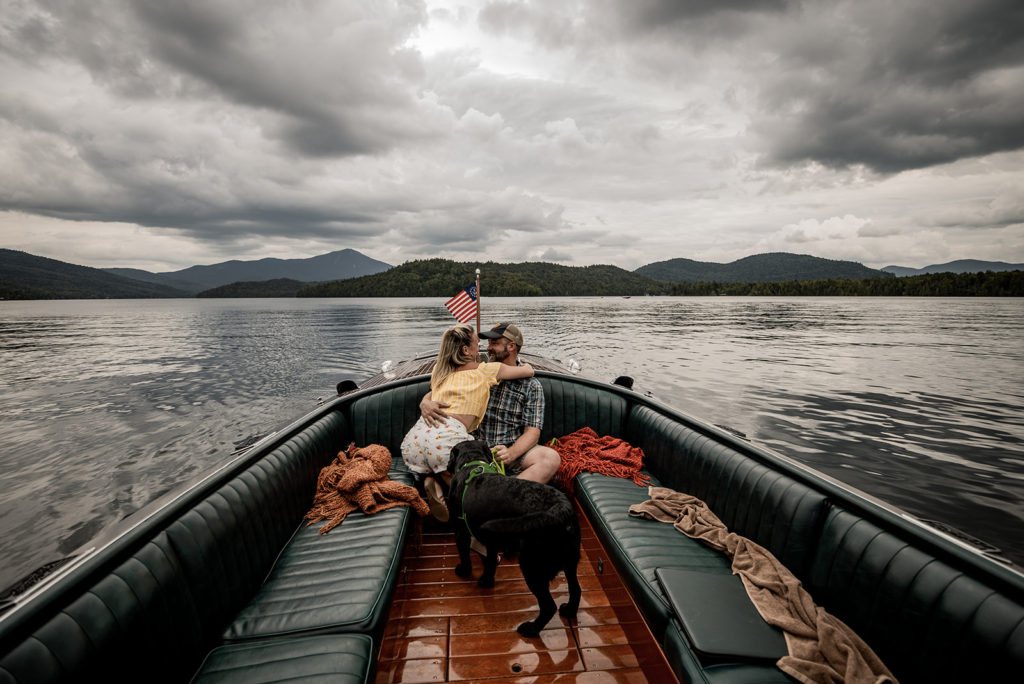 3. Lake George. It's a super popular tourist destination in the southern Adirondacks, but that's because it's one of the most beautiful lakes in the ADKs.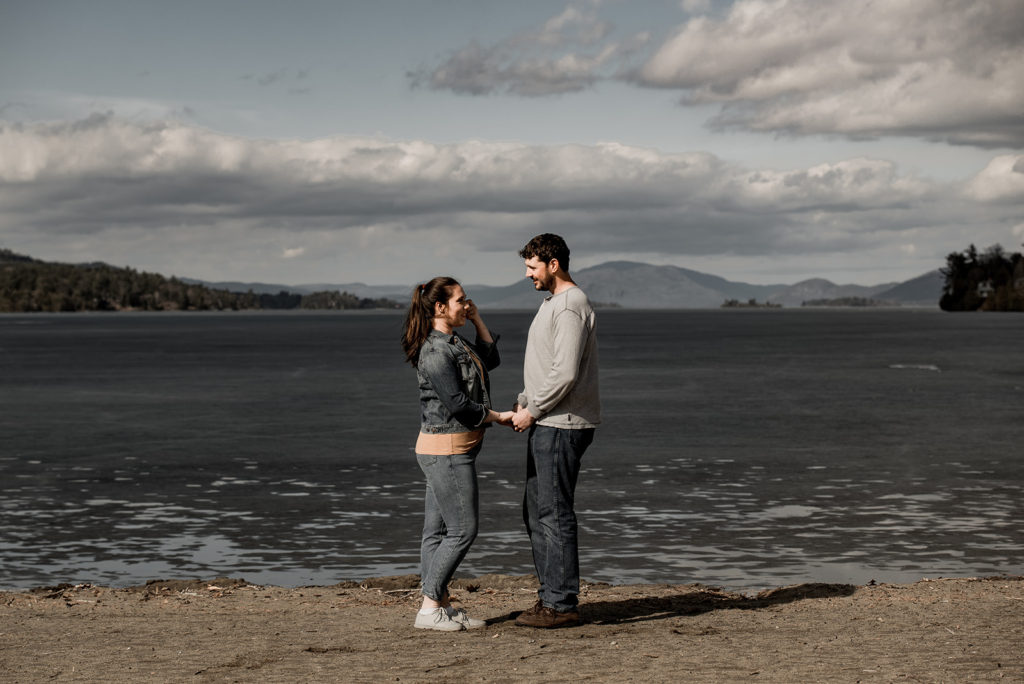 3. Propose in a field with a mountainous backdrop
If you know anything about the Adirondacks, you know that it is hard to find fields with mountain views.
One of the most well-known fields in the area is Marcy Field in Keene Valley. It has such a beautiful view that you can drive right to and park at. This is the perfect option if you don't feel like hiking or boating for your proposal!
We also know of a few other fields that are not as well-known, so you can reach out to us if you're interested in having us shoot and plan your proposal. We'd love to give you a few recommendations!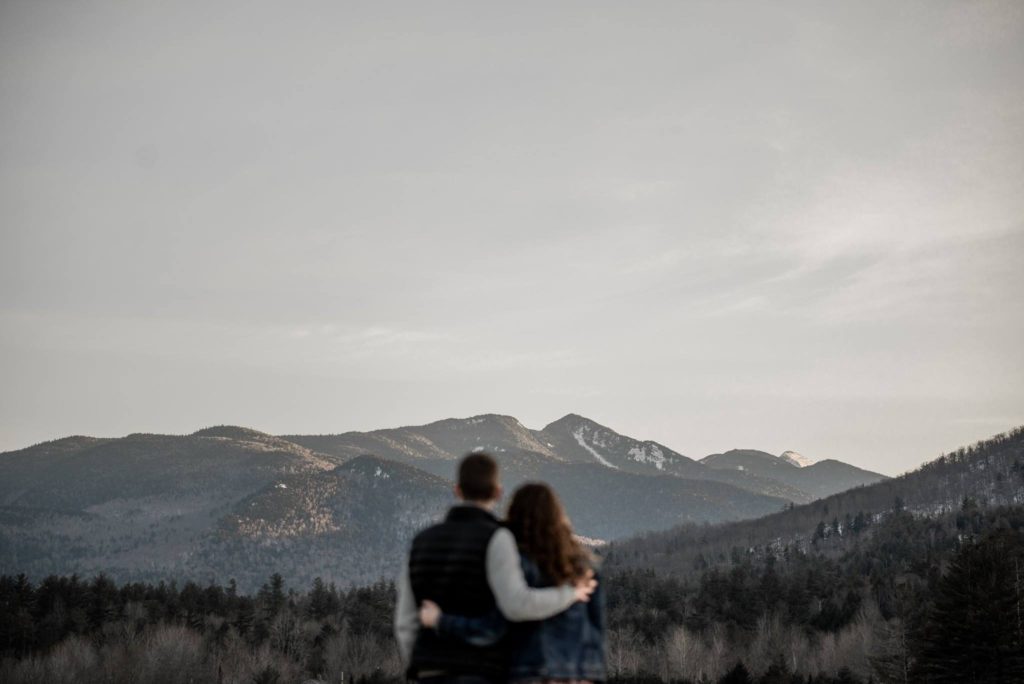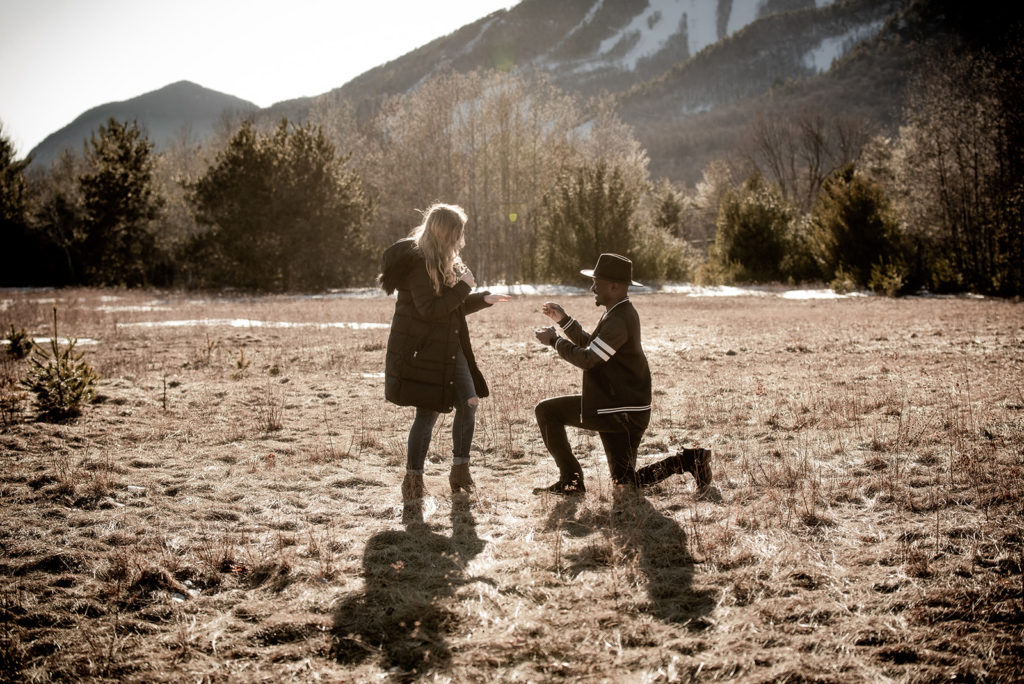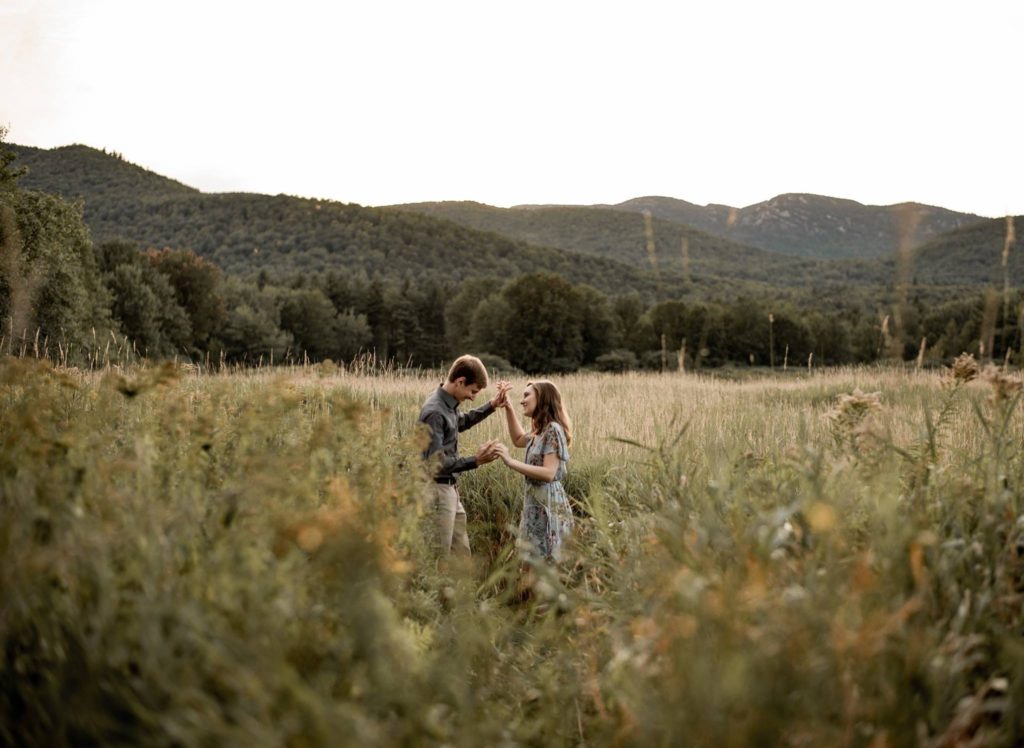 Want to hire us to capture your proposal?
If you are planning on proposing in the Adirondacks, we would love to help! Proposals are some of our favorite events to photograph, because of how intimate and emotional they are. Whether you want to hike a mountain, propose on the lake, or plan something super unique, we are all for it!
Just send us a message, and we can start planning the perfect proposal with you!