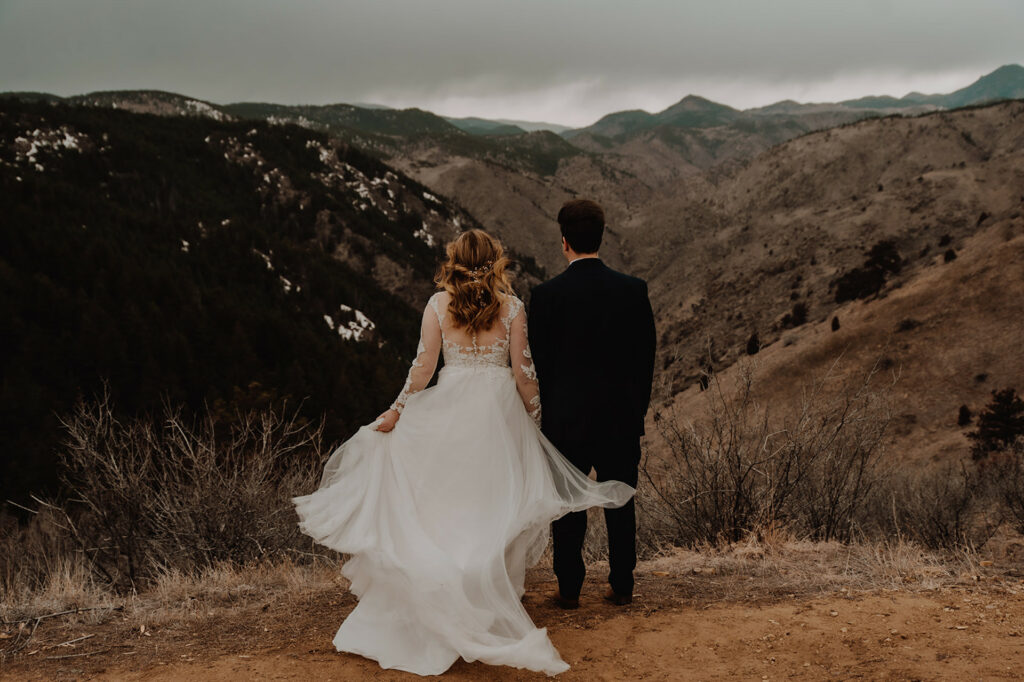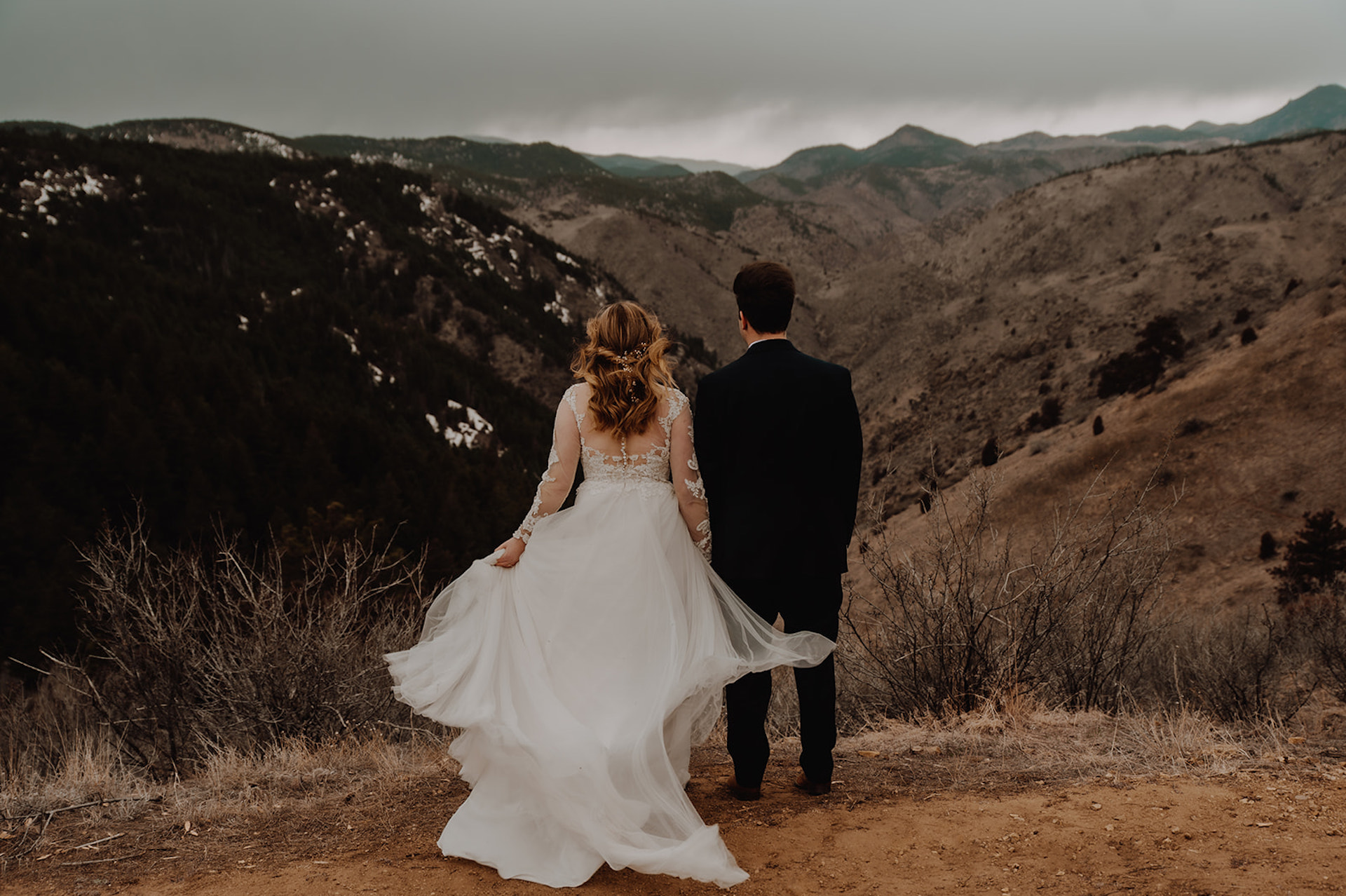 The Preamble: why we chose to elope
I should make one thing clear: I didn't always plan on eloping. Once upon a time I was a little girl with a head full of dreams about her fairytale wedding. Hundreds of my friends and family would gather in a majestic ballroom to see me and my prince charming wed.
But, as we all know, plans change. After our engagement, Caleb and I faced perplexing situations like COVID-19, family being unable to travel, and even difficult family dynamics.
I had seen the breathtaking photos of mountaintop elopements, and we both loved the Rocky Mountains. Having an intimate ceremony with Caleb would be just as dreamy–in different ways–as a traditional wedding. I proposed the idea to him (see what I did there?) and we made a list of pros and cons. 
"Pro: way less expensive."
"Con: way less people."
"Pro: way less people."
I'll leave who said what a mystery on that one.
To make a very long, emotional story short: we decided to elope. I knew above anything else I wanted Dan + Laura to be our photographers. I had never seen anyone capture the style I wanted like they did. We had a few insightful phone calls with them, broke the news to our family and friends, and before we knew it it was April 5, 2021–the day before our elopement.
Throughout the planning process, Dan and Laura went above and beyond. However, the true pinnacle of their devotion came when, on April 5, Caleb and I still hadn't selected a location. We almost changed our travel plans to push the elopement back a day. But Dan and Laura assured us we could make it work. Really, they made it work. They researched both online and on foot, finding the perfect location at Lookout Mountain Park. 
---
The Ceremony: our elopement in the Rocky Mountains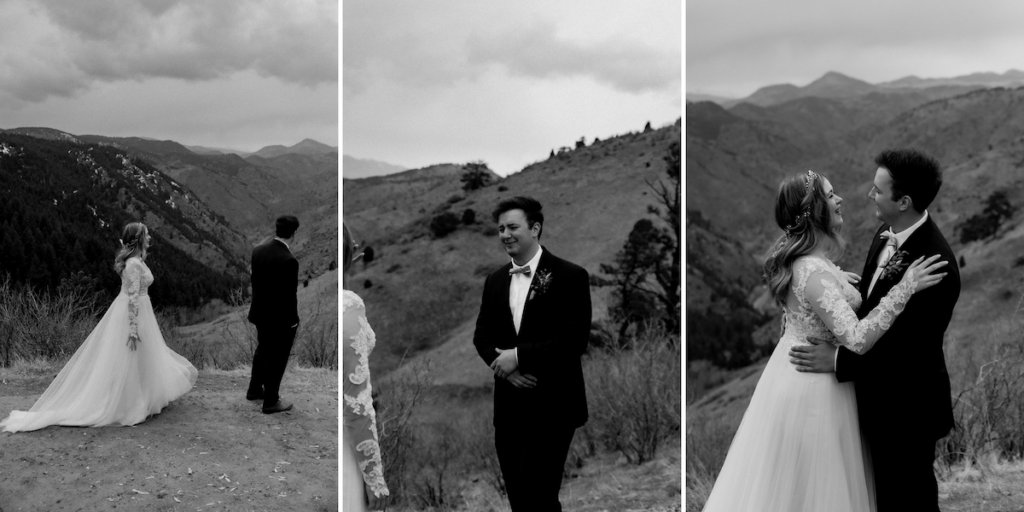 After we arrived at the location, we took a short hike to our spot, somehow managing to keep Caleb from seeing me in my dress. We had decided beforehand that we wanted to do a first look. I shook like the nearby leaves as I slowly approached him with his back turned. Caleb waited for Dan's cue to turn around: instant water works. The way he looked at me in that moment made my heart stop. I've never felt more beautiful, felt more pure love in my life.
Dan mic-ed us up and we began with our vows. I started: "Caleb Joseph Short, I promise to always love you in rain or shine, no matter what life brings our way…" Eloping gave both of us the freedom to be completely transparent and authentic with our vows. After all, it was just the two of us and the mountains.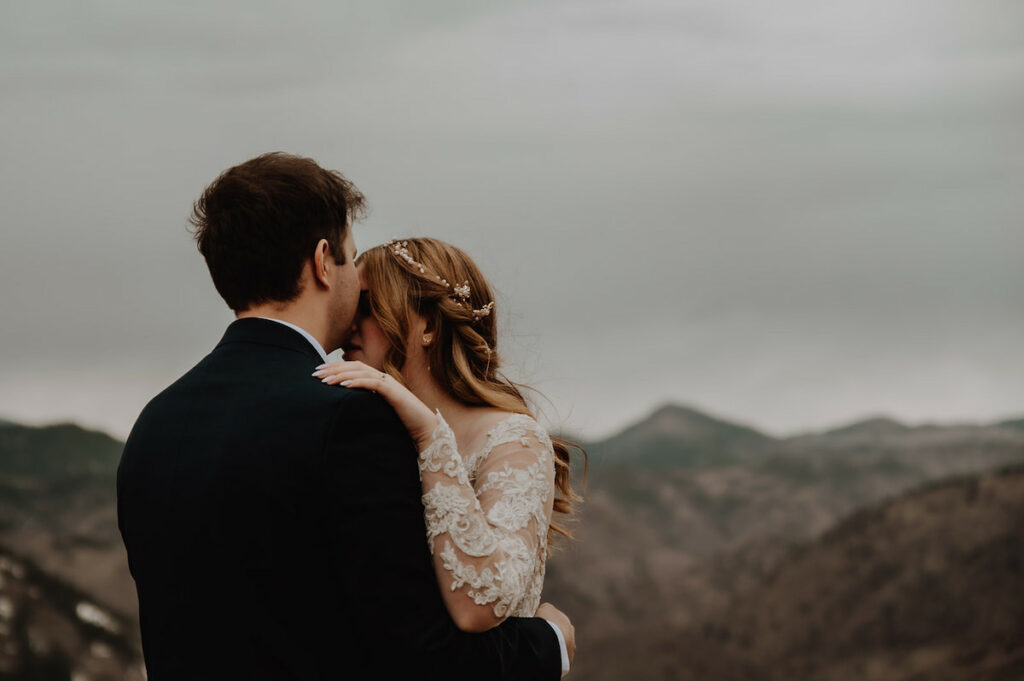 We finished exchanging vows and pronounced ourselves husband and wife! (Yes, you can do this in the state of Colorado! It's called self-solemnizing) Laura pulled out the Bluetooth speaker and played our favorite song, John Mayer's "Face to call home." We danced for the first time as husband and wife. The mountains were our audience and Dan + Laura were our band. We often play that song to take ourselves back to that magical moment. 
Now I was shaking due to the elements rather than to my nerves. The Rockies are cold in April. Dan + Laura took some quick portraits, cheering me on the whole time. "You can do it! Just a couple more!" Let's be clear, I did not feel like I could do a couple more. If I could give you one piece of advice from my experience, I would say that The Pinckards are not joking when they say bring some kind of shawl or sweater!
In all seriousness, though, my advice is to stay in the present moment. Enjoy absolutely everything about your day, no matter what hiccups you encounter along the way. 
---
Our Commitment: inking our vows skin deep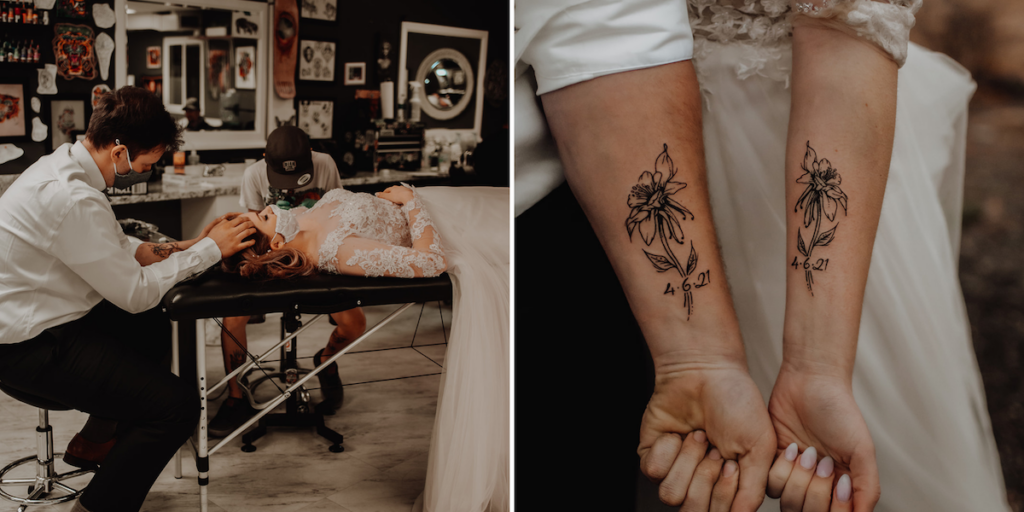 Caleb + I had wanted matching tattoos from the time we started dating. (You could say we both knew this was forever.) I had the idea to make our tattoos a part of our ceremony–a symbol of the everlasting commitment that we were making together. Our wonderful tattoo artist, Ciera High of Dreamcity tattoo, designed a piece with the Colorado state flower, the blue columbine, with our elopement date. This ended up being one of the most intimate parts of our elopement. As Caleb held my face in his hands, I felt like we were the only people on the planet. It was so special to be able to guide each other through both of our first tattoos. One year later, I still catch a glimpse of my arm and get taken back to our magical day. 
---
Eloping may not be for everyone, but it was perfect for us. That day in the Rocky Mountains will always exist in my memory as a pinnacle of love and devotion. I cannot imagine it any other way. The Pinckards facilitated what will always be one of the best days of my life. (In fact, I loved working with them so much that I decided to work for them – I'm now a The Pinckards team member!) 
If you've ever even considered eloping, let me tell you what I learned: other people will always have their opinions. Unfortunately, you just cannot make everyone happy. But you and your partner can make the right choice for your day. After all, elopements can be truly magical. If it's right for you, don't let anyone stop you.
And if you are looking for a team of people who will make your day perfect, support you along the way, and give you incredible photos/video, The Pinckards should be at the top of your list. Click here to talk with them about your elopement!